Mar 10
Academy Award for Best Costume Design: Mrs Harris Goes to Paris
The Academy Award - or Oscar - for Best Costume Design is a category which recognises immense creativity in the costume department and their ability to dress each and every character in a given film. In previous years, films such as Little Women, The Great Gatsby, Phantom Thread, and Anna Karenina have been awarded the coveted gold statue for their achievements in the category. Notice any similarities? All of these films (with few exceptions in recent decades) are historical films, with the other genres often nominated being fantasy and science fiction. This year is no exception, with Babylon being set in the 1920s, Elvis taking us on a journey between the 1930s through to the 1990s, Mrs. Harris Goes to Paris in the 1950s, while Everything Everywhere All At Once and Black Panther: Wakanda Forever are the contemporary science fiction nominees.
With that being said, and the Academy not finding anything set in the present-day impressive enough from a fashion and costume perspective, I thought it would be interesting to do a deep dive and get to know why the nominated films stood out this year over the others.
To jump to the other nominees, see below:
Mrs Harris Goes to Paris
With an article entirely dedicated to films & costumes, admitting that costumes are such an intrinsic aspect of storytelling wouldn't be a hot take, but it couldn't be more true for Mrs Harris Goes to Paris. The film follows, you guessed it, Ada Harris, who is a widowed cleaner living in London. After coming face to face with a beautiful Dior couture dress at a client's house, she travels to Paris determined to buy herself one.
PHOTO: MRS HARRIS GOES TO PARIS
The film's costume designer Jenny Beavan was tasked with creating the costume ensemble of an entire Dior Couture fashion show, as well as era-relevant fashion for the characters living in London and Paris in the 1950s.
Lesley Manville (Mrs Harris) mentions how important a character's wardrobe is to her personally, when it comes to building a character as an actress. On script it read that Ada Harris is someone who wants to look nice and cheerful, trying to make the most out of the clothes she's had for years, being someone who can't afford a new outfit every time a new season rolls around. Manville recalls how this notion of Mrs Harris's character really truly came to life for her when Beaven showed her the colour and pattern sketches for the character's costumes.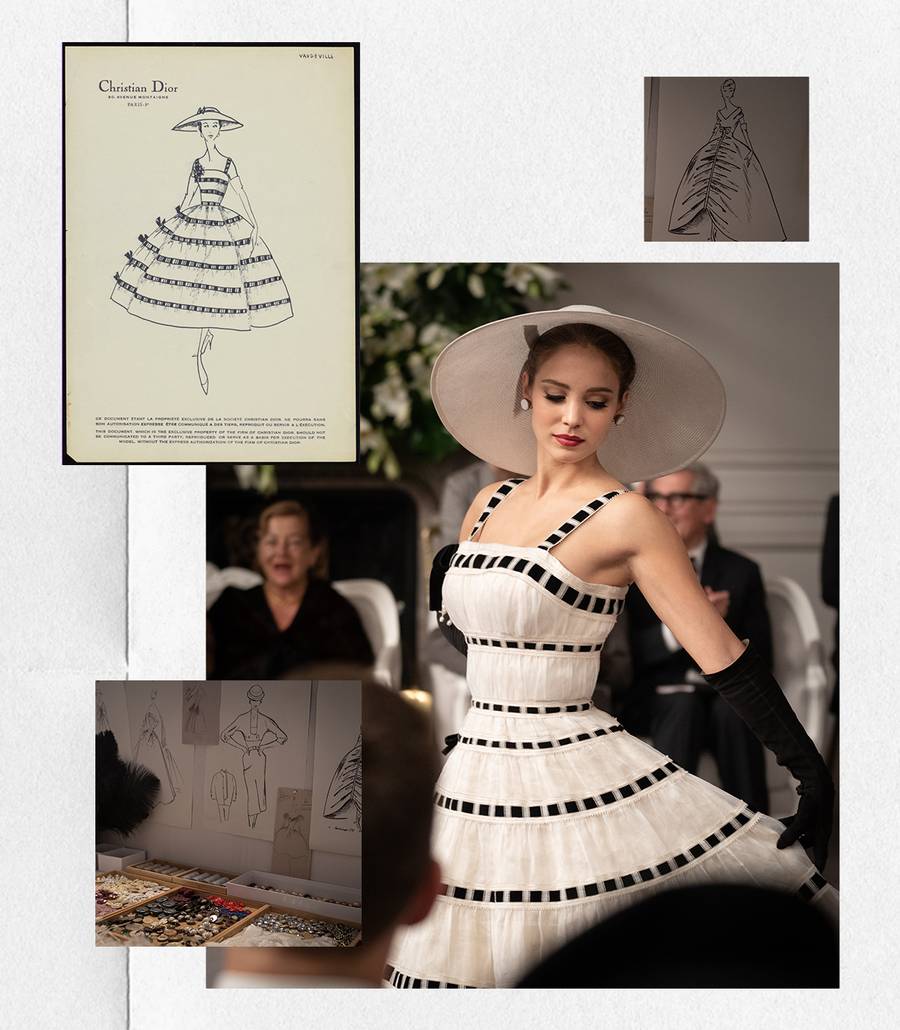 PHOTO: CHRISTIAN DIOR; DÁVID LUKÁCS/2021 ADA FILMS/HARRIS SQUARED KFT
Beavan recalls recreating the Dior Haute Couture collection being extremely challenging, especially working on the costumes during lockdown in 2020.
With the film being shot in Budapest, Beaven and her makers being in London, and the Dior HQ (who had to approve all of the designs before they could appear in the film) positioned in Paris. All borders were shut, and so were fabric shops. While there's a massive archive of past Dior collections to browse through online, she recalls being so grateful to be given a photocopy of the book of sketches, fabric samples and notes from the '57 collection, and to be working with talented makers whose vision she trusts.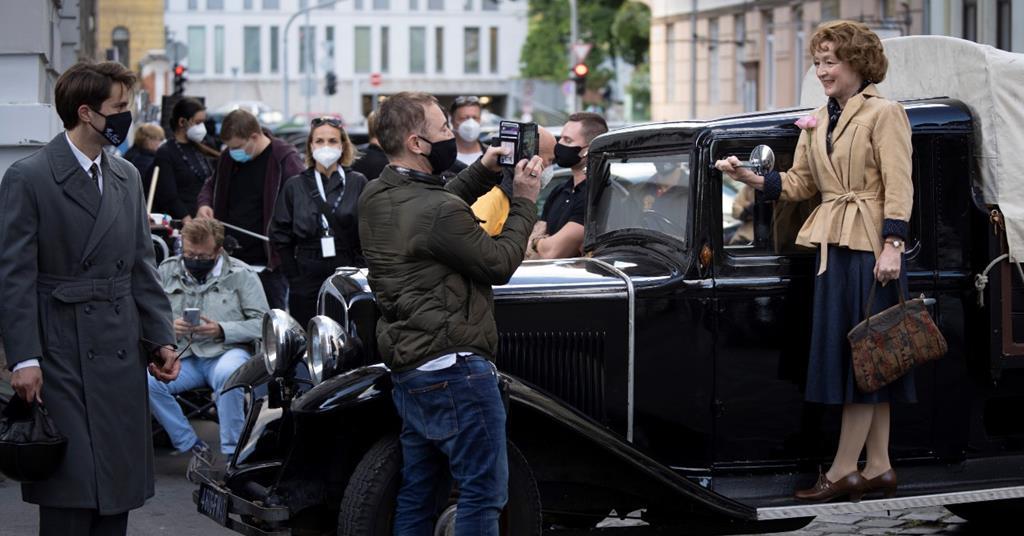 PHOTO: MRS HARRIS GOES TO PARIS BTS
When it came to Ada Harris in London, Beavan put her in a lot of florals, bright aprons and plain skirts, all very notable of the 40s, despite the film being set in the 50s. "Ada wears '40s clothes because when you didn't have any money to buy new, you mend and make do with what you have–" we feel you Mrs Harris. When it came to Paris, where Mrs Harris borrowed clothes from a new acquaintance's sister, Beaven recalls focusing on single block-colours, trying to keep it simple but chic, while keeping some elements of her original London looks.
To jump to the other nominees, see below: