Jul 29
What Team Whering Loved This Month (July)
Bianca, Founder & CEO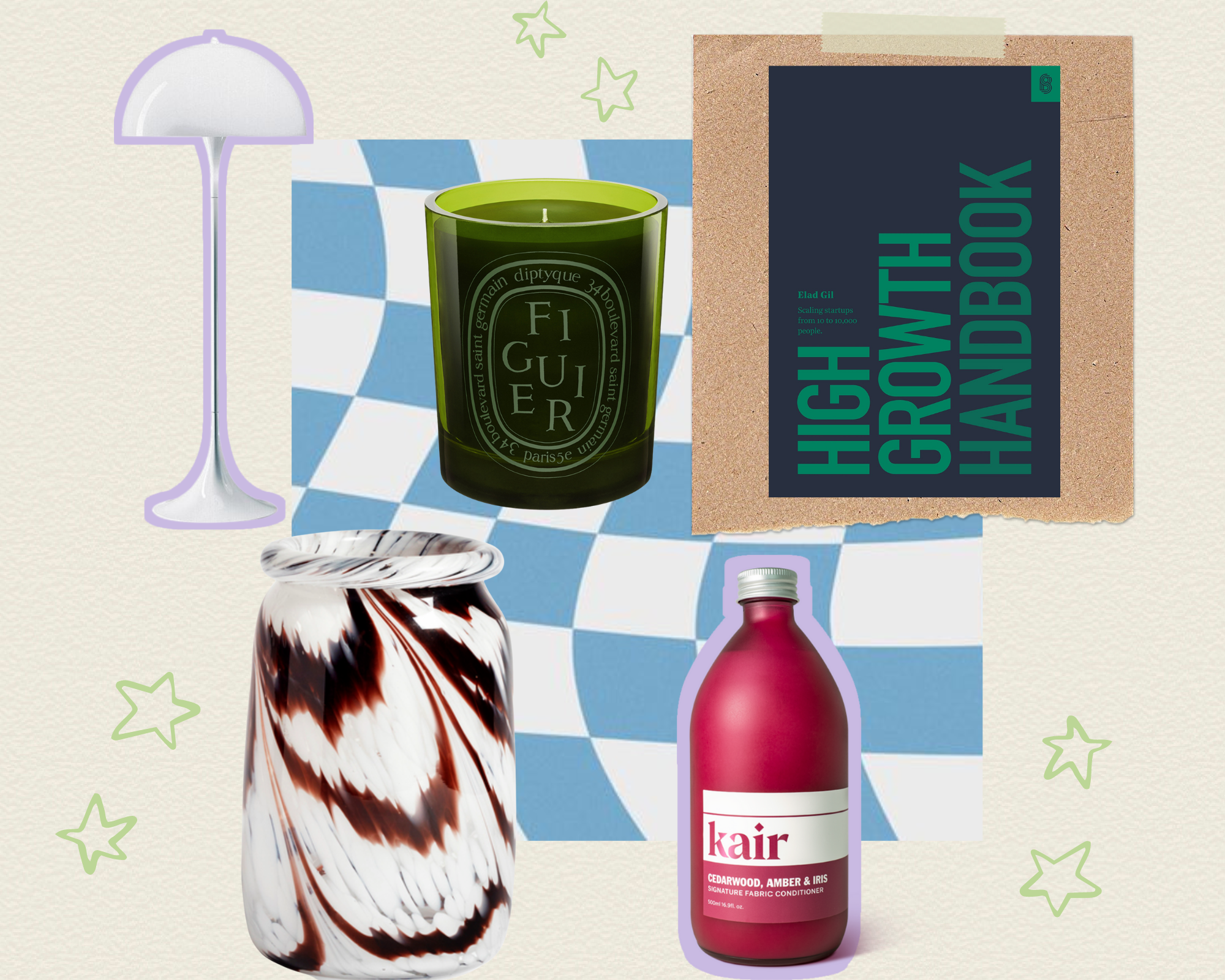 Using: I've been loving Kair's Cedarwood, Amber and Iris "signature" clothing wash. It has the most amazing scent and its formula is sustainable, vegan and cruelty-free.
Smelling: I find having a nice candle makes working from home that much nicer, and you really cannot go wrong with Diptyque. I've been enjoying the Figuier candle this month in the green redesign of the iconic Diptyque packaging!
Home Decor: There are so many beautiful Hay glass vases out there but I fell in love with this particular one when I saw it on Trouva.
Reading: This month, I have been reading the 'High Growth Handbook' by Elad Gil, which covers how to tackle challenges that come with scaling up startups, late-stage funding, internationalisation and more.
Nona (Creative & Content)
Drinking: The T2 Sticky Chai Trilogy. Earlier this month, against all odds (I'm double Pfizered), I tested positive for Covid. One of my friends popped by the flat to drop off a care package for me with some flowers, snacks and tea. I'm not a huge tea person, but this has honestly trumped coffee for me. I have it every morning with oat milk and my favourite Sweetex sweetener - it's amazing.
Reading: Paradoxically, despite just graduating with a Bachelors in English Literature, I feel like I completely stopped reading over the last three years. I recently picked up a few books before my holiday, and although I haven't gotten to Sex & Rage by Eve Babitz yet, I have been loving 'Answered Prayers' by Truman Capote. It is an unfinished novel and essentially an exposé of the time Capote spent partying with socialites in 1950s and 1960s New York. After doing my dissertation on F. Scott Fitzgerald's uncollected stories and focusing on the New York flapper trope and party culture, this felt right up my alley.
Wearing: Dresses. So many dresses. I haven't been able to go home in a year, and I was so excited to finally have my flight to Bulgaria booked for July 20th. After realising that this is the first time I'll be flying with just a carry on (yup, I'm a packing amateur), I decided that the smartest thing to do was to pack as many dresses as possible, as they're compact, weather appropriate (it's averaging 30-35 degrees in Sofia), and a whole outfit in and of themselves. Also my mum's old Levi's 501s shorts have been a lifesaver, because, yes, I did still pack a few tops.
Ece (Creative Intern)
Going to: At the moment, domestic travel is our best bet for a relaxing, stress- (and PCR) free holiday, even with restrictions easing in the UK. I recently travelled to Cornwall for a countryside getaway and a highlight was definitely the Barbara Hepworth Museum and Sculpture Garden at the Tate St. Ives. It felt like a calm oasis in a busy town with remarkable statues and surroundings. Definitely worth a visit!
Drinking: I'm not really the type to choose soft drinks over a glass of water but from time to time it's nice to spice up your beverage consumption. Lately I've been obsessed with Lo Bro's Organic Cola Kombucha. It's not only yummy but it's also the most gut-loving, healthy option to quench your thirst with.
Wearing: Unusually, London has seen some sunny days in the past few weeks! As soon as the temperature rises to 20+ degrees Londoners hit the parks to soak up some sun and make the most of the few warm days of English summer. Finally, my vintage pink bikinis I've scored on Ebay have had some time out from the cupboard, making their debut in Clissold Park.
Listening: SZA- Ctrl. It's not a recent release; but a few weeks ago my boyfriend surprised me with my first ever vinyl (to put on the shelf next to his 400+ records…) and I've really been enjoying going back to this album and listening to some of my favourite songs through a different medium.
Grace (Partnerships & Editorial)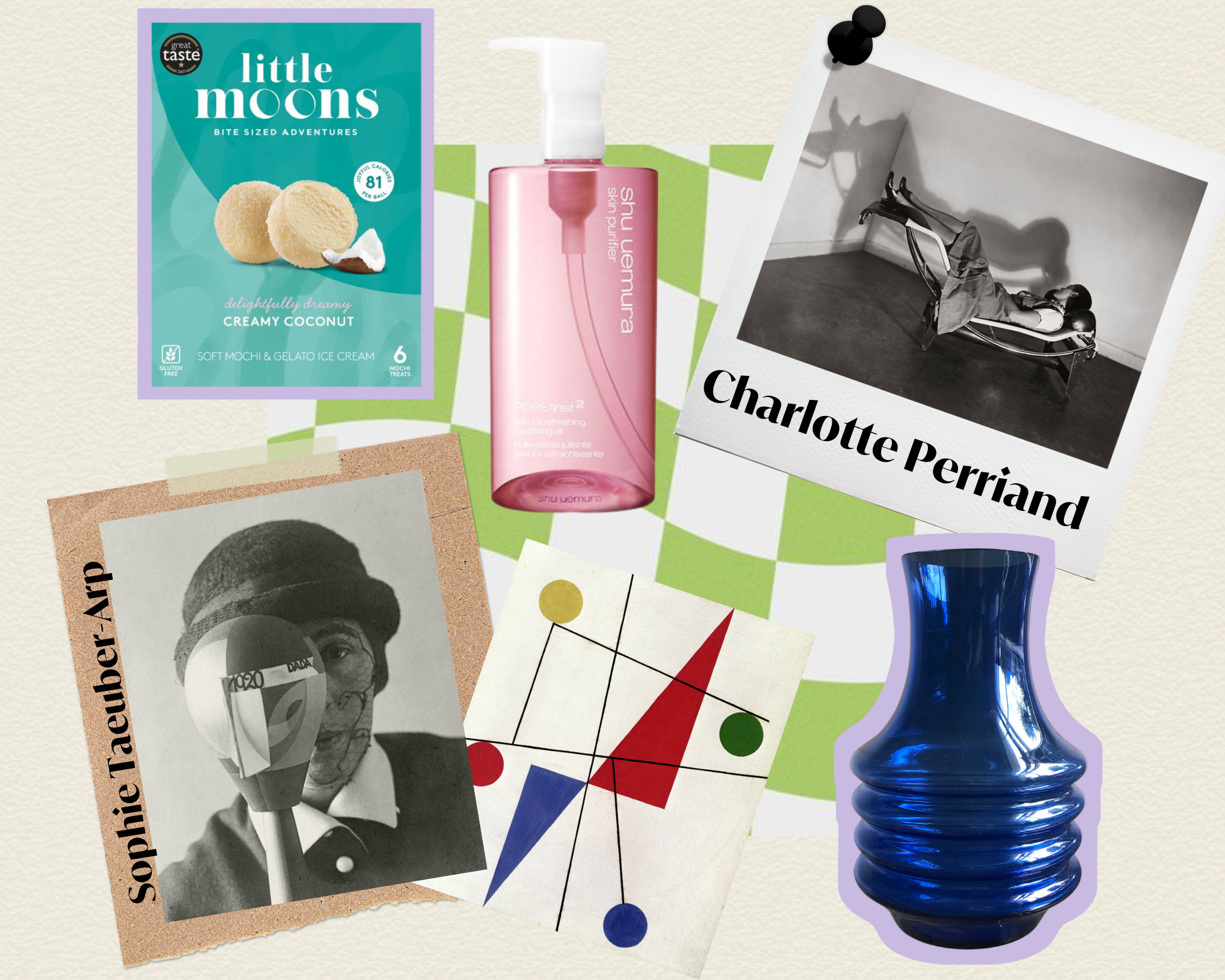 Going to: I recently went to the Charlotte Perriand exhibition at the Design Museum, an incredible French architect and designer who collaborated with Le Corbusier creating functional and modern designs. I particularly loved her designs from when she lived in Japan and the Nuage shelves.
And I also need to mention the Sophie Taeuber-Arp exhibition at Tate Modern, which was incredible. Taeuber was a Swiss painter, sculptor, textile designer, puppeteer, architect, dancer and she designed interiors and furniture. She was so multi-talented and I found her designs so beautiful and satisfying.
Beauty: My mother bought this Shu Uemura Porefinist Cleansing Oil for me when she was in Japan a few years ago and I am only now coming to the end of my bottle. It's so effective at removing make-up and the perfect first step of my "double cleansing" routine.
Home: I've recently moved into a new flat and I'm ashamed to say that I haven't bothered buying plates yet but I have already acquired two vases… I picked up this blue one in Somerset at an antiques store for ten pounds and I love the Space Age Design vibes it gives off.
Eating: Mochi! I'm obsessed with the Little Moons and the pistachio, coconut, and passion fruit and mango flavoured mochis are the perfect afternoon pick-me-up.
Sofia (Sales & Operations)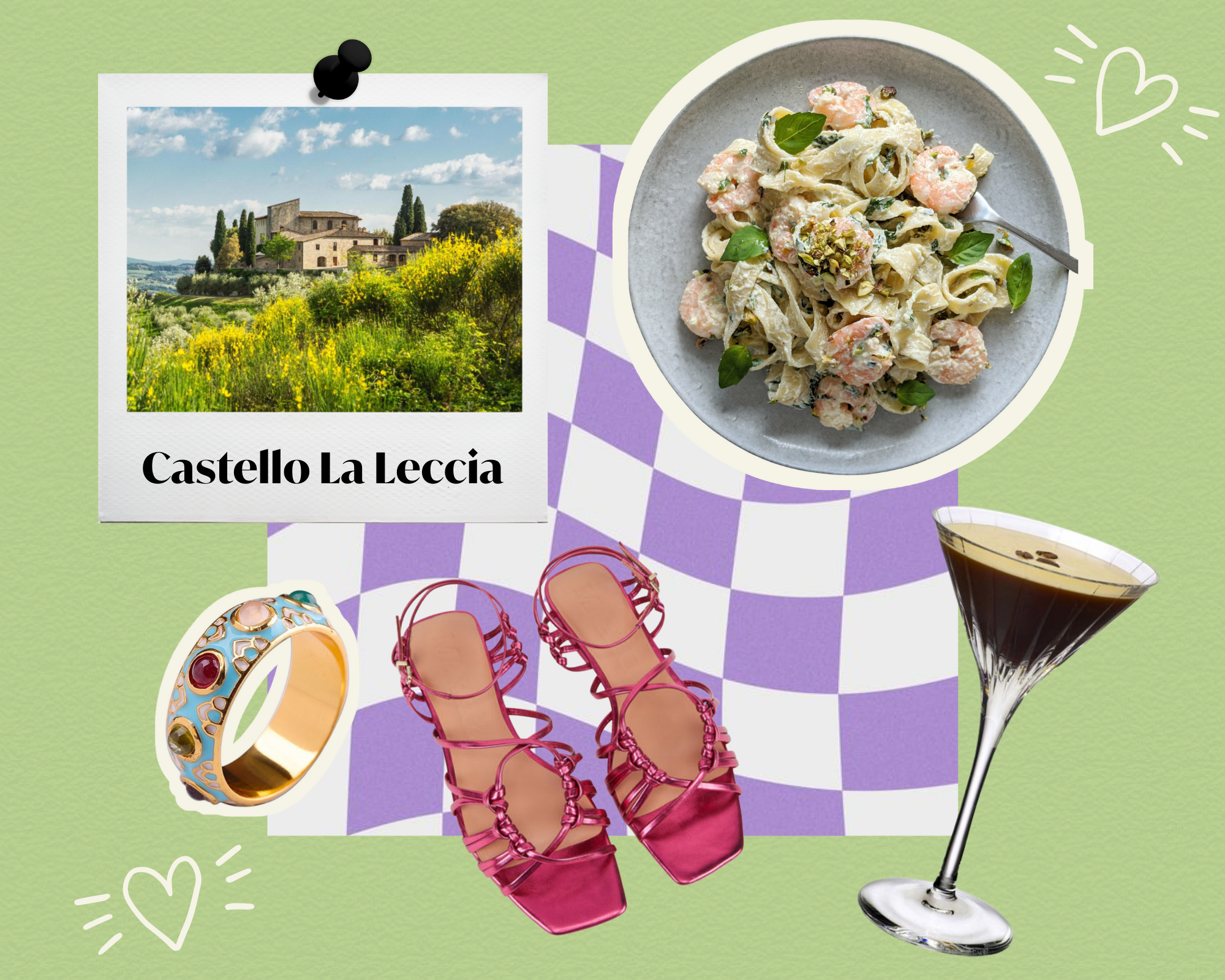 Going: I'm currently based in Florence and a great weekend getaway from here is the Castello La Leccia. It's so beautiful, and I went there with a friend to do some wine tastings. I would highly recommend going if you're in the area!
Wearing: This month, I've been loving my Max & Co. sandals and an enamel ring that I bought in Castellina in Chianti.
Drinking: You can't go wrong with an Espresso Martini! I've been going to the Odeon Bistro in Florence to get my fix.
Eating: Although it may sound like a strange combination, I had the most amazing pasta with raw shrimps, pistachio and stracciatella. It honestly blew my mind!