Aug 26
What Team Whering Loved This Month (August)
Ece (Creative Intern)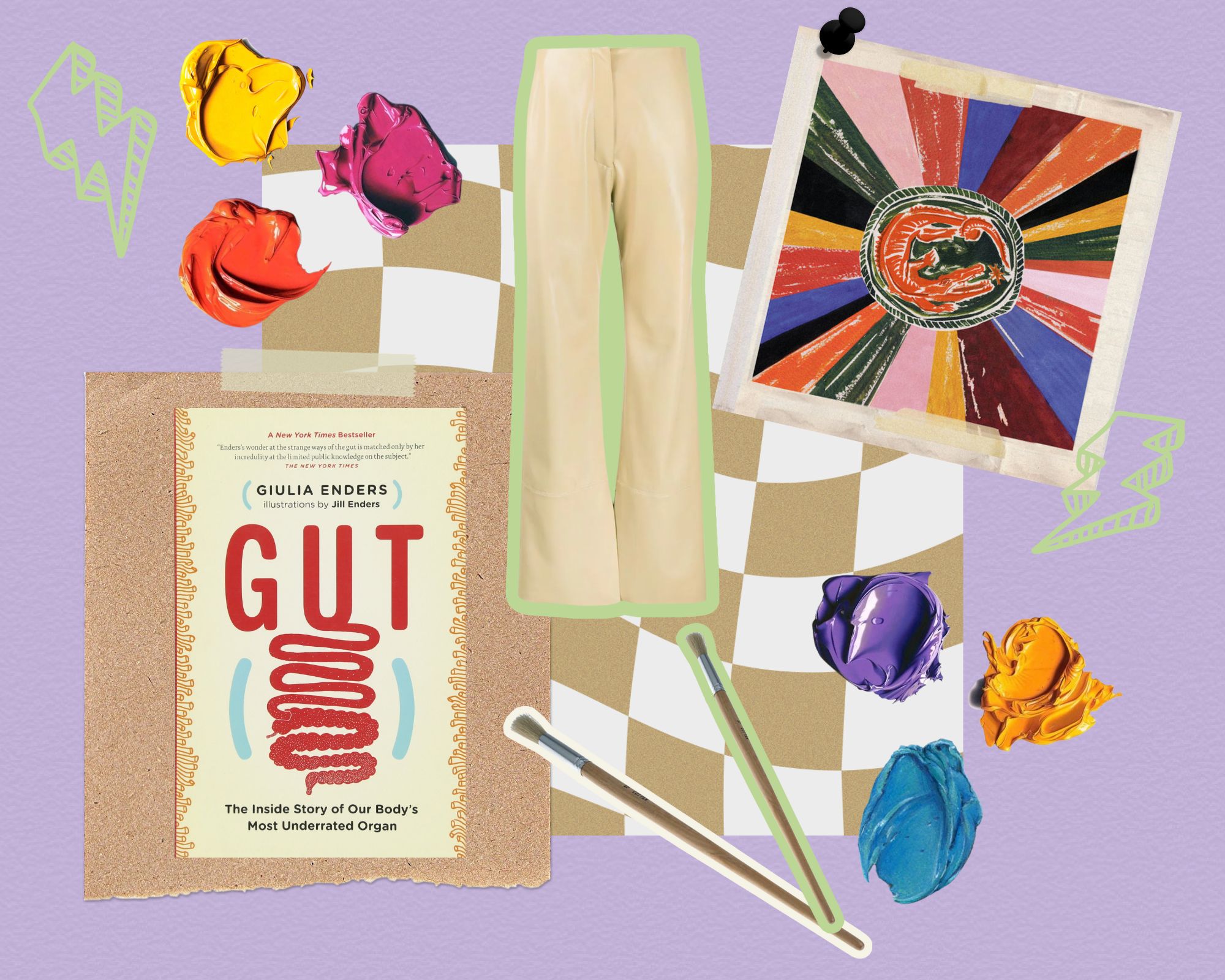 Reading: Gut by Giulia Enders. Even though I have only just started reading this I'm already mind-blown about the fact that what we consume influences not only how fit we are and how glowing our skin is but also our mental-health, our relationship with others and so many other areas of life. It definitely changes perspective on lots of things and makes you realise how important this organ is. Extra points for the cute drawings.
Wearing: August weather might not be the most suitable for wearing vegan leather but luckily end-of-summer cool down in Budapest has given me the opportunity to try out my newest splurge which was a Nanushka cream vegan leather trouser. I got them at the summer sale in their beautiful Budapest store which I always visit when I'm back home in Hungary.
Listening: Indie rock is never my genre of choice when they pass me the aux cord but recently I've totally been obsessed with Fran Palermo and their latest album Crocodile Juice Bar. I was lucky enough to see them play live at Szentbékálla which is a tiny countryside town close to Balaton, Hungary's largest lake. It was baby's first concert post-covid and the atmosphere was magical. It's been on repeat ever since.
Doing: Ceramic painting is by far the greatest gift I have given to my friends and family. It is such a nice activity to do together, have fun and talk about things while also letting your creativity run free. In the end you do come away with a physical product which will always remind you of the time spent together. I recommend surfing on Pinterest for some inspiration beforehand.
Emilija (Brand and Creative Direction)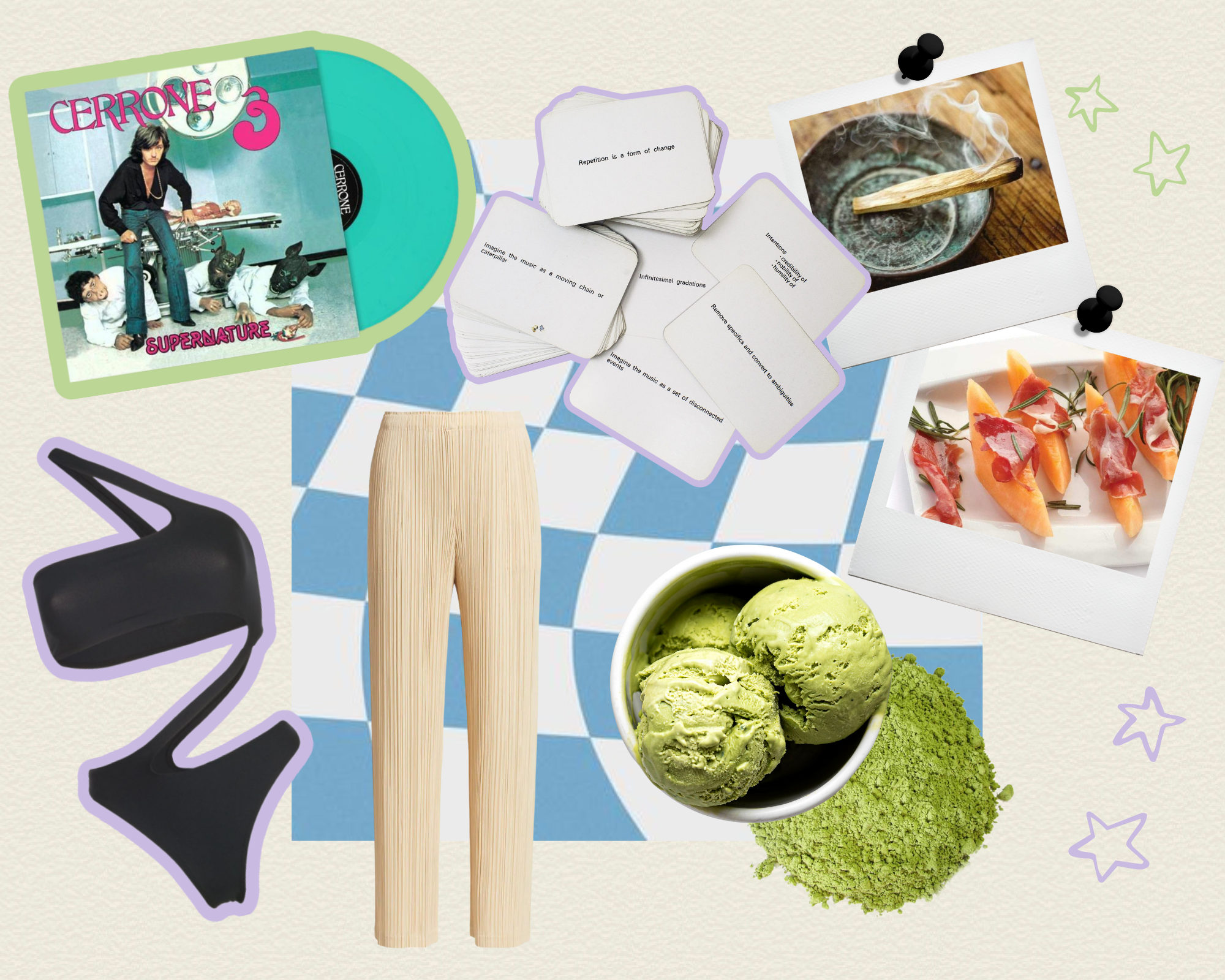 Wearing: this asymmetric swimsuit from Kiki De Montparnasse for evenings by the pool when the sun isn't strong enough to leave you with unfortunate tan lines. Been there, done that, but I will still continuously risk it in the name of hot girl summer.
Eating: cantaloupe with prosciutto. A recent trip to Italy reignited my obsession with this sweet & savoury pairing, which has since become my favourite go-to snack of the season. I've also been indulging in ridiculous amounts of matcha ice cream from a local artisan gelateria- it's the perfect flavour for someone who doesn't particularly have a sweet tooth but loves an occasional rich and creamy pot of heaven.
Getting Inspired: with the Oblique Strategies card set by musician Brian Eno & multimedia artist Peter Schmidt that I won on eBay (take that, User0017585673) in the midst of a post-lockdown induced creative block. The box includes over 100 cards, each of which is a suggestion of a course of action or thinking to assist when an artist has reached some form of creative impasse and requires external disruptive influence to suggest new ideas. .
Bidding on: these mocha Issey Miyake plissé trousers in my size that I've been on the hunt for since January. Pleats Please is either loved or hated (possibly because of that time in 2016 when everyone and their dog bought the Topshop wannabe Miyake plissé culottes?), but to me they're one of the most versatile casual trousers ever. It's a low-maintenance (wrinkle-free) piece you can bring when you have limited space in your suitcase and they go with virtually anything. Update: I lost the bid.
Relaxing: with Palo Santo from a local crystal & herb market. Whether you choose to believe in energy cleansing or not, the scent has a comforting and calming effect that every home can benefit from.
Listening to: Cerrone on repeat. 70s disco ignited my love for dance music many years ago, so I could barely hold my enthusiasm when I dug out this iconic record at the flea market. Supernature will forever be one of those tracks that has the power to lift the energy in any room, nine out of ten times resulting in a heated dance scene à la Climax.
Nona (Socials & Community>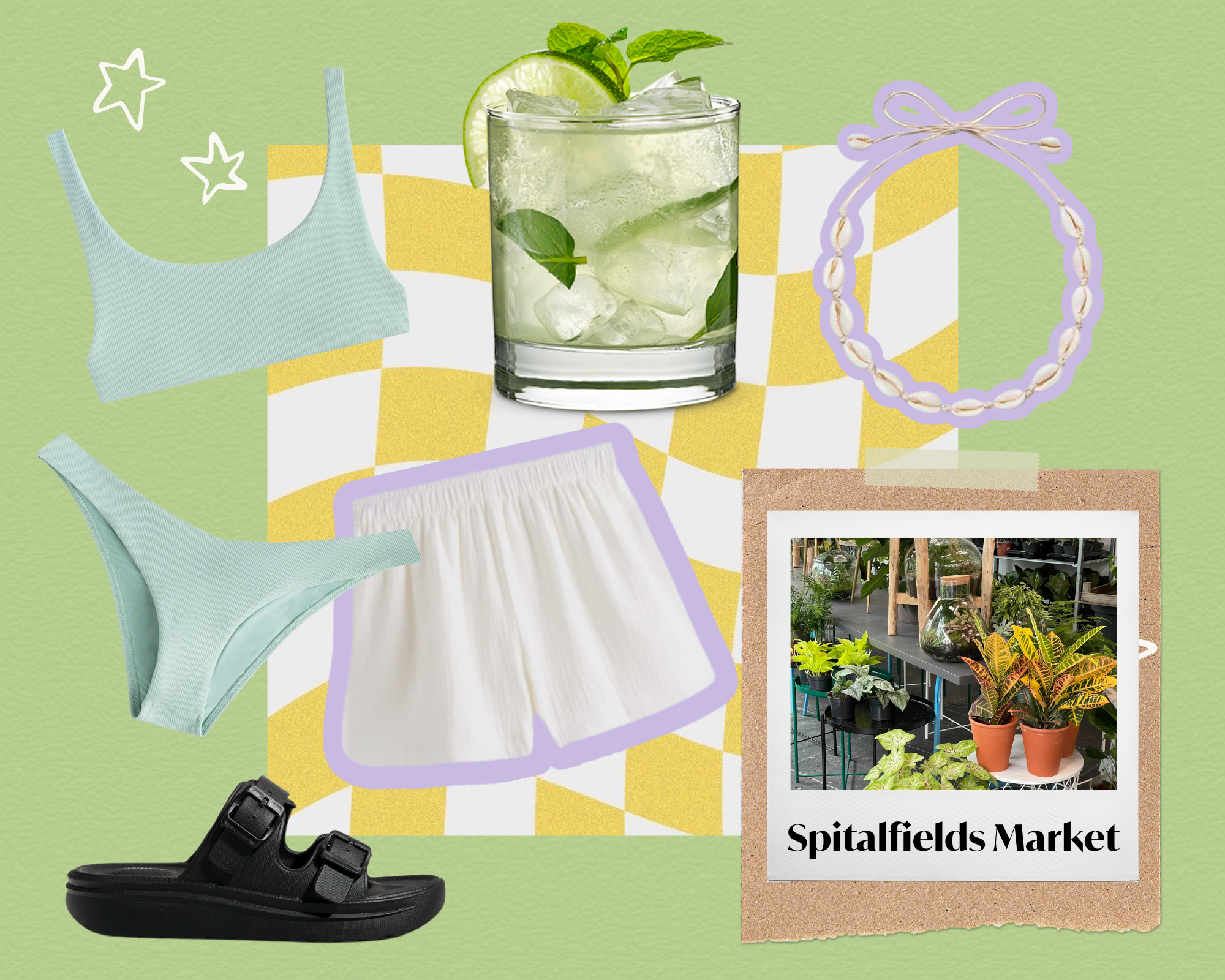 Visiting: Spitalfields market. My best friend and I have been meaning to go for months, and we finally did when I got back to London- it did not disappoint. From the cutest plant shop with a 50% off clearing sale, to some amazing jewellery and accessory brands (definitely recommend checking out Caotic Jewellery), it was such a wholesome experience.
Drinking: Mojitos. I know, I know, TikTok dubbed it the 'hot girl drink' but I think I had one bad experience with a particularly untasty mojito, and wrote them off for years. But after spending a week in Spain, my first mojito snowballed into me not sipping any other cocktail for the duration of my trip. The standout was definitely the Roasted Mojito at Bibo, with Captain Morgan rum infused with chilli, Brugal Blanco rum infused with roasted pineapple, agave sugar, lime, mint and soda.
Wearing: My wannabe island girl aesthetic fits. With spending 3 weeks by the Bulgarian seaside, and 1 week in Marbella, I really made OBX season 1 Sarah Cameron (I say season 1 because missgurl needed a shower for the majority of season 2) my personality trait. I updated my swimsuit collection with a few basic colours, got the most comfortable Oysho shorts, which admittedly I have also been wearing non-stop in London, and I cannot thank my friend Kristian enough for going out of his way to find me a shell choker necklace to complete the look.
Grace (Partnerships & Editorial)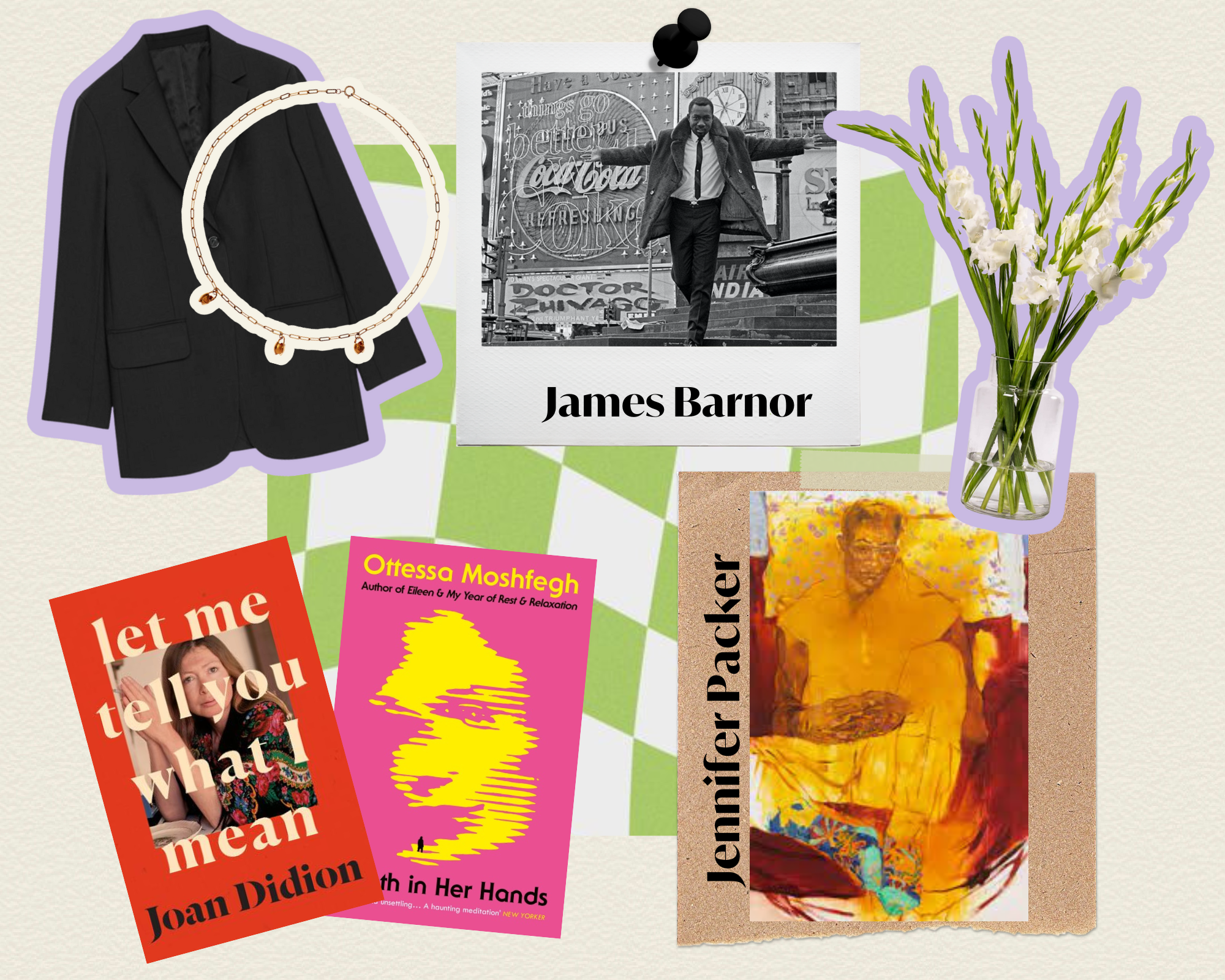 Wearing: n oversized blazer to dress up or down - perfect for the transitional weather in London at the moment. I got mine a few months ago on Depop (finally caving into the blazer trend) and haven't looked back since.
And Alighieri's The Glow of the Candle necklace, inspired by T. S. Eliot's poem The Waste Land about post-war London. It's such a unique and delicate piece, I even wear it over my turtlenecks
Reading: Death in her Hands by Ottessa Moshfegh (of My Year of Rest and Relaxation fame). It's a very eerie take on the traditional detective novel with an unreliable narrator - definitely a mood
And Let Me Tell You What I Mean by Joan Didion, I am basically becoming a stereotype of myself at this stage, reading yet another collection of essays by Didion, but this was the perfect beach companion on a recent Balearic getaway.
Arranging: bouquets of gladioli around my flat. I haven't ever really noticed these flowers before, but a friend brought some over as a flat warming gift and they are so fun and striking when in bloom. They're also surprisingly cheap at Tesco at the moment, but be warned that they fade after a week.
Visiting: the Serpentine Galleries. There are two great exhibitions at the moment, as well as a new pavilion designed by Counterspace. I went to both Jennifer Packer: The Eye Is Not Satisfied With Seeing and the James Barnor: Accra/London Retrospective this month. The Serpentine Galleries exhibitions can be a bit hit or miss for me, but it's always worth checking out (especially because it's free!).
Sofia (Sales & Operations)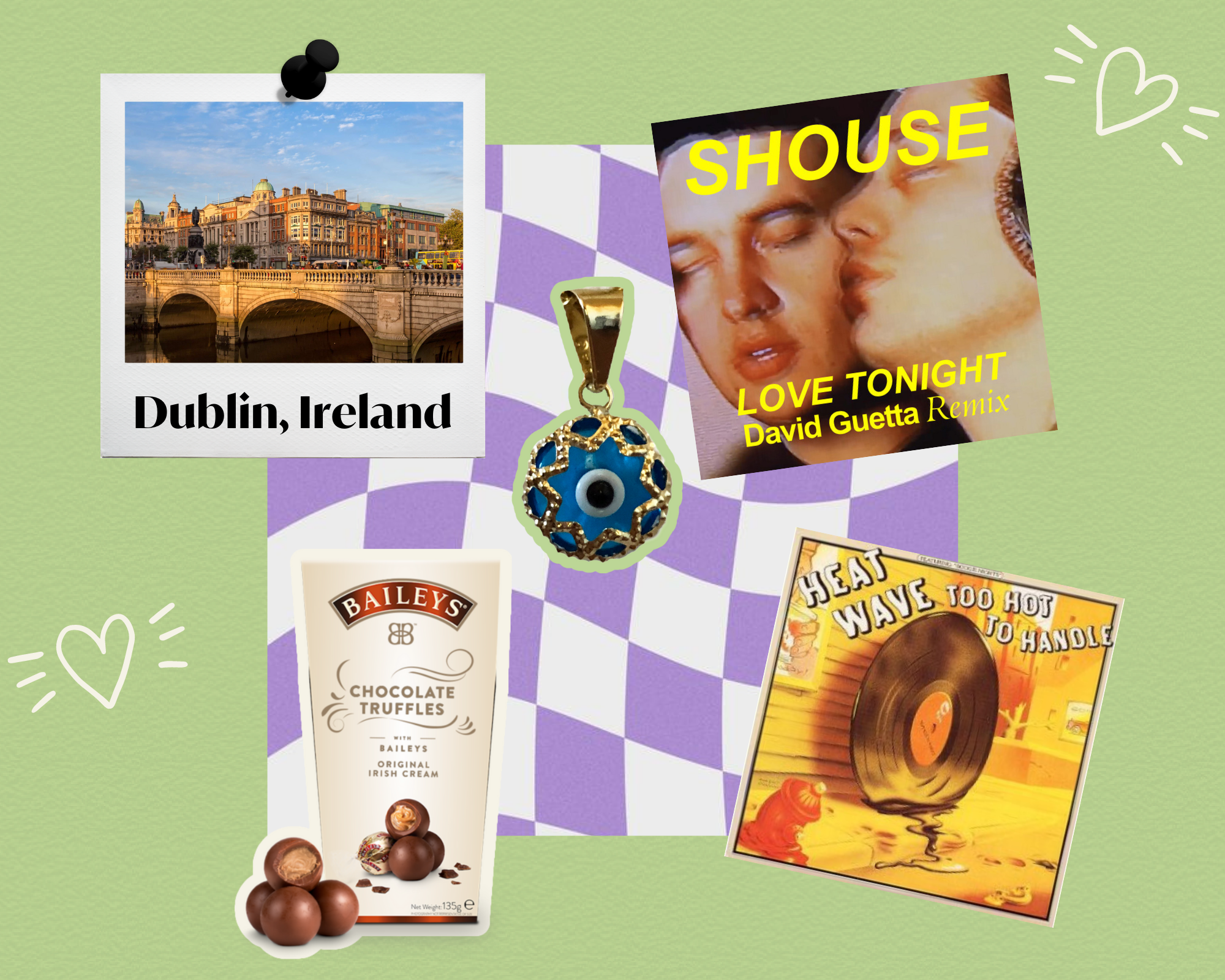 Visiting: I visited my boyfriend in Ireland earlier this month and it was my first time in Dublin. I had a great time walking around the city and visiting the Guinness Storehouse (even though I don't like beer). I also enjoyed a lot of seafood and oysters.🦞
Wearing: I love good luck charms, especially the Middle Eastern evil eye amulet. I was recently perusing pendants on Etsy and it was love at first sight with this gorgeous yellow gold and Murano glass eye.
Listening: Disco & House music are some of my favourite genres and lately I've been listening to Boogie Nights by Heatweave & the David Guetta Remix of Love Tonight by Shouse on a loop.
Eating: I'm a huge Baileys fan, especially in winter with some hot chocolate. Since it's an Irish drink I needed to get hold of some souvenirs to bring back home to Italy. I got a few boxes of the most delicious chocolates with a soft Baileys truffle centre.