May 27e
What Team Whering Loved This Month - May 2021
Bianca (Founder & CEO)
DRINKING: I love a Gin Basil Cocktail. I'm going to Lebanon in a few weeks and it's really popular there! I can't wait to enjoy a couple (or more) of them while watching the sun go down. It involves basil, gin, lemon juice and simple syrup - perfection.
WEARING: I've been wearing my Baum Und Pferdgarden blazer from Rotaro Resale while I'm in the Cotswolds. It's such a versatile piece and it makes me feel cool and put together (even when I'm not).
READING: I've been loving Get Together by Bailey Richardson, Kevin Huynh and Kaï Elmer Sotto. I'm really interested in community-building, how it can be done and how to cultivate groups of passionate people. The cover is also gorgeous! And I've been reading Tom Ross' Ultimate Community Building Manual which is free to download on his website. It's great for anybody who's looking to build online communities and increase member engagement.
BEAUTY: I'm obsessed with the Jones Road Miracle Balm, which I use as a primer on my face before applying makeup - it's amazing. And I get all of my favourite Korean skincare products from TONIC15. I've recently been loving the Reviving Rose Infusion Toner by Aromatica!
Emilija (Brand & Community Management)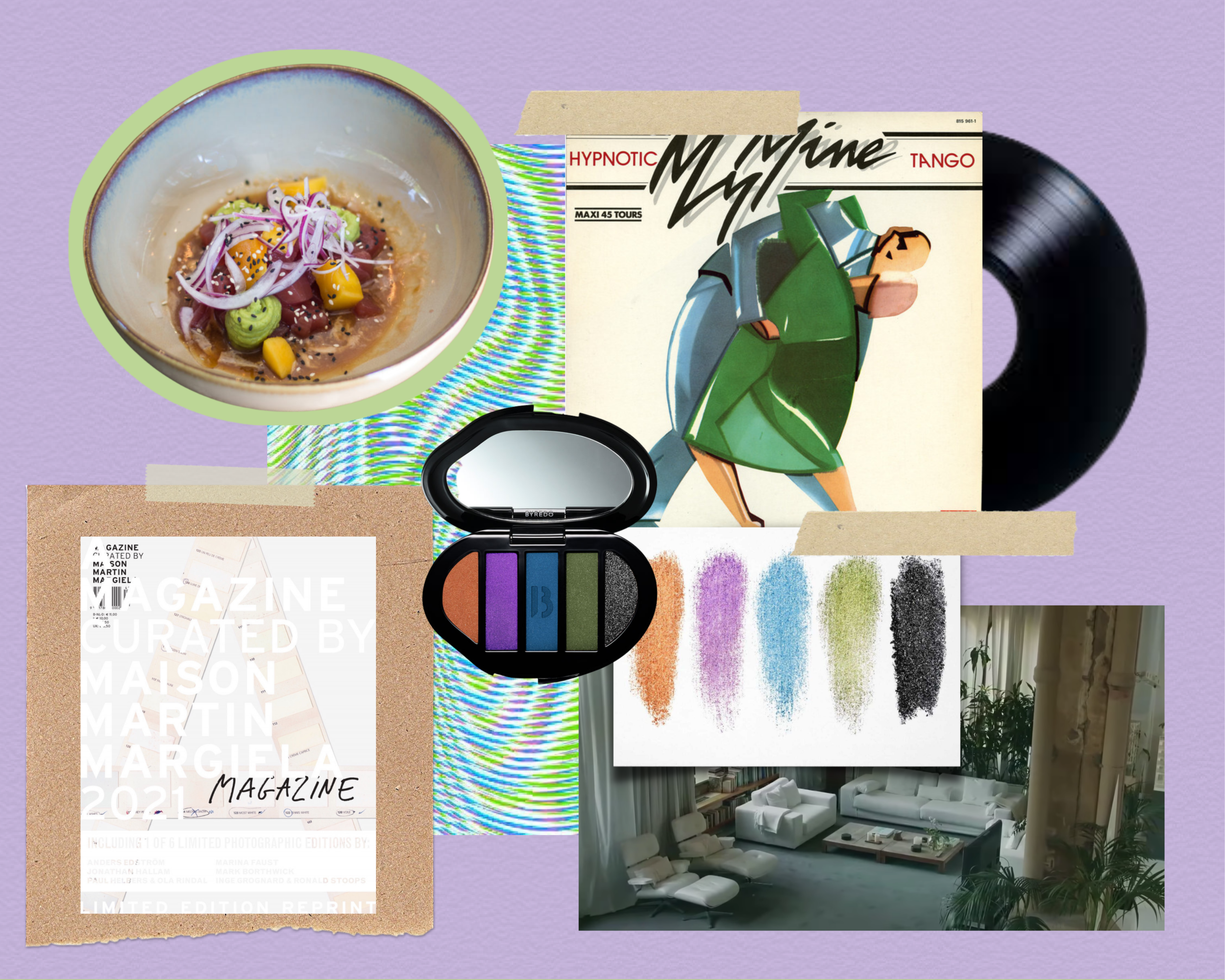 LISTENING: Like most people, I've been patiently waiting for travel restrictions to ease up so I can at least momentarily escape this eternally gloomy weather. In the meantime, I'm travelling through music and spinning the italodisco classic "Hypnotic Tango" by My Mine vinyl on repeat, while dreaming of dancing in a villagio bar somewhere in the South of Italy (martini in hand, of course).
READING: My favourite collectable magazine recently released a 2021 re-edition of their iconic A Magazine Curated by Martin Margiela issue from 2004. It explores the core tenets of Maison Margiela, including the deconstruction of garment-making as well as street casting, unconventional beauty, and Dadaism. Growing up in Belgium, Margiela was a huge influence on my design work and his legacy taught me the importance of having a unifying signature in everything you do. I try my best to live by that, so this is a very meaningful piece to add to my collection.
WEARING: The Byredo 'Sciomancer' eyeshadow palette is enough to make up for the lack of disco-ball events in my life at the moment. Bring on the roaring 20s with these colours, I'm ready!
EATING: I am once again fulfilling my travel fantasies through different sensory experiences and transporting myself to Peru - this time, via a beautifully-plated serving of ceviche. I like to add in some passionfruit for a pinch of sweetness. You can pretty much taste the tropical sea breeze! This is definitely my summer go-to.
WATCHING: It's been online since 2014, but every now and again I find myself revisiting the Ricardo Bofill episode from the Nowness 'In Residence' series. The short film explores La Fabríca, an abandoned cement factory that Bofill reimagined and turned into his home, rethinking the relationship between space and function. A must-watch if you're interested in discovering a brutalist building infused with a romantic vision.
Sofia (Sales & Operations)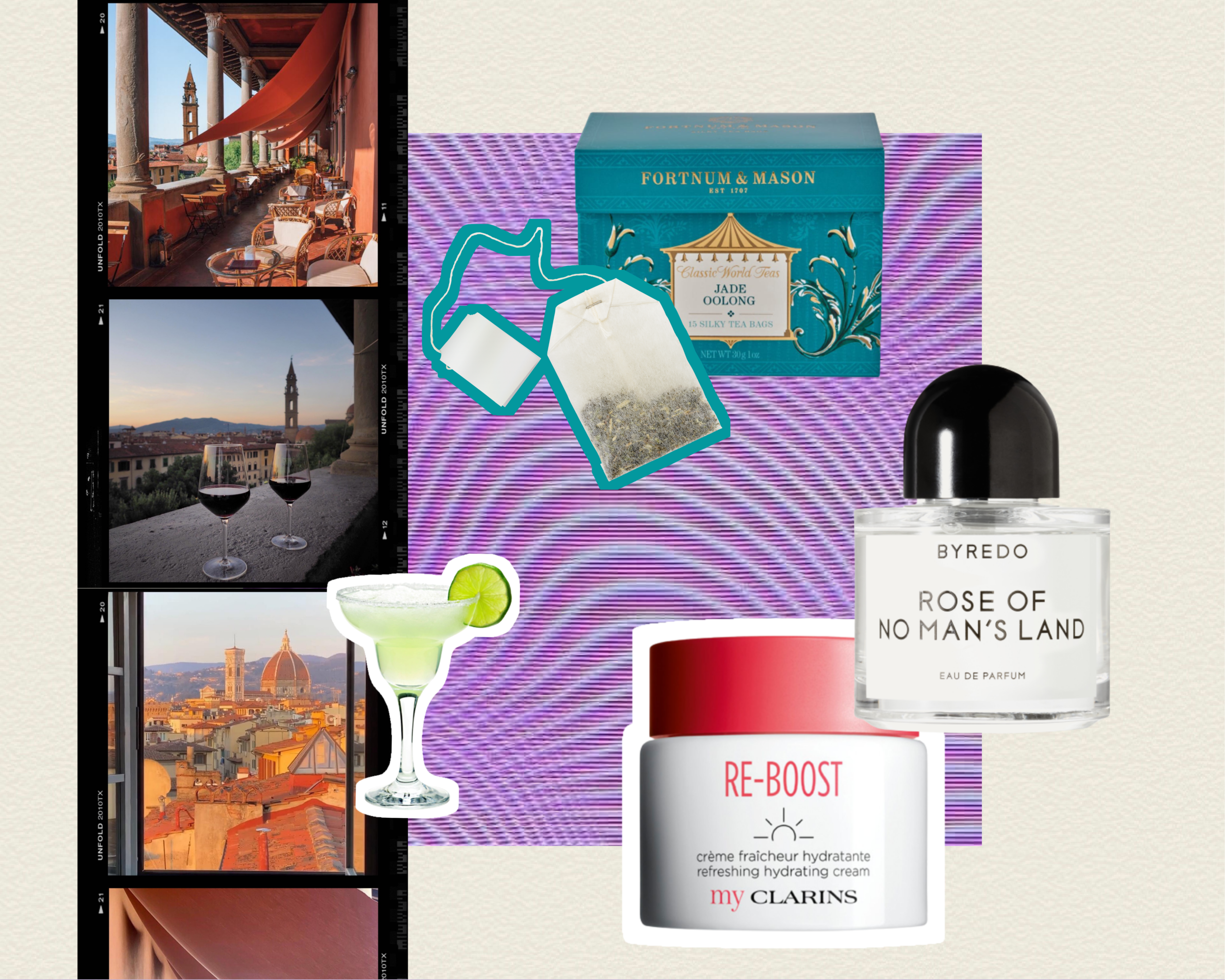 BEAUTY: I love the Clarins Super-Boost cream, it's the best! And my all-time favourite perfume is Rose of No Man's Land by Byredo. It smells of roses, which I love and it reminds me of trips to Turkey and eating rose jam.
DRINKING: Every morning I drink Oolong tea while I work, it helps me wake up and get through my daily tasks.
GOING OUT: I'm currently in Florence so when I'm not working, the Palazzo Guadagni rooftop bar has the best margaritas and it's super aesthetic! The views over the Duomo and the city are stunning.
Nona (Socials & Community)
LISTENING: Olivia Rodrigo's debut album SOUR on repeat.
WEARING: I recently bought matching rings with my best friend after falling in love with the EVRYJEWELS Matcha and Espresso heart rings. We felt they represented us individually while also being a cute and subtle way to match. We also both finished our Bachelor's degree earlier this week and to celebrate we tried our hand at making some (somewhat tragic looking) polymer clay rings.
BEAUTY: the SLEEK Face Form Sculpting Stick is perfection and I've been using it for contour, eyeshadow, eyeliner… you name it. I use it with the Real Techniques Custom Contour Brush which I'm in love with because I've discovered you can adjust how intense or soft the blending is, and it's been really good on my skin.
FASHION: I feel like I go through phases of discovering and rediscovering the versatility of oversized button down shirts, and I've been holding myself back from wearing one every single day. My favourites are the white and pink ones I *borrowed* from my dad.
Viola (Marketing)
BEAUTY: I'm currently writing my thesis so I've been staying inside a lot this past month but the Glow Face Mask from Rituals has helped keep my face under control and looking alive after many sleepless and stressful nights.
DRINKING: I've recently discovered the Pukka Night Time tea which is amazing and I can't go a night without it now!
GOING OUT: And obviously I can't not mention how wonderful it is to be out with friends now the restrictions have relaxed! I've been loving weekends at The Anglesea Arms, Kosmopol and The Prince amongst other great London spots. It's also my first spring living in south-west London with my boyfriend and our new Sunday hobby is grabbing a to-go pint and strolling along the South Bank.
Grace (Partnerships & Editorial)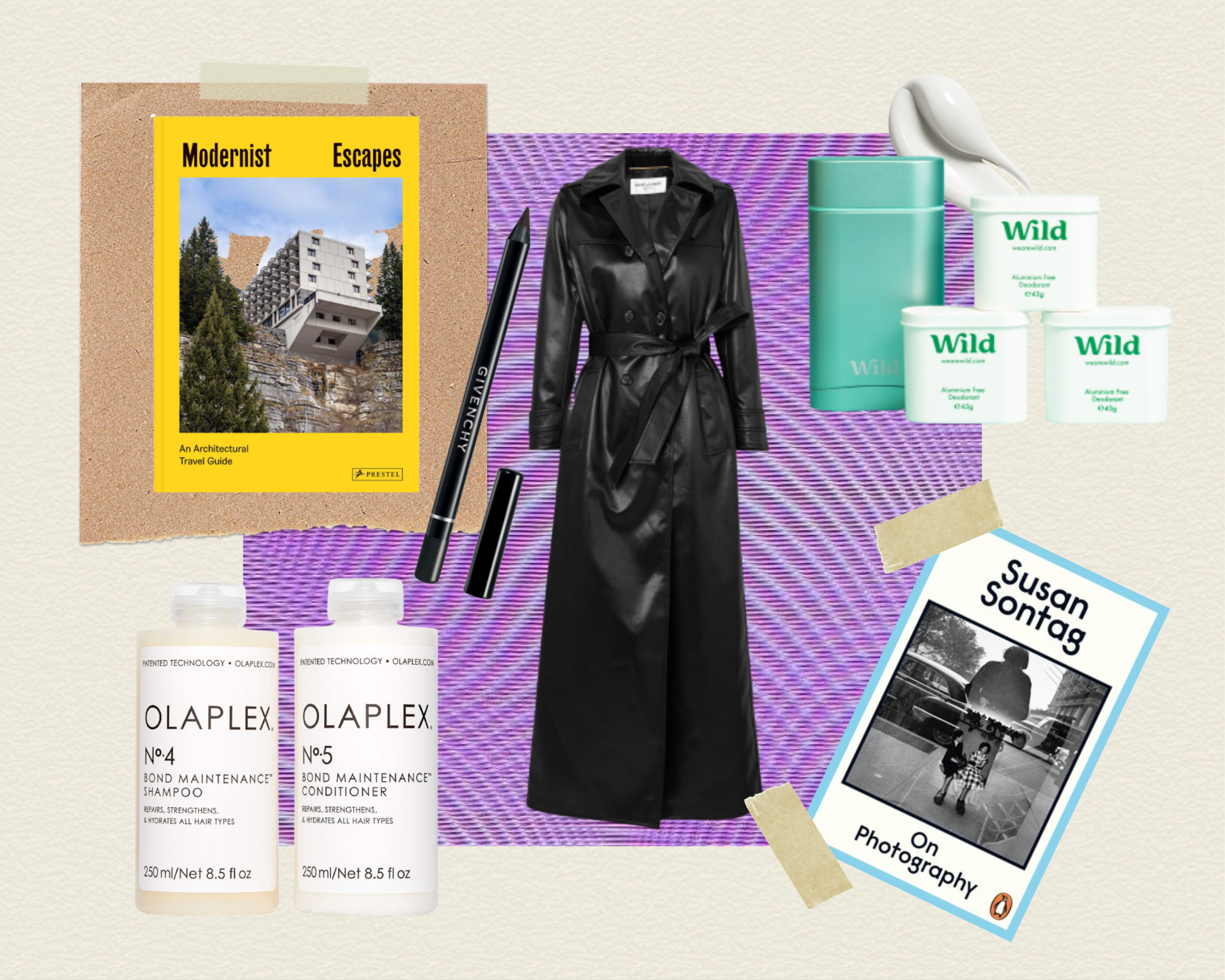 WEARING: I bought my leather trench coat on Ebay for £50 way back in 2019 and it's been my go-to jacket ever since. I've endured many Matrix remarks but it's worth it! I find it elevates any boring outfit to look instantaneously cooler.
READING: Susan Sontag is an art history icon and I've been loving On Photography. I wish I could have a quarter of her brain power but in the meantime I'm happy immersing myself in her writing. I also picked up Modernist Escapes by Stefi Orazi recently, and I'm dreaming of travelling to the incredible buildings in this guide. This book is great for anyone looking for a global overview of modernist architecture.
BEAUTY: The Givenchy Noir Révélateur black lipliner is a game-changer. I can't explain exactly how it works but it kind of creates a shadow around your lips and makes them seem bigger. I wear it with Glossier's Balm Dot Com lip balm in Mango or any lipstick I have lying around. I've also recently switched to the Wild deodorant. After a long and arduous hunt for the best natural deodorant, I can confidently say this one is my winner. It's also eco-friendly thanks to its aluminium case that you refill with compostable pods. Finally, the Olaplex shampoo and conditioner are lifesavers for anyone who bleaches their hair.
Anna (Business Development & Operations)
WORKING OUT: One of my latest obsessions is the boxing club Kobox which calls itself a "fight club meets nightclub"! It's a really fun alternative to the usual gym settings.
BEAUTY: I've been using Tan Luxe self-tan drops for a while, but especially now when the weather has been so awful. And if you have acne-prone skin and struggling to find a suncream that doesn't break you out, the Image Skincare Prevention +32 SPF is the best ever!
DRINKING: I looove the Starlino Rosé Italian Aperitivo, it's so good with prosecco and it's the perfect update on the classic Aperol Spritz!