Jul 1
What Team Whering Loved This Month - June 2021
Bianca, Founder & CEO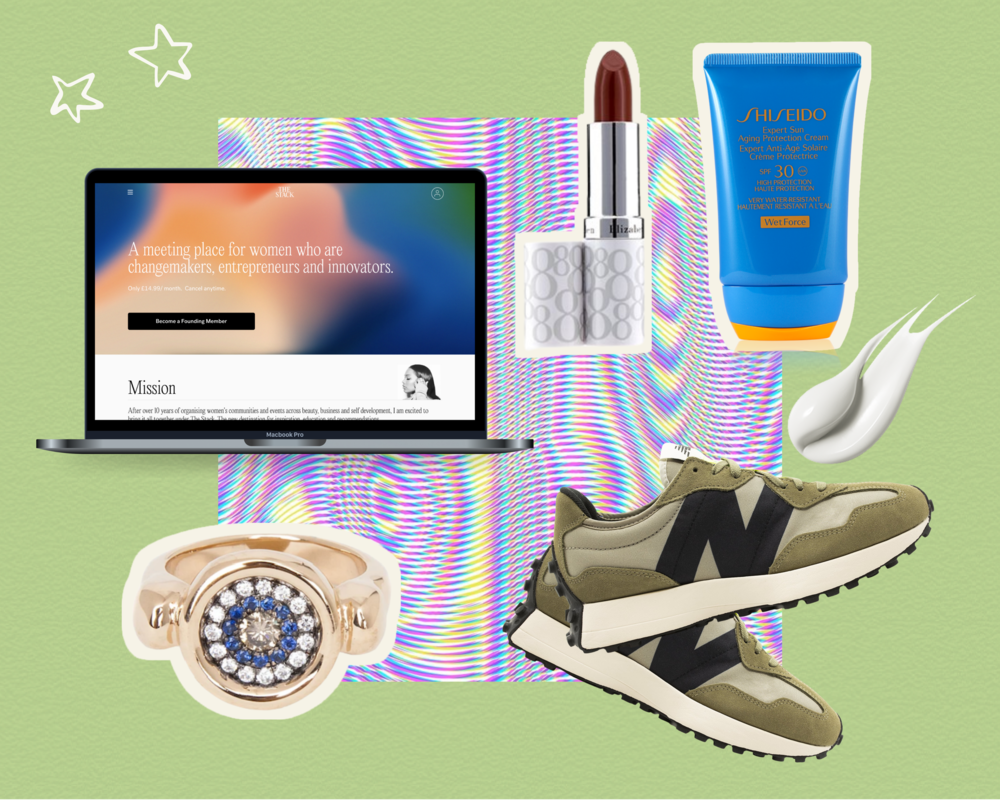 Wearing: I'm in love with all of Nadine Ghosn's jewellery, which is all made in Lebanon. My absolute favourite is the Evil Eye Signet Ring! I definitely feel protected when I wear it. 🧿 I love a comfy shoe and I'm planning on wearing these olive New Balance 327 Trainers all summer. They're perfect for city breaks or escapes to the countryside!
Doing: I'm a member of The Stack World, an incredible media platform for women that covers everything from business, politics and culture to beauty and wellness. I've been attending the 'Self-Development Strategies' online with the ever inspirational Sharmadean Reid, CEO & Founder of The Stack World.
Beauty: Sunscreen is a non-negotiable summer staple. The Shiseido Expert Sun Aging Protection Cream SPF30 is the best investment I've made all month. There's nothing like a colourful lip to elevate a look. I've been loving the Elizabeth Arden Plum Eight Hour Cream Sheer Tint in the shade Plum. It also has SPF15 - don't forget to protect your lips from the sun as well as your face!
Nona (Socials, Community & Digital Marketing)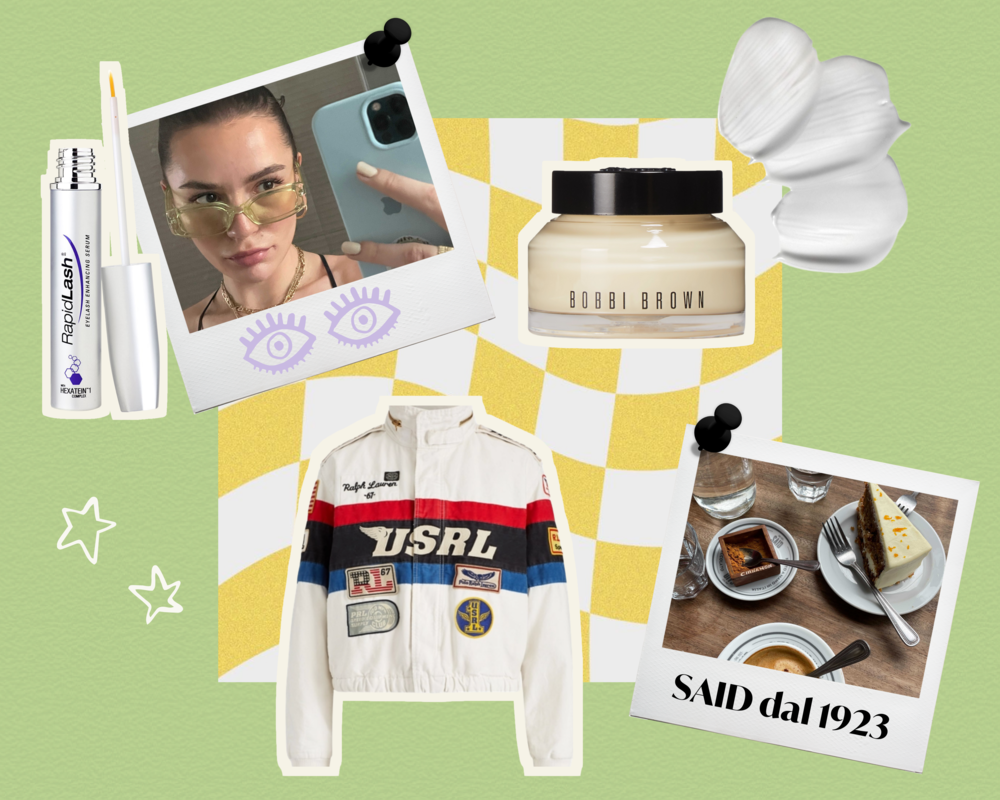 Going: SAID dal 1923 has the best hot chocolate and carrot cake 🥕 I started going there with a friend for coffee dates and I think it might be a magical place for manifesting because every person we mentioned would walk past. It's also right next to the meeting point for a Silent Disco group, which is premium content, so I definitely recommend sitting outside.
Wearing: My thrifted Ralph Lauren racing jacket. I got this back in February or March but really struggled to make it look 'right' while I was mainly wearing jumpers and boots. Now that I've moved on to little tops, trainers and dresses which don't require tights again, it's so easy to throw it on and it's such a great colourful statement addition to any outfit.
Beauty: I've been suffering from pretty severe adult acne (and hence texture) for the past three or so years, and my skin finally started clearing up around March. The Bobbi Brown Vitamin Enriched Face Base has been one of the best primers I've tried that really makes my foundation blend in seamlessly and look soft and glowy. And I use the RapidLash Eyelash Serum every night before I go to bed and it's made such a huge difference! Several people have asked me whether I have eyelash extensions (thanks for the ego boost, guys).
Grace (Partnerships & Editorial)
Wearing: I've been somewhat obsessed with checks lately, and I love this blue and white number from ottod'Ame I snatched up in a sale at the Curated Woman boutique in Richmond. I kid you not, whenever I wear it around London people will stop me to ask where it's from!
Reading: I'm a huge fan of Joan Didion's writing and 'The Year of Magical Thinking' is one of the best books I've read all year. It's about her experience with grief after the loss of her husband, which Didion documents with her signature style of writing - both intimate and melancholic.
Beauty: If you have dry skin like me, it's hard to find an SPF that doesn't awkwardly sit on your face or leave that dreaded whitecast effect. The 'Supreme Screen Hydrating SPF50+' sunscreen by the Australian brand Ultra Violette has been a summer upgrade and you can definitely trust Australians with SPF (I should know, I'm from Sydney).
Working out: I can't really be bothered to go back to classes and the gym right now, so Alo Moves has been a lifesaver in terms of motivating me to work out at home. They have great yoga and fitness series, as well as guided meditations (I'm a fan of the sound bowl ones).
Listening: Doja Cat has been churning out the hits for a while now, and I've been compulsively listening to her new album, Planet Her, since it came out last week. It also features pop music heavyweights The Weeknd, Ariana Grande and SZA.
Anna (Business Development & Investor Relations)
Beauty: I've been using 'Nuxe Huile Prodigieuse', which has been my favourite for a few years now. I love the smell of the product and the glow is unreal! And my absolute favourite summer perfume is Tom Ford Soleil Blanc. My mom bought this a few summers ago and I couldn't get enough of it so had to buy myself one. It smells like a coconut dream! 🥥
Drinking: I just can't say no to a good drink. I've been making rhubarb gin sours. They're so easy to make and taste like summer!
Eating: Peaches! 🍑🍑 I've been obsessed with them lately and I made a lovely goat cheese crostini with peach and honey, as well as a burrata salad with peach and basil - so yummy, try it out!
Listening: I love lounge music, and lately I've been listening to Spotify's "Chillout Lounge" playlist. It definitely gets me in the holiday mood! 🌴
Emilija (Brand, Social Content & Community Management)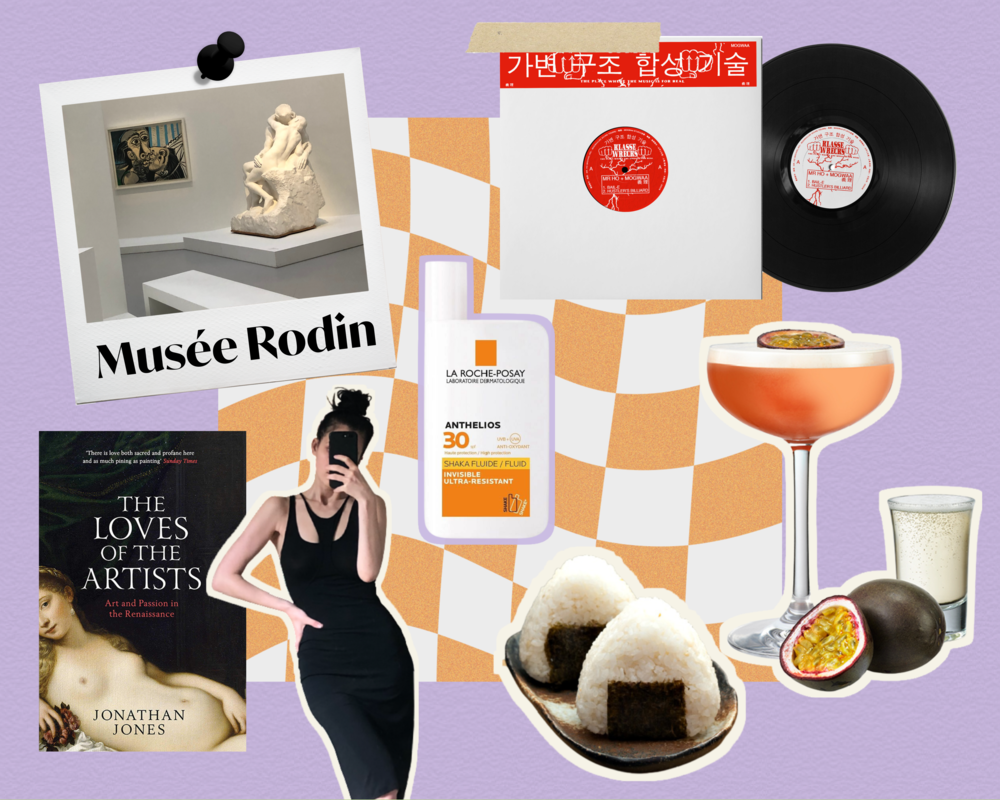 Listening: A lot of groovy house with touches of acid and techno. There's no competition for my most played track this month, it's Bail-E by Mogwaa and Mr. Ho that I picked up on vinyl in probably the most beautiful record shop I've been to in Paris. With a lot of live music venues reopening, I'm hoping I get the chance to play it to even a small group of people outside of my own bedroom over the summer.
Drinking: I just can't say no to a good drink. I've been making rhubarb gin sours. They're so easy to make and taste like summer!
Eating: At this point I'm fully convinced that my body is at least 76% onigiri (the rest is iced matcha, naturally). I'm a spicy tuna and wakame enthusiast, but I also recently discovered Kishu Nanko-Ume onigiri with pickled plums. A delicious vegan option for when you're on the go!
Drinking: While not the most adventurous choice, I am currently obsessed with pornstar martinis. Extra points if the passionfruit on top is caramelised with sugar & a torch to really hit that sweet spot. Can anyone explain why it tastes ten times better when served in a coupe? I have some questions for Marie Antoinette.
Not Forgetting: To wear sunscreen. Over the past few months, I've been searching for the perfect one (with a lot of trial and error). At the moment I'm trying out the LaRoche-Posay Anthelios Shaka Fluid SPF50 and so far, so good. I'm really enjoying the light, liquid texture that also gives me a nice matte glow. Perfect for a foundation-free summer!
Wearing: I couldn't believe my eyes when I found this early 2000s Paco Rabanne sample dress in perfect condition on Vinted for £20. I've been dressing it up with mules and gold accessories for drinks on the terraces, as well as dressing it down with a blazer and my hair up for brunch. A super versatile piece with a lot of character. Plus, it reminds me of Casey Cadwallader's Mugler, which is an absolute dream.
Visiting: The highlight of June for me has been the grand return of museums and galleries. My first post-lockdown visit was to Musée Rodin for the Picasso-Rodin exhibition, which presents the two iconic artists in parallel. It highlights the unexpected convergences and similar themes within their work, with a focus on the richness of their respective art processes. It's on 'til January 2022 so if ever you happen to be in the City of Light, make sure to stop by.
Reading: 'The Loves of the Artists' by Jonathan Jones, a delectable read on how passion and desire were the driving forces behind the work of the Renaissance artists. While the Middle Ages saw the body as a vessel of sin, from the 15th century onwards the Renaissance invented eroticism as we know it. For those interested in the sensual myths of the gods and their loves, the book is cheaper than a trip to Florence (unless you're flying with Ryanair), although hopefully that too will be on my favourites list a few months from now.
Ece (Creative Intern)
Drinking: Last weekend, I went out for a friend's birthday and it was the perfect opportunity to check off one thing from the Whering weekend bucket list. I ordered the fourth drink off the menu at the tiny but well-stocked Homeboy Bar which was, conveniently, a vodka espresso. It had salted caramel syrup in it, which elevates your usual espresso drink into a beverage you could swap with your morning coffee (jokes, no alcohol before noon!).
Beauty: Everyone and their mother has been talking about the Charlotte Tilbury Blush Wand since Madison Beer used it in her Vogue 'Get Ready With Me' video, but I have to admit, it does magic to your cheekbones. The application is super easy and if you prefer a liquid blush to a powder one, this is your go-to!
Eating: After having to cancel my reservation multiple times due to lockdowns, I finally made it to the Big Jo Bakery and had the best pizza London has to offer. The owners of Big Jo (and its sister restaurants) are promoting regenerative farming and creating a sustainable food system, and this amazing place in Hornsey is worth a visit. Check out their Instagram account to see the menu which changes every day!
Wearing: This month, I finally gained the confidence to wear the zebra print trousers I stole from my mum years ago. They're from the 90s and there's a picture of my mum in Vienna wearing the trousers holding baby me in her arms, so this piece is definitely close to my heart.
Constance (Creative Intern)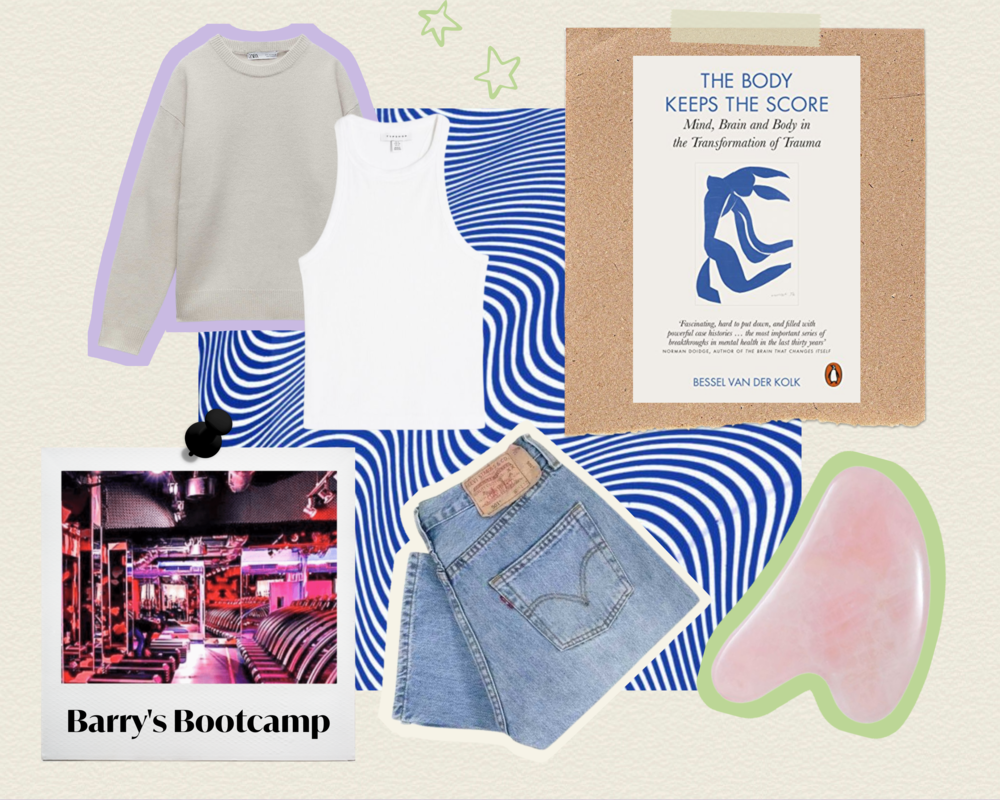 Beauty: I'm completely obsessed with skincare and I love the fact that you can literally change your skin with the right ingredients. What I'm loving at the moment is my gua sha stone. When I wake up puffy in the mornings it's so nice to take 10 minutes just doing some good old drainage to the face. Let us not forget SPF too, your skin will thank you for it in 20 years time!
Wearing: A white tank top, Levi's 501s and a grey cashmere sweater. The weather is simply too temperamental for me to experiment at the moment!
Working out: This month, I've been reading Barry's Bootcamp by Bessel van der Kolk. It's such an interesting study on the effects of traumatic stress on the body and how to heal through innovative techniques like mindfulness, yoga and therapy instead of using heavy medication.
Reading: This month, I've been reading 'The Body Keeps The Score' by Bessel van der Kolk. It's such an interesting study on the effects of traumatic stress on the body and how to heal through innovative techniques like mindfulness, yoga and therapy instead of using heavy medication.