Jul 16
The One Where You Dress Like '90s/'00s Film & TV Characters
The nineties. Adored equally by millennial women and their New Balance-rocking dads, often romanticised as being the era to aspire to (90's babies where ya at), and undeniably iconic in its fashion moments. Films and TV shows from the 90's helped shaped many of us reading this right now, and it's undeniable that 90's/00's film statement looks are just as relevant right now as they were then (if not more so). With funky Bratz doll aesthetics coming back in, it seems like we can't and don't want to leave the naughties era behind, so we thought it'd be fun to take a look at the trends that have been brought back (or never really left), especially ones that mostly remind us of our favourite characters from cult classics. Let's dive in, shall we?
MONICA (FRIENDS, 1994)
Now, we're not going to make this a Monica vs. Rachel battle (clarification: Phoebe's still our favourite, but her personality is what made her shine, not her sense of style, so she'll have to sit this one out). While Rachel excels in her fashion expertise professionally and on the daily, Monica gives us that comfortable stylish vibe we all wish to achieve. For someone who's super obsessive and controlling over the most minor details (and we love her for it), she sure knows how to pull off an effortless look.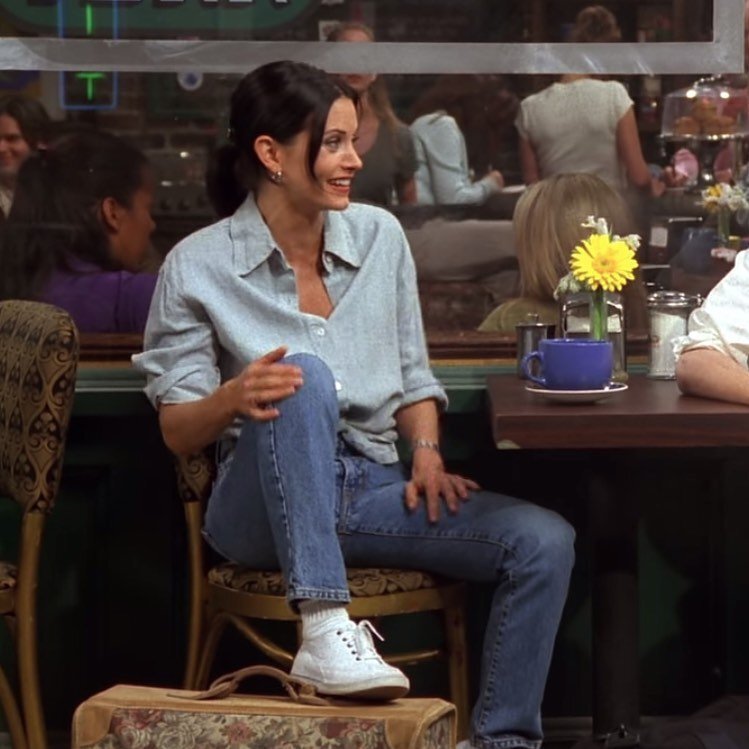 If anyone ever tells you that denim-on-denim is a fashion 'faut-pas', show them this photo. On a scale from Justin Timberlake & Britney Spears at the AMA's to Monica Geller, you always want your denim look to be more on Monica's side of the spectrum. It's done tastefully by thoughtfully matching the right washes of denim and basically makes time travel possible by delivering the 90's right back at your doorstep. Topped with ribbed white socks and simple trainers (take us back to the days when there were no sock platform trainers with oversized logos in sans serif fonts for Cardi B to rap about) and a couple of minimal pieces of jewellery. Voila, * chef's kiss * Monica, we adore you, our (not-so) laid-back queen. Grab a coffee (preferably, but not imperatively from Central Perk), we've got a few more style icons to cover.
RACHEL (FRIENDS, 1994)
If Monica is minimalist & casual and Phoebe is on the eclectic side, Rachel occupies the middle ground- delivering both very feminine and expressive outfits. Serving look after LOOK for a duration of 236 episodes, Rachel Green is a style icon that we simply do not deserve (but desperately need). Narrowing down her most influential outfits to our generation of fashion-curious millennials is near impossible. This little tartan number definitely finds itself in our top 5 though.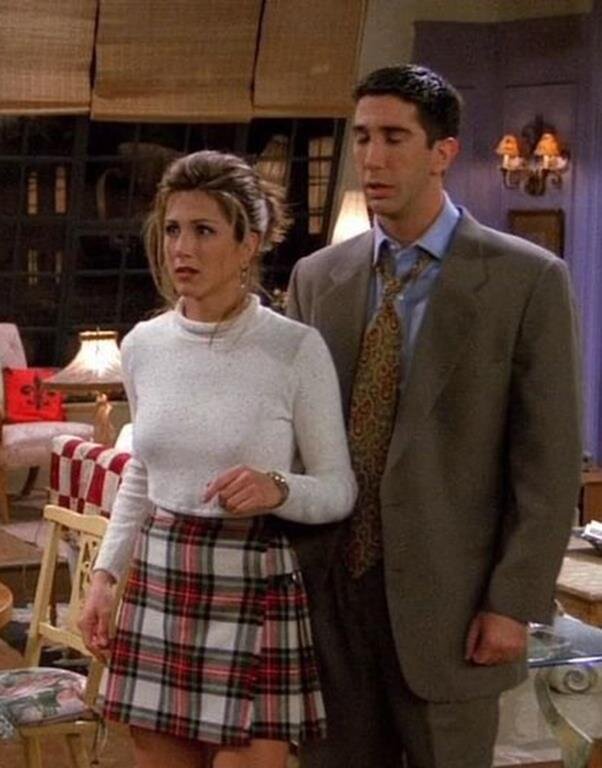 In this episode (S7E4, for those of you who have been putting off your 11th time rewatching Friends, but are quickly realising that that time is approaching no matter how hard you try and fight it) Rachel yells out 'He's so pretty, I want to cry!"', which we can only respond to with 'YOU'RE so pretty, I want to cry'. No need for tears when you can get a beautiful 90's tartan skirt from your local kilo shop and pair it with a textured turtleneck to live out your preppy Gwen Stefani dreams. It's true, we were on a break with tartan for a while, but we're glad its made a comeback and we're set on making this one last. Wear it Rachel's way with a pair of simple trainers or give the look a modern twist by switching out the turtleneck for a cropped tee and the trainers for a heeled boot with chunky socks. Maybe a vintage Prada nylon handbag for that sought-after baddie look? You tell us.
CHER (CLUELESS,1995)
Cher, obviously. Let's be real, while a fraction of people watch Clueless for the coming-of age thematics of a young teen overcoming her adolescent problems, the other 99% of us watch it to repetitively feed our mind with incredible outfit inspo. While the movie may actually be older than some people reading this (hey Gen Z, you're looking cute today), it's served as a cross-generational focus point for anyone and everyone who's interested in fashion in some way. Clueless became the Holy Grail for every girl and a growing amount of fashion-curious boys, and soon enough they all had memorised every line and replicated every outfit in their own wardrobe. We're huge fanatics too and love finding ways to bring the amazing fashions from '95 into the modern days, relating back to the film but remaining somewhat on-trend.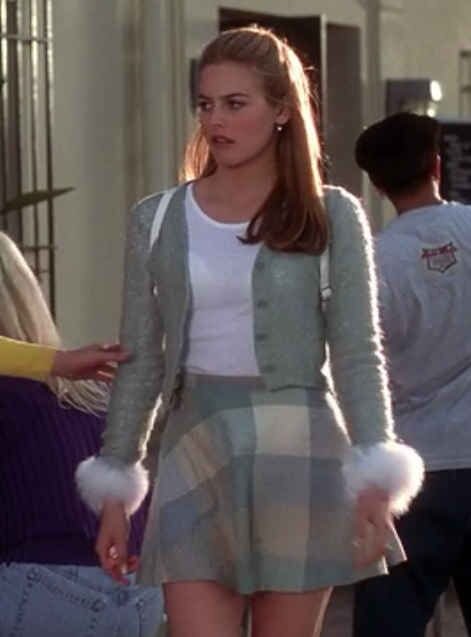 Right after Tai's 'brush of death' at the mall, Cher's world comes crashing down, as though she's in some sort of alternate universe. Bummed out that the attention had shifted away from her (honestly a whole damn mood), she captured our attention in that minty green fit. Super girly & chic (and of course school-appropriate because we're in the 90's and dress codes are a thing), she takes our breath away with those fluffy cuffs and large checkered print skirt. While Cher rocks it with a white tank top, our take on this look would be a similar gingham skirt paired with only a matching cardigan (only button the upper buttons and show off some midriff for a more current look), worn with a pair of white heels- we're thinking kitten. It's like stepping out of Clueless, except 25 years later.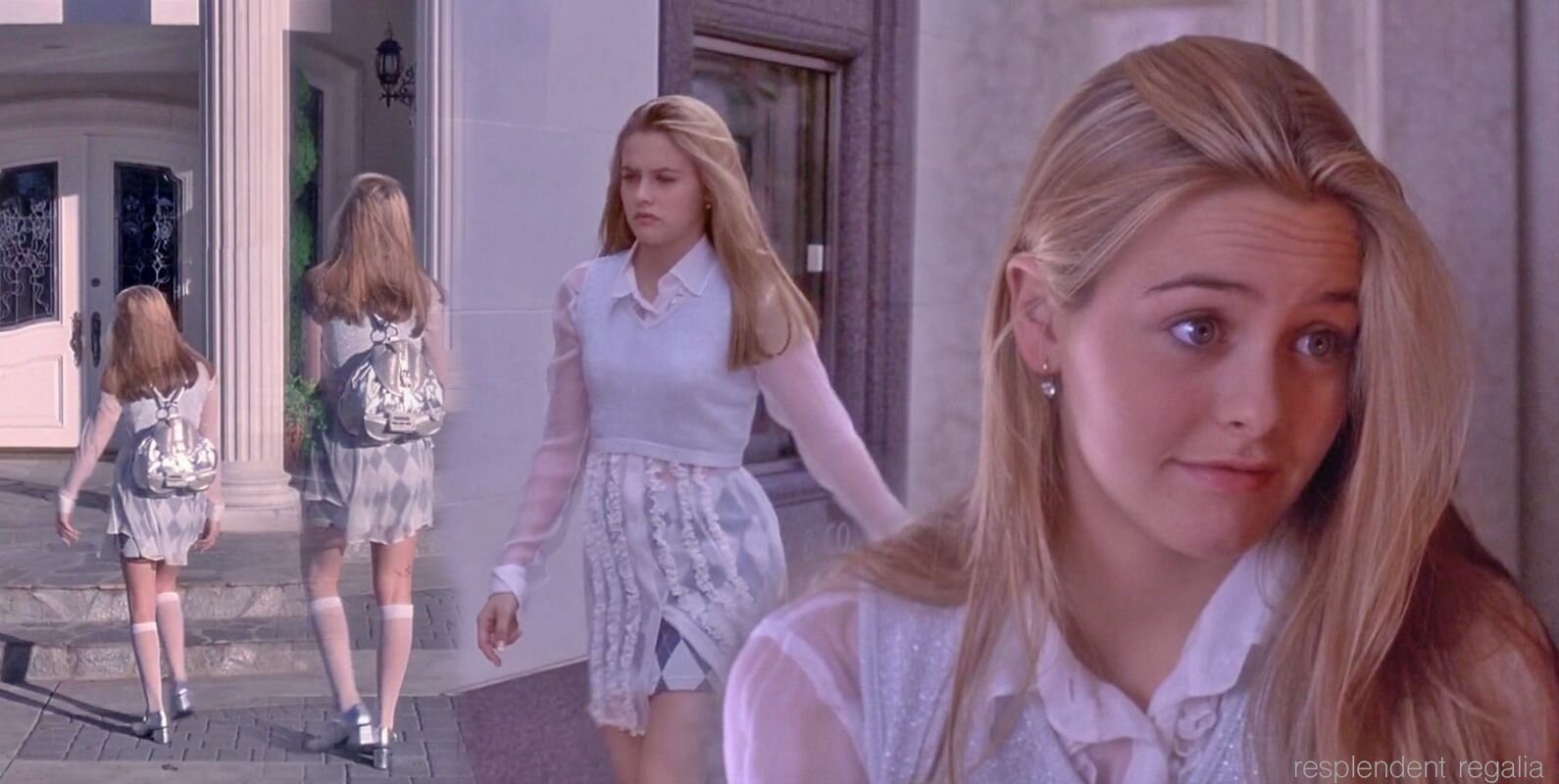 As if we were only going to share one of Cher's looks, when in reality she deserves an entire article of her own (wait, shall we? let us know). According to our teenage protagonist, there is no better way to forget about your problems than to shop (hopefully it's ethical & sustainable brands or at least second-hand because we love the planet). When everything in her life goes wrong, the only thing going * very * right is this incredible ensemble. This almost monochromatic look with (surprise, surprise) yet another tartan skirt (we're not mad, at all) and an oversized sheer shirt may not have helped her get her driver's license, but it's helping us with much needed style inspiration to avoid wardrobe meltdowns. That cropped vest brings hope back into our lives, and though Cher probably wouldn't have wanted to hear this- as the watchers we feel like it's fair to say that failure has never looked like as much of a win as this look does. Modern twist on this one? Swap out the vest for an over-the-shirt bustier moment, get a high-waisted skirt in a different print and ditch the heels for your comfortable pair of trainers. It's all about inspiration, not replication.
KAT (10 THINGS I HATE ABOUT YOU, 1999)
For every 10 things Kat hates about Patrick, there are at least 10 things I love about their signature looks. Each character's outfits in this film successfully accentuate their personality characteristics and highlight the differences between, for example, Kat and Bianca. Both their wardrobes are incredible in different ways and honestly I wouldn't mind having a peek into either of them (I may or may not have hopes of snatching a couple of pieces for my own collection, but don't quote me on that).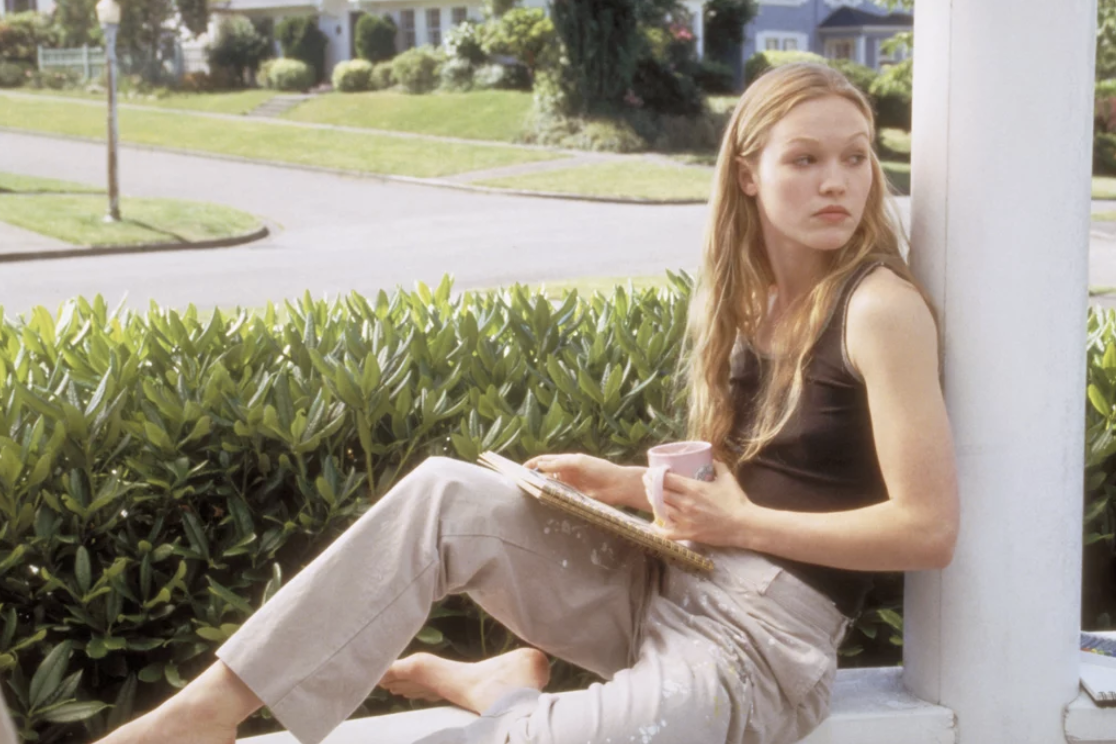 Kat wins me over with just her eye roll alone (a perfect accessory for all the moody girls out there, take note), but if I were o pick a look I'd probably go for this super dressed-down casual (and hyper minimal) tank top and tailored trouser look, and yes, ,the devil-may-care attitude comes as a package with this one. Bianca can say her sister came straight out of ''Planet Loser' all she wants, but in my humble opinion this is an iconic look and shall not be questioned. Period.
If you're going for this comfy relaxed look, make sure your items are good quality basics (remember the ultimate minimalist's motto: less, but better). When an outfit is as simple as Kat's, quality shows up more than you'd expect, so materials and fit must be your main focus. Now- going braless is an obvious Yes in our book, but you might want to wear some shoes if you're one of the brave ones currently stepping outside of their homes for… ehm, whatever reason (Alexa, what is socialising?). Our suggestion: you can never go wrong with sandals or mules for a 90's mum look (a cool mum, at that). Comfort levels at max, so much so that you might even fall asleep with a coffee in your hand (just be careful to not be sitting on the balcony edge).
BIANCA (10 THINGS I HATE ABOUT YOU, 1999)
While Bianca's attitude still needs a little bit of work, her outfits aren't far off of what could be considered trendy today. Her looks showcase her better, sweet side and there's a lot to learn from here. From butterfly sew-ons to floral midi skirts, she's basically spring in a nutshell. She's textbook-girly to a T, but you can spice it up by wearing skirts with vintage trainers and maybe swapping out the butterfly tee for a similar cropped one or a button-down blouse (tucked in or tied, just accentuate that waist). Bianca's flashy red bag is a daring piece and it completes the outfit- we love statement bags (even ours probably wouln't fit a single textbook, so props to B for making it work). 10 Things I Hate About You is on the more casual and laid-back side when it comes to fashion moments in film, but we're all for it.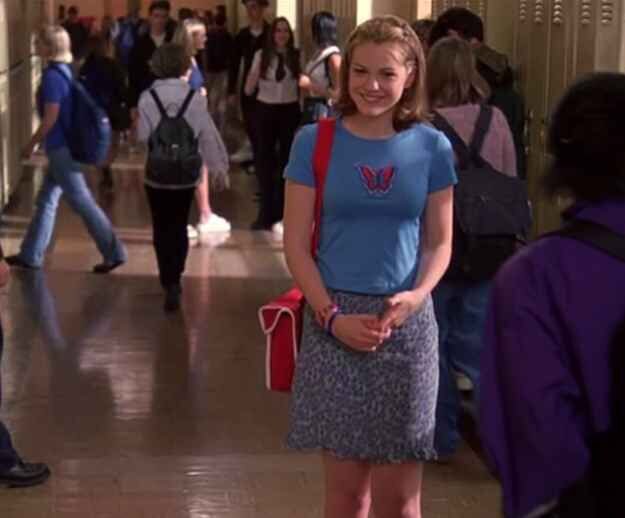 JENNA (13 GOING ON 30, 2004)
As far as inspiration goes, this may be one of the best movies for it. Not only because of the funky styles, but also because it takes place in not only the late '80s and early '90s, but also the '00s (triple whammy), which obviously means triple the fun. After Jenna finally becomes a grown-up (careful what you wish for, kids), she's seemingly clueless on the topic of adulthood, especially when it comes to fashion and dress codes. To be completely honest, I myself am still unsure of what's appropriate to wear to certain occasions, so I really empathise with this 'wing it' attitude, which is why I love the film so much. Lingerie with just a coat over it? Even in New York? Count me in.
Kindergarten chic is definitely a growing movement in fashion to look out for (if you think I'm joking please have a look at Prince George's outfit portfolio and tell me how he is not a modern day icon)- I am all about these bold colours and sequins, as well as bright make-up. Nothing short of an overall walking statement, Jenna's presence pushes her neighbour's 'normal' adult look into a shadow, fated to be forgotten. Even though Jenna was still getting used to her new body, she exuded confidence that most of us aspire to still to this day. Toped off with a unique hairstyle and some even more unique dance moves, 10/10 she absolutely slayed this one.
Blow everyone away with a rainbow-coloured sequin mini and a Barbie pink baguette bag. Blue heels- who's gonna stop you? When styling such bold clashing colours and textures, it's best to keep the silhouette simple and clean. A bodycon dress in a bright pattern will accentuate your body and still appear playful. Live out your plastic fantastic dreams, childhood is only over when you allow it to be.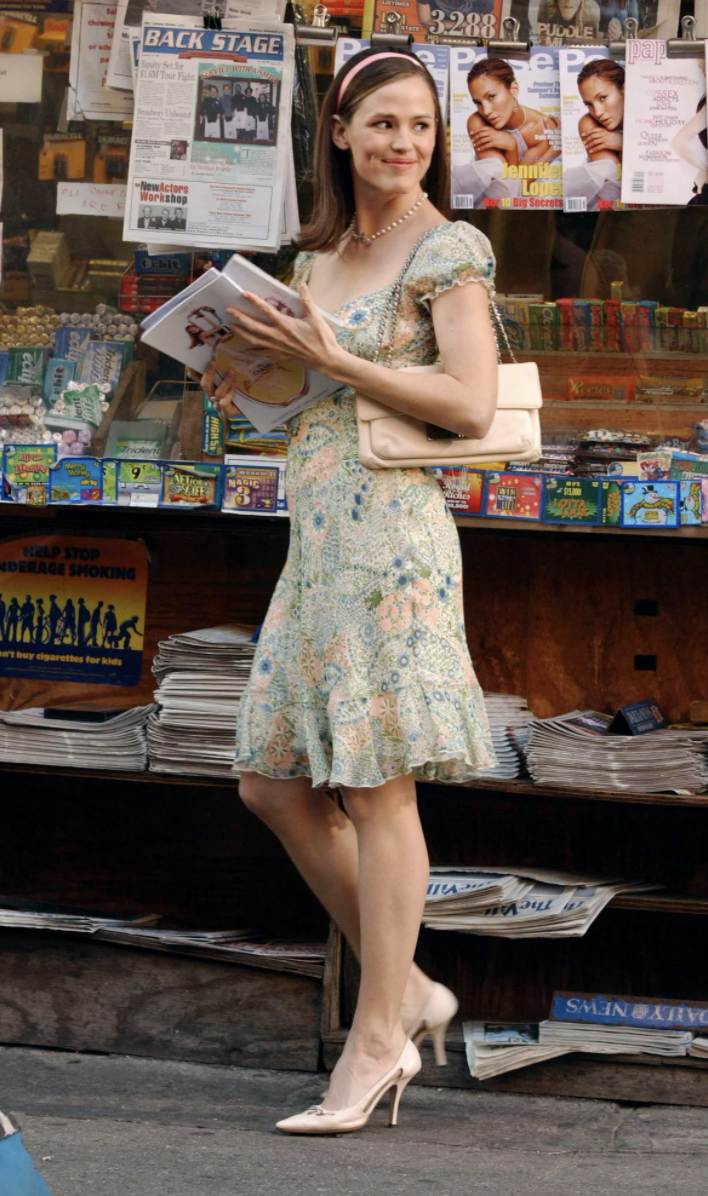 Here's one that really influenced my way of getting dressed. This outfit screams youth & playfulness, without looking childish or accidentally thrown together. It's very stereotypically girly without verging on the overly mature side of the scale. While floral dresses and prints in general might not be the most groundbreaking, the headband and small handbag bring an air of modern freshness to the look, which once again proves that accessories are your ultimate best friend. We're not always huge fans of matching your bag to your shoes (another notable misconception in styling), the nude purse and heels here look fantastic and really pull the look together. Classical forms with unconventional details (the cut-outs on the sides of the shoes) are what it's all about- finding new ways to reinvent the old and make it new again.

After binge-watching all of these cult classics one after the other, we've come to the conclusion that each outfit in the films above is as iconic as the one preceding it. The only logical move to take moving forward is to gather as much inspiration from them as possible and balancing elements borrowed from these '90s-'00s classics with modern-day trends (and, of course, giving it our own personal twist), to create trends that we can hopefully pass down to younger generations in the future. And the cycle continues.