Dec 29
The Holidays Can Be A Lot, Your Outfit Cannot Be
I know we're a little past the Christmas due date, but it's never too late for some self-recognition!
With the holiday period comes a lot of festive joy, but also a few (or a lot) of difficult feelings. Whether you have a difficult family, financial problems, any sort of broken relationship with food, or anything else within the scope of infinite possibilities, it's not uncommon to feel guilty for not looking forward to what everyone tells you is "the most wonderful time of the year". Even if we leave Christmas behind (as we definitely have, as acknowledged in the first sentence), there comes the immense pressure of making the most out of New Year's Eve - is it just me, or is it always super underwhelming?- or to extend that, making the most out of the new year itself. It's… a lot.
With a new year comes a new sense of longing to accomplish everything you didn't quite manage to in the previous year, as well as an abundance of other 'goals' or 'resolutions' that have caught on in the lead-up to the next one. One of our shortcomings in this department is that we fail to compartmentalise and prioritise. The overarching goal is always to 'be better' on all fronts.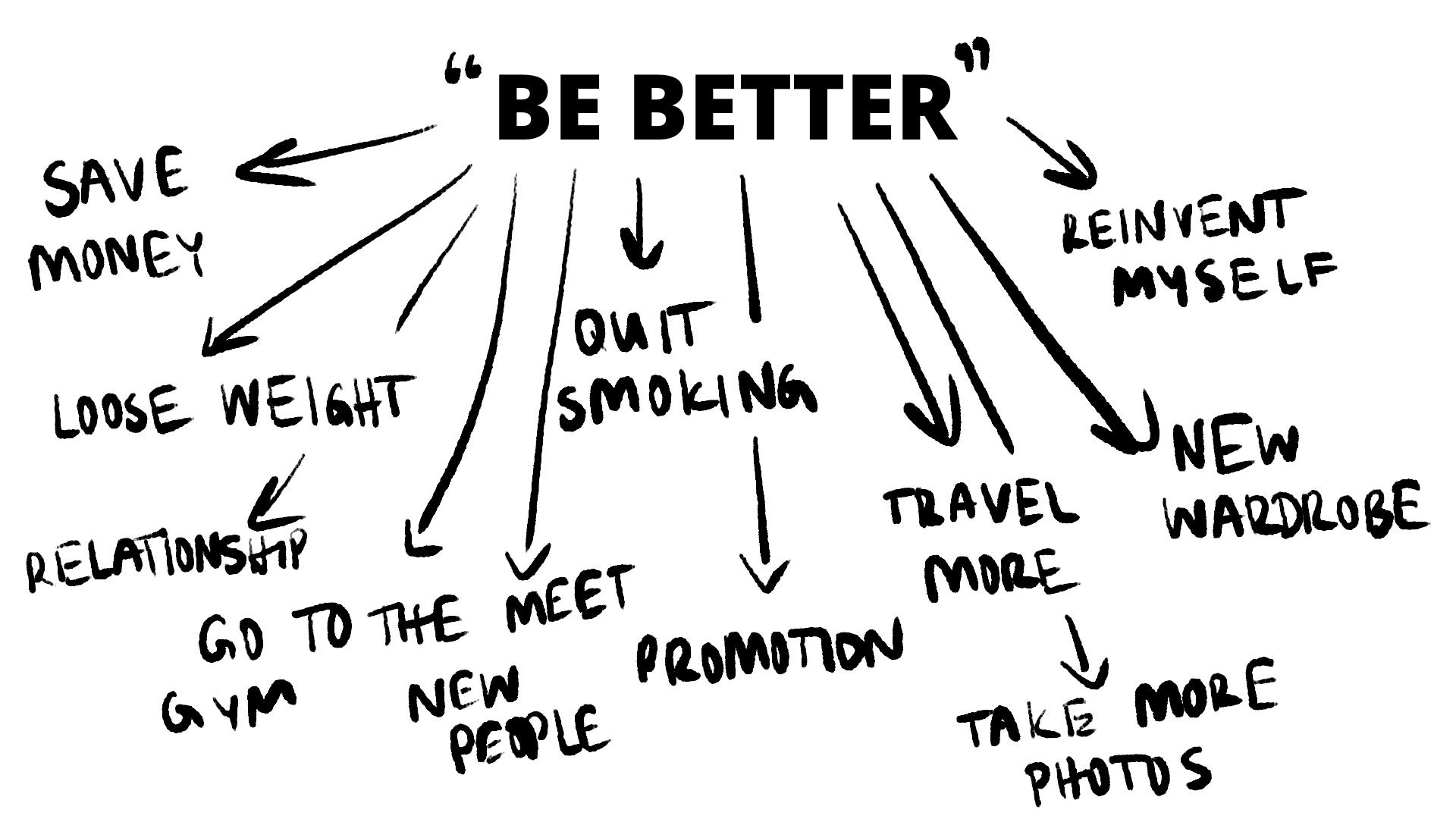 Last year we published a wonderful article on "Setting Your Intentions for the Best Year Yet". While we don't want to go into too much detail and essentially rewrite the same article, the gist was picking a handful of goals (if they're related to something more specific than making you "better", perfect) and creating a structure towards accomplishing them. Focus on the smaller checkpoints versus the end result,and celebrate the little things along the way. Who's to say your goal ends at the end of 2023? Goals best achieved are ones that cease to be goals, but rather become an integral part of your day-to-day.
Needless to say, all of the bitter-sweet things which come with the holiday period every year can be quite overwhelming. So do I focus on my resolutions or the fact that I'm guilt-tripping over the delicious food I ate while at home? A tough choice.
As the title might suggest, we're here to actually bring you back to your wardrobe. The holidays can be a lot, but your outfit cannot. While this sentiment might sound a little vain or superficial, there is a point we're trying to drive home.
I don't know you, but the last few years have been a whirlwind. Ever since moving to London in 2018 I have faced more changes than I can count on my two hands. I've moved flats/houses five times, changed flatmates four times, wanted to drop out of my degree, gone through so many different part-time jobs, lived through a pandemic, a rising economic crisis, lost people, met people, graduated, started working full-time… are you out of breath yet? I am.
What I'm trying to get to is the only constant through the years has been my wardrobe. No, not physically, but rather the clothes within it. Ever-changing, yet always there. Always mine. I've found confidence, security, and comfort in putting together outfits, and getting to know my clothes better and better over time.
While we're all different, I truly believe there is a comfort to be found in the consistency we have with the clothes we own. A good outfit can make you 10x more excited to get something done, the same way a comfortable one can make you less stressed to complete a daunting task, or more willing to relax when it's most needed.
So all of this is really to say that it's not vain or superficial or lacking of depth to feel like you have a special bond with your clothes, and to extend a little more time and care to the outfits you wear. It's not "whatever, who cares," it can really mean something if you allow it to.
So go forth little one, put yourself first this year and continue to find comfort in the consistencies you find within your wardrobe or outside of it. We wish you the happiest 2023, and we'll see you on the other side of the sun ;)
With lots of love always, and a very happy new year ahead,
Team Whering xo
If you're struggling this holiday season (or ever):
Call the Samaritans 24 hours a day, 365 days a year - 116 123
BEAT Eating Disorder Helplines for England, Scotland, Wales and Northern Ireland
If you're experiencing a mental health problem or supporting someone else, you can call SANEline on 0300 304 7000
If you would prefer not to talk but want some mental health support, you could text SHOUT to 85258. Shout offers a confidential 24/7 text service providing support if you are in crisis and need immediate help.