Apr 28
The Death of the Flatlay: A love letter to Polyvore
Picture this: it's a weekday afternoon in 2009, you just got home from school. You pause 'Teenage Dirtbag' on your mp3, quickly kick off your worn-down Converse and drop your Kipling tote bag with a strap so long that the bag practically hangs at your ankles. You run to the office room, passing a mirror on the way where you catch a glimpse of a Claire's bow tugging away at your side part (you may not be Tavi Gevinson but this accessory felt like a statement). You've got homework to do, but you had an idea for a really cool outfit pairing Jeffrey Campbell 'Lita' boots with studded cut-off shorts during history class that you're way too eager to replicate digitally. You make your way to the family computer, press the 'on' button and try to contain your excitement as the motor gently buzzes in the metal carcass. A few chunky keyboard clicks echo as you spell out the name of your favourite website and, finally, you're in- Polyvore.
As far as websites go, permanence is never guaranteed. Just like trends, they come and go- whether it's because the hype is gone, or because competitors have outweighed them in more lucrative views or money making value. But the worst of all- buy-outs. If you're anything like me and spent a lot of your formative years as a young teen collecting Vogue (or rather, letting them collect dust after I was done cutting out my favourite items from their catalogue pages to use for my IRL collages) and browsing the internet for all sorts of online dress-up games (my Stardoll account from 2007 is still active, I make sure to log in once a year to keep it afloat for the memories), you might've heard about Polyvore.
For those who missed that blissful time of internet history, Polyvore was a social commerce website that allowed community members to create virtual moodboards and collages with an internet-wide catalogue of the latest styles (high fashion brands being a big 'selling' point) and other miscellaneous items available for you to browse and share with others of a similar interest. You could type in the words 'green shoes' and be presented with hundreds of items matching this description, all carefully cropped out and background-less for you to use in collages, or as the first generation of fashion bloggers of the 2010s called them- 'flatlays'. Though the website was not strictly focused on fashion, it was quickly adopted by the growing community of Tumblr and Pinterest among others, for their various needs- to share style inspiration on blogs and forums, various writing groups, for collages, actual moodboards etc.
I discovered Polyvore in around 2009, both as a pre-teen and a budding fashion blogger at the time, and it sparked an immediate obsession. I dove straight into the open arms of a community that shared the same obsession I had over layouts. Sometimes I still hear people compare Polyvore to Pinterest, but the latter never appealed to me- although both platforms were moodboards, Polyvore was easy in the sense that you could actually create collages and layouts of items and looks that would work well together. I would stack, crop, and create texts that helped me practice and develop layouts imitating the ones I admired in magazines. The idea of creating outfits for all sorts of make-believe occasions was exciting- the more outrageous and nonsensical, the better. I loved the functionality on the Polyvore platform, how you had a 'closet' where you could store all of the clothing, accessories, accoutrements that you either 'liked' from other users on Polyvore or 'clipped' from various places on the internet- I always found this latter feature extraordinarily helpful when searching for objects to spice up my collages (a Fresian stallion to accompany a dinner look? Yes please).
For a teenage girl, Polyvore was an incredible free tool that helped me expand my creative vision and connect with likeminded individuals who enjoyed similar styles. Like many others, I was using Polyvore as a creative outlet to 1) put my ideas into visual format to help me curate my style by recreating outfits I was seeing on Tumblr at the time 2) to explore my sense of fashion while being limited by highschool-appropriate dress codes 3) while relaxing, as a way to both pass time and do research in a field I was heavily invested in.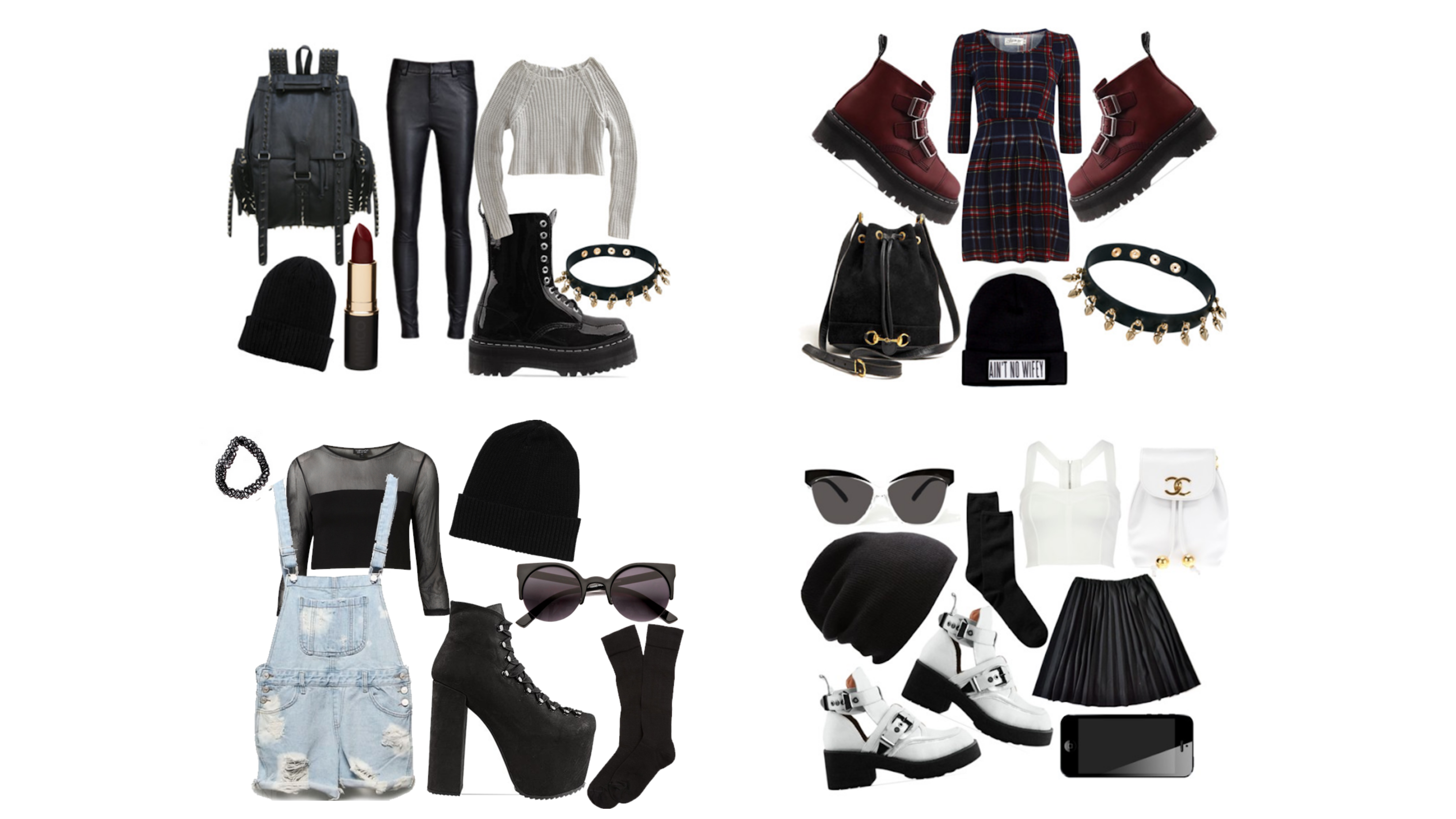 a few of my Polyvore collages from 2010-2011 from personal archives
And then one day, it was all gone.
Not with a scream, not even a whimper. As it turns out, buying out a company for its data happens quickly- blink and you'll miss it. On April 5th 2018, many of us woke up to an email titled 'Polyvore is now Ssense', briefly explaining that the platform as we know it is long gone, and is being replaced by a Canadian luxury fashion retailer who just wanted Polyvore's immense amounts of fashion-insider data. There was no prior warning by Ssense or Oath (the company that owned Polyvore) to all of its loyal users, just a link to export your looks and opt out of passing your info to Ssense. I can't tell you for sure, but I'm almost certain that for a good second the world went fully quiet. I'm sure we all shared the same levels of confusion, when all of a sudden one day, upon typing Polyvore into the address bar of our web browser, we were redirected to Ssense. A couple more unsuccessful attempts to make sure it's not a 'me problem' later and the reality came crashing down- it was utterly gone. In 2018 I was no longer an avid user of Polyvore, I was actually in the process of completing my studies in fashion design (which I partially credit to being a Polyvore user for many years leading up to that), but I was still as confused and shocked as others. The panic especially kicked in when I did a quick google search and was shocked to read, in a slew of articles, that Polyvore had been acquired by Ssense.
When the news broke, everyone was asking themselves the same question- why would a Canadian company look at Polyvore and its mostly entertainment and creativity oriented userbase and think 'ahh, pre-teens and young adults… the perfect demographic to sell high end retail fashion to, they sure have that extra cash laying around to spend on luxury goods, especially in this economy. Excellent business move." And while, in theory, 14 year old me loved the idea of strutting down my school hallway in said Jeffrey Campbell 'Litas' and an Oliver Theyskens Theory bag (also, can we talk about the problematic trend of wearing fox tails attached to our bags from 2010?), the reality of Ssense acquiring Polyvore left me in crumbles.
At the ripe age of 13-15, I did not have access (or the funds) to the clothes I saw in the glossy pages of the magazines I collected- to me, it was a distant fantasy, a world I could only dream of playing dress-up in. Polyvore was a grand escape and bridged that gap for a lot of people by allowing them to browse what seemed like the entirety of all collections to exist, ever. It was an endless database of any style you could think of, a portal into the depths of your imagination. If you can think it, you can style it. Polyvore very quickly became the holy grail for every kid with a fascination for clothes. Although at its core, Polyvore was a 'social shopping website', over my several years of participating in it, I didn't shop the site once. After interrogating my many friends who were also die-hard Polyvore fanatics, this seems to be true for most of what used to be their user base. The larger part of members were there to create collage boards and group them into collections by style, mood or occasion to show friends, and to use as a creative outlet, while 'shopping' on the rarest occasions- if it ever even got to that point- though Polyvore did link items to brand websites and kept track of varying prices and sales (not me at age 13 getting excited over a Gucci blazer being on sale, going from a hefty 1.5k to a humble 1.3k, as if the 6 euros I had in my pocket leftover from my trip to the cinema would make as much as a faint dent in that sum), so on the off-chance that you did want to make a purchase, the option was there.
To say that I was bitter would be an understatement. Polyvore provided a way to express myself on a different degree than what my OOTD photos and blog writing could capture. It allowed me to cultivate my sense of style and put out fashion content when I had seemingly run out of outfits in my personal wardrobe. It allowed me to experiment with styling trends without having to part-take in consuming them, and helped identify the pieces that truly spoke to me without being blinded by the hypnotising feeling of buying something new. I'm sure that for those who were a tad older than me, Polyvore was an incredible visual aid for building out creative ideas and conceptualising bigger projects. Above all, Polyvore helped us connect with others, the community that arose from Polyvore may just be the most positive and supportive group of individuals I've ever had the chance to be a part of. Beside being a creative outlet to store and share their fashion-related ideas, Polyvore had also become somewhat of a social network for many people, many friends were made through the website, that were now suddenly gone without any other form of contact. I made some lovely friends through Polyvore; in browsing the creations that others made, you'd often find that people had similar tastes to you, and you'd strike up a conversation and realise that in addition to a love of Alexander McQueen, they were hilarious and brilliant, insightful and kind. And no one ever needed to know that I was about 10 years younger than them, barely speaking English as my third language.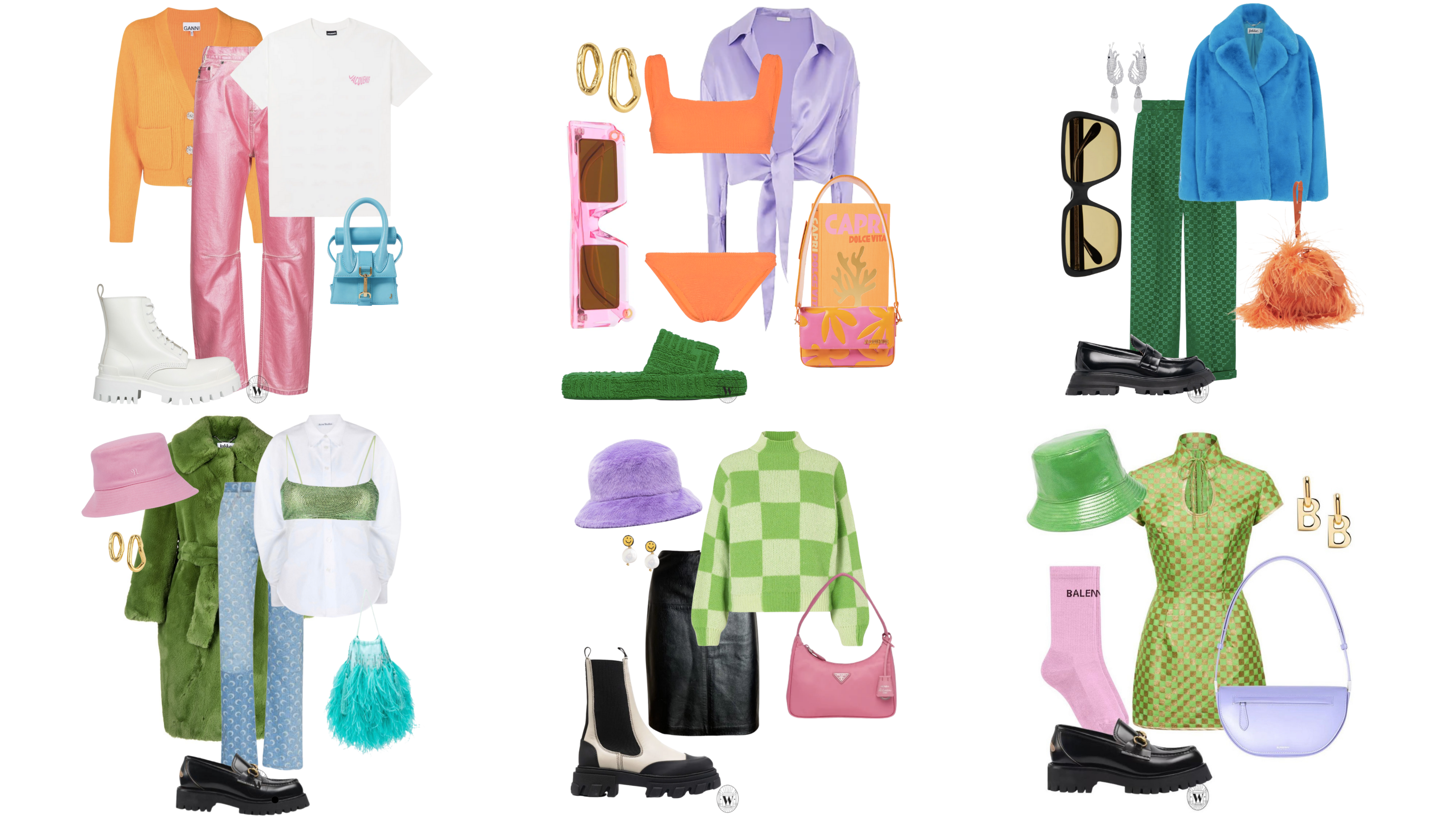 a few of my Whering collages from 2021-2022
For many years, I thought about how hard it would be to find another website that takes the giant hole that Polyvore left behind, with all its features and work that they and their creators had accumulated over its tenure. All good things must come to an end and we all must struggle with impermanence of existence, but damn, corporate greed just makes things harder for everyone, every day. Although Polyvore may have died, what hasn't died is the passion and the seemingly large amount of creative communities continuing to crop up overnight. As the digital sphere shifts, so does fashion and how it's shared. What Polyvore continuously emphasised and what I, to this day, stand by, is that fashion trends and styles only live because of the communities that constantly take things apart and reimagine them by making them their own, sharing ideas, much like the early 2010s tween girl on the couch who would make digital collages for hours (me).
Now, in 2022, funnily enough, flatlays have turned into a part of my job- for those of you who don't know, let me introduce myself. My name is Emilija, I make the style collages you see on the Whering socials on a regular basis, exploring colours & silhouettes in a virtual/digital format. I'm an ex-Polyvore addict, currently converted into a Wherer, and I love the nostalgia of sharing my digital collages like we did in the 'old days'.
When I initially got the call to work on some project called 'Whering' that was just starting up (by starting up I mean there were 2 people on the team- the founder and the CTO, myself being the 3rd)- a digital wardrobe where you can create and plan outfits- a lightbulb lit up in my head. It sounded familiar in a comforting way, and I jumped right in. Working on the Whering app for the past 2 years, we've received countless messages from ex-Polyvore members- mostly people expressing their nostalgia, others comparing our tiny app to the empire that Polyvore once was. Being part of this company and working on a product like Whering, we acknowledge and celebrate what came before us. Although the two platforms share their similarities, we are by no means attempting to replicate the legendary Polyvore. As a team, we ourselves are the users who were left behind sad, hurt and betrayed, without even a quick heads up to back up our creations, or find alternate options to the platform. For those of you who still have a Polyvore-shaped hole in your heart, we know that there is nothing else like it, but we're working hard on giving back at least a fraction of what it used to be, back to the community. Big shoes to fill would be an understatement, but Whering itself IS the love letter to Polyvore that this article is about. So on that note, I'm off to make some collages, I hope to share them with you some time.