Sep 5
Saving Money at Uni Guide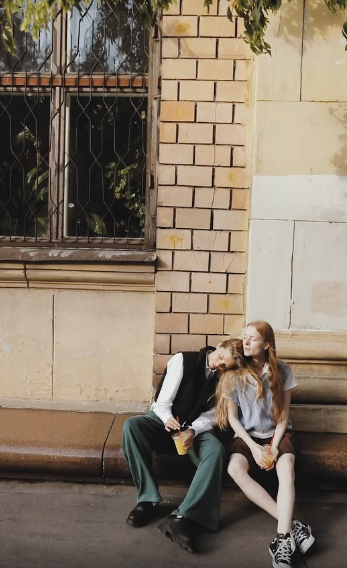 There's times in life when it's essential to save money, and university is definitely one of them. We're self proclaimed bargain hunters (and proud) here to give you the 411 on easy ways to save money at university.
Our university series is covering all bases from fashion to finances, so here are some of our best tried and tested tricks to help you save some extra coins next semester.
We'll start with the fashion related ones, because that's what we do best.
Repeat Outfits
It sounds simple, but we need to normalise outfit repeating and stop placing expectations on ourselves (and others) to wear something new every time we go out. It's so normal to actually wear the clothes we love. When you put it like that, outfit repeating doesn't seem so bad.
Use Whering to track your fave fits from day to day so you can choose something to wear in no time. If you're feeling really organised, add your outfits to different Lookbooks based on seasons, occasions or just vibes, to make the outfit selection process even simpler.
You might not immediately feel outfit repeating is directly saving you money, but the less you spend on clothes, the more you have to save or spend on fun experiences with friends that have more value than material items.
Not only that, but the more you normalise outfit repeating, the less likely you are to create a habit which urges you to buy new clothes for every occasion in the long run- take it from someone who had to unlearn a lot of toxic habits post-uni. Buying new clothes all the time is not sustainable; both environmentally and financially!
Repair/Alter Your Clothes
In the same vein as wearing clothes we love, keep your favourite items for longer by getting them repaired and altered when necessary. Our bodies fluctuate in size and beloved items tend to eventually show some wear and tear, but that doesn't mean we have to say goodbye.
Rather than spending more money on a whole new outfit, it's much more cost effective long term to spend the money on making something last even longer.
With our partners, The Seam and Sojo, you can get your clothes repaired/altered through the Whering app. When you book repairs through our partners they're automatically logged as repaired in the app, making it super easy to keep track of everything.
Rent for Occassions
You might have seen our article about things people regretted buying at uni, in that list was occasion wear [link to other thoughts article]. We're told it feels good to physically own things rather than rent them, but when it's been a few years and you've still got the same 3 dresses you've barely worn hanging in your wardrobe, it doesn't feel so good. Especially when they were so expensive.
Obviously evening gowns were never going to be our daily go-to, but we're loving renting when we need something fancy. Rather than dropping hundreds on something new or wearing the same thing *again* to avoid the guilt/financial hit, rental lets you save a lot money and the environment, looking good all the while. It's a no brainer.
Check our rental options from Curated Loop. They have really unique and funky pieces we've not seen on other rental platforms.
Borrow Borrow Borrow
It's a classic, but why spend money when you can borrow funky clothes from friends [link to other thoughts article]. It's literally completely free, therefore very cost effective- and it lets you experiment with style without harming the planet (or your consciousness).
If you're a different size to your friends, ask to borrow jewellery, hats, scarves, bags, or shoes etc - it doesn't have to be trousers and tops. There are so many things you can borrow to make your outfit feel brand new.
Meal Prep!!!
Moving on from the fashion related tips, meal prep is a classic and very very cost effective way to shop/cook. We know it's been said a million times before, but it really is the best way to go about saving money on your food shop.
I have made many batches of dahl, bolognese (veggie duh), chilli con carne (also veggie), curry- even salads/pasta sauces, for less than a £1 a portion. Even after uni I am still cooking this way. It never gets old doing a cheap shop that lasts me the week and more.
If you pack in around 4 types of veg, pulses or beans you'll find recipes go even further and have added nutrients. It's healthy for you and your bank account.
On the theme of food, there are some loyalty schemes that might be worth signing up for if you're unable to resist takeaway coffees/food on the go. The Pret subscription is an obvious one, but LEON the natural fast food chain also have a great reward system that make it easy to rack up enough points to get free food.
Spend Now, Save Later
This goes for meal prep, clothes shopping and many other things, but sometimes you have to spend more in the moment to save money later down the line. Maybe I'm silly but I often avoid buying bigger, better value packs and family size bottles of washing detergent etc, because I want to spend less money that particular day, even though I know I am making a worse decision long term.
I am trying to break this habit. It does make sense to spend more now (obvs on things you actually need and will use) and save money later. This principle applies to clothes too. Fast fashion might feel good in the moment, but saving the cumulative total of multiple items from Zara will eventually add up (or even be less than something better quality) from a second-hand store, designer or sustainable brand.
It is a Want or a Need?
I might have taken this mentality too far in first year and spent basically no money, but I always thought to myself: do I actually need this or do I just want it? Anything I didn't actually need but I wanted, I properly thought about why and whether I would allow myself to buy it. It was tedious and I was harsh on myself with a lot of things, but asking this question every time I made a purchase saved me so much money. When times are tough this is the only option.
Walk it, or bus it
If it's safe to do so, a very easy way to save money is to walk everywhere. Within reason of course, and to emphasise again, make sure you know it's safe, but walking is a cheap way to get around. Not only is it good for your wallet, but also good for your health and the planet.
Usually uni areas (outside of London) are fairly small/ the student spots are close together and you'll be going to and from with others, making walking a viable option and a better choice than Ubers or public transport when it comes to saving money.
Obviously if the walk is very long we suggest public transport rather than taxis or driving. Walking isn't always practical. You probably already have one if you're over 16, but the 16 to 25 railcard is a life saver when it comes to train fares. You can save a third on all train tickets you buy. It's deffo worth the investment.
This article has us thinking back to university and how much cheaper everything was less than 5 years ago- the cost of living crisis really is scary. We wish all students luck adapting to this economic era and hope you find some of these tips helpful to save some extra cash💸