Jun 25
Reinventing the Shoe Code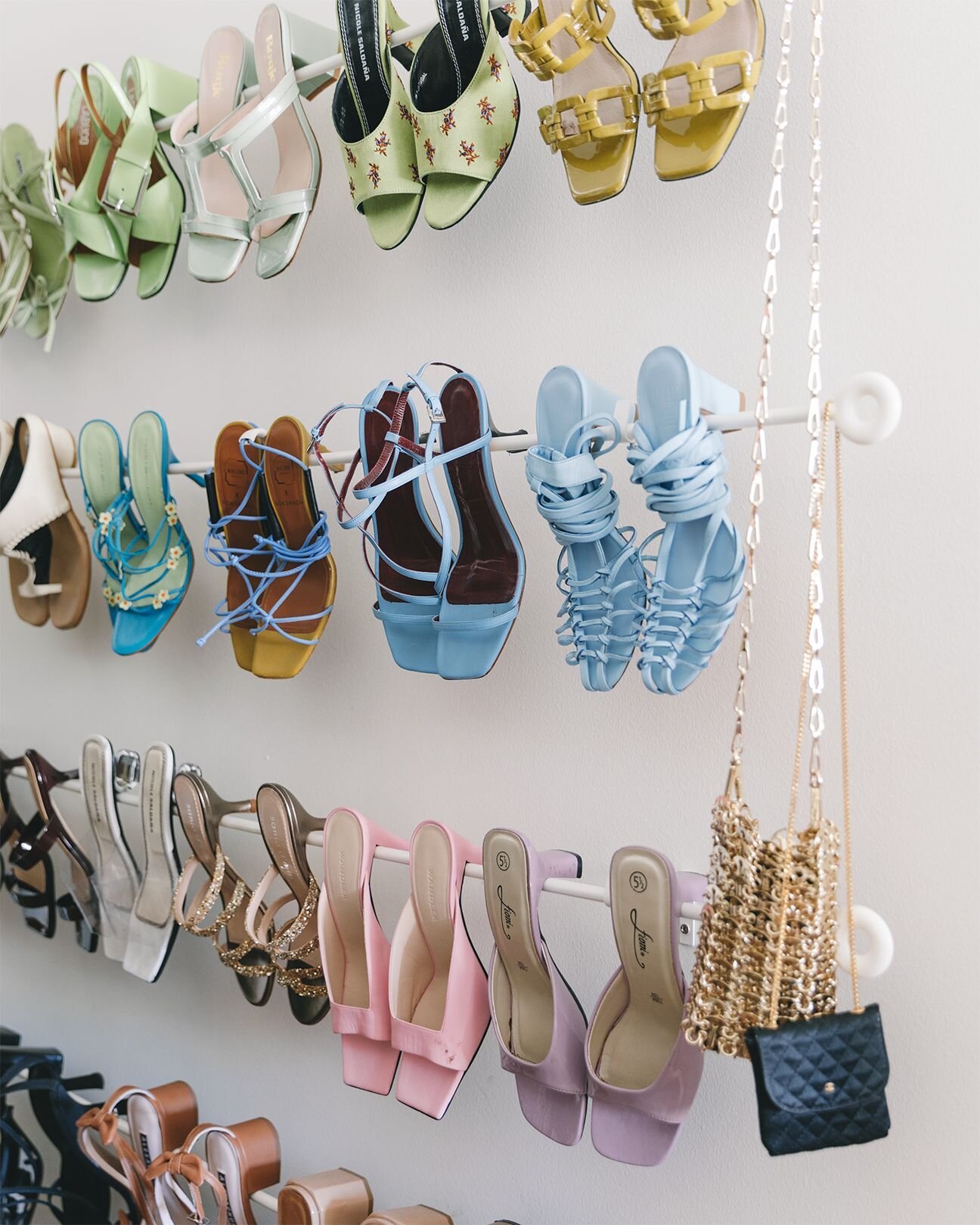 Growing up, and truthfully until not that long ago, my outfits revolved around basic items. They usually consisted of black jeans, plain shirts, a denim jacket, and the first pair of matching shoes I'd find in the depths of my closet. As I got older, I became more interested in what I wore and how I styled my looks. There is one part of my looks that seemed to fall behind while my style changed throughout the years: my shoes (that sound you hear is Carrie screaming at the top of her lungs somewhere in the distance). That's right, I always wore the same shoes. And it wasn't until a few years ago that I realised what shoes really add to an outfit (spoiler: they add everything to an outfit). Before, I felt the obligation to wear a specific type of shoe with certain outfits: if I was wearing an elegant dress- my shoes had to be formal, if I was wearing a plain pair of jeans- my shoes had to be casual as well. Makes sense, right? It took years of blindly following this 'shoe code' - which, mind you, was never actually taught to me by anyone, I definitely came up with it on my own terms- but I have recently come to the realisation that your entire outfit's personality depends on this seemingly small detail. If switching up a detail as small as shoes can't make or break an outfit, it can at least categorise your level of risk-taking and therefore better showcase your style personality. Style is, after all, about how much or how little someone experiments- neither is better than the other, but it does subconsciously tell us a lot about the wearer. By changing only my shoes, my outfits went from average to outstanding (if i may say so myself)- all because my outfits revolved around one idea: new found balance (not New Balance, but that too).
ROCK THOSE TRAINERS
I know I'm not alone when I say that trainers can be lifesavers. Bit dramatic? Hear me out. I like to think of trainers like a white t-shirt: they go with everything. No matter what you wear, whether it's sweatpants or jeans, trainers will bring that confidence you often see in streetwear into an otherwise tamed look. While we're on the topic of balance, it is worth mentioning that finding new and different ways to combine usual styles (tops & bottoms and everything in-between) is really key here. It's 2020, we can show off our personal style while proving that modern-day Cinderella would probably have worn a pair of white trainers. Whether paired with a casual or elegant dress, wearing trainers screams confidence and knowing one's own style.
images: @lefevrediary @prosenkilde
When wearing something as simple as a cheetah skirt and a simple sweater, or a white dress with a denim jacket, finishing it off with any type of trainer is simply the cherry on top of the outfit. But why stop there? While everyone is killing themselves in those heels, show yourself off, whether you're 4'11 or 6'0, by wearing trainers. Who decided that you must always be uncomfortable when going out or at an event (being comfortable in heels is an anomaly, but I only say this out of pure envy)? The night is young, so don't end it early just because you're tired and uncomfortable with those heels. I guarantee that by pairing a sparkly bodycon dress with your favourite pair of white trainers you'll be turning heads.
PAIRING DENIM
Denim is known for its versatility- if you go outside (even in these times), chances are that at least 70% of people you meet in the street will be wearing denim. Even though it's mostly seen as an everyday common material, it can very well be worn for a classy dress code, if styled right. This is where shoes come in- while we love trainers with denim, there are more exciting and unexpected styling options here. While trainers "match-clash" best with dresses, denim is perfect when paired with something a bit more dramatic- block heels? Boots? Our favourite word one more time for the people in the back: balance. Of course we're still rooting for comfort (in my humble opinion and personal experience, heels and walking equals chaos) but a strappy shoe brings class and sex appeal to a look (and turns it into a lewwk). There are no limits to experimenting with different styles here, even for people who aren't into heels specifically. A simple outfit such as jeans worn with a simple t-shirt leaves so much room for imagination, it's almost overwhelming. Think thong heels, bright sandals or mules, printed cowboy boots. New pair of shoes- new personality for the day.
images: @wethepeoplestyle @styleddestination
COMFY & STYLISH
Right now in quarantine, most of us live in joggers and are constantly contemplating how to carry this habit into 'normal' life again. Yes, it is my dream to go out in my comfiest and coziest outfit and still somehow look stylish ('aim for the stars', they say). Super contradictory, but not unachievable. Key element, as always- shoes. It's true, you might look unpolished if you go out in your joggers paired with socks and sandals (although there's recently been a rise in this exact outfit on Instagram and honestly we're not mad at all), but if you pair the same outfit with boots or -gasp- heels, then it's a whole other discussion. The simplicity of joggers, acting here as a blank canvas, allows for an infinite number of interpretations as to what to wear with them. Are joggers a divine creation? Probably. Take yourself out of your comfort zone, ditch the jogger and trainer combo for a crazy print boot or leather platforms. Play dress-up more! To round it up, it's simple maths- casual clothes plus elegant or dramatic shoes equals perfect yin yang synchronisation. The world is aligned and the outfit exists in pure harmony, birds are chirping and life is beautiful.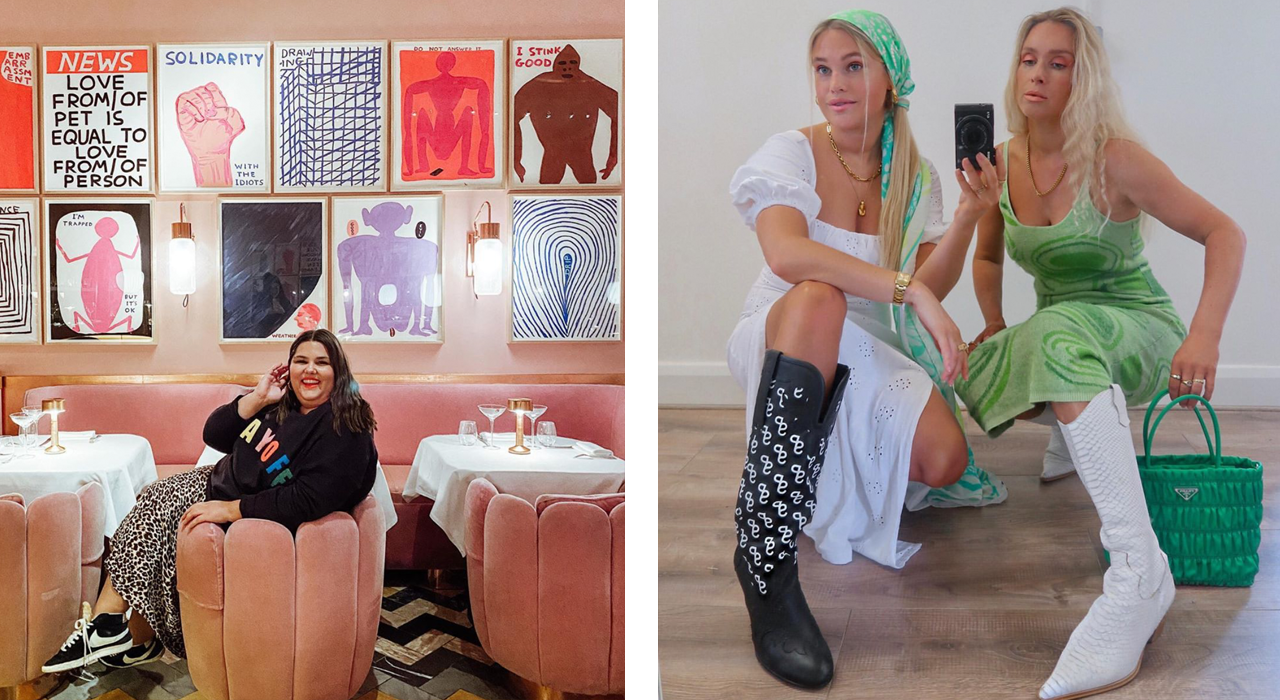 images: @calliethorpe @oliviaandalice
Here are a few colourful shoe suggestions for summer: