2nd of Feb
Power Suits, Cone Bras & Low Waisted Jeans: Iconic LGBTQ+ Fashion
There's no better time than LGBTQ+ History Month to bring recognition to different styles and trends which were originally brought to us by members of the LGBTQ+ community. Things we wear on a daily basis without a second thought would never have been possible without several talented designers and their breakthrough creativity.
While this month is a good prompt for people to learn more about the LGBTQ+ community, we should all be making an active effort to undo the heteronormative bias of society in our everyday lives. Here are a few ways we can help: by supporting LGBTQ+ businesses, reading books by LGBTQ+ authors, and learning from people's lived experiences to make sure they feel safe and accepted.
It's no secret that they are hundreds of talented LGBTQ+ designers. Gay men, in particular, are behind some of the biggest names in fashion — but how have their designs influenced the clothing we wear today?
Trends From the LGBTQ+ Community:
Androgynous Dressing:
The lines between traditional male and female clothing have become increasingly blurry as we become more accepting of gender fluidity. While there's still a lot of learning to do, we wouldn't be anywhere without some of the world's most iconic fashion designers laying the foundations. So, where did it all start?
Jean Paul Gaultier was one of the first designers to break the binary between men and women's clothing. Unlike anyone else at the time, he used men and women to model clothing for both genders, positioning the idea that societal views on gender and sexuality shouldn't stop anyone from wearing whatever they want. He was ahead of his time, and there's no doubt his bold decisions left a mark on society to this day.
Gaultier's influence of men wearing skirts, dresses, and everything in between is evident in gay and straight celebrities today — Timothee Chalamet, Billy Porter, and Robert Patterson to name a few.
It wasn't just the fashion world he sought to disrupt. He launched a makeup line for men in 2008, arguably, he was going against the grain even then. Need we even mention Madonna's cone corset, designed by the man himself? A world without Madonna is a world none of us want to live in.
Similar designs honouring the OG cone bra can now be seen on the runway from designers like Schiaparelli or worn by celebrities like Kylie Jenner, Rihanna & Doja Cat, and more.
Yves Saint Laurent was also a key player in kick-starting androgynous clothing. After being let go from Dior's fashion house in 1960, he was more motivated than ever to show the world what he had to offer. It's safe to say no one was disappointed (except Dior, probably).
In 1966 he designed a suit for women called Le Smoking. For 'the first time in Haute Couture' women's clothing had an androgynous feel to it, rather than strictly connotaing femininity. Societal views were a lot more conservative in 1966, so this was an innovative design. Today, people of all genders have reclaimed the suit as a representation of power for all, not just men.
We've since seen various celebrities embrace the suit: Arlo Parks, Grace Beverely and Lady Gaga. Now-a-days this seems normal, but without Yves Saint Laurent, the suit would have been reserved for male professionals. Most recently, in this year's Couture Week, designers like Dior and Schiaparelli presented well-tailored suits with bold silhouettes to further exaggerate the idea of the power suit for women.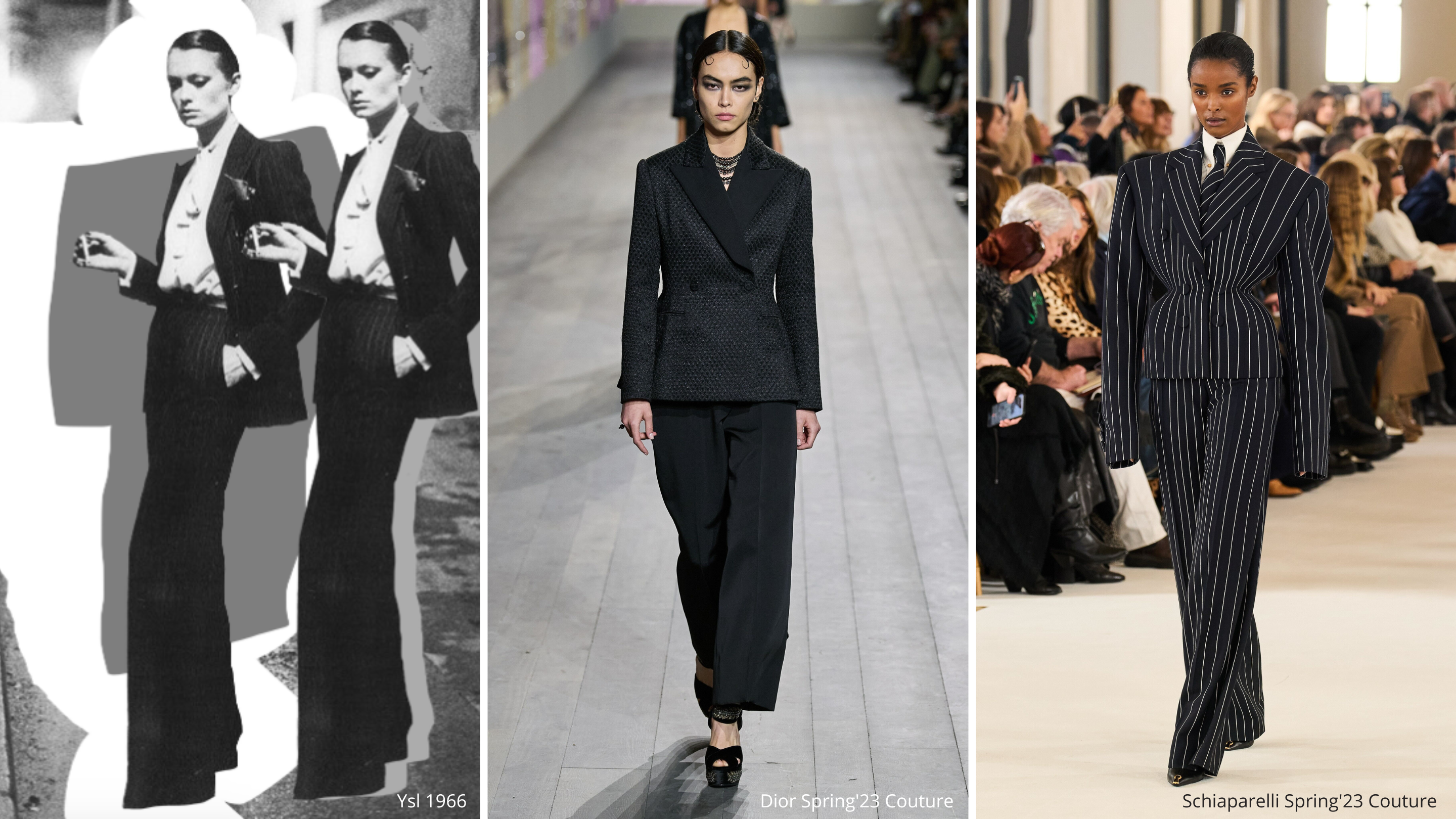 Y2K
We don't need to tell you about the Y2K trend. It's literally everywhere, and it's not showing signs of stopping. All the most popular trends from the late 90s and early 2000s have come back in full force, including low rise jeans. If there was one iconic designer who loved a low waist, it was none other than Alexander McQueen.
He took low waisted jeans to a new level (literally, bordering on nudity). He effectively gave women a new waistline that had never been explored in fashion before. His 'Bumster' trousers hit the runway in 1996 and were responsible for the rise (yes, pun intended) in low waisted jeans in the late 90s and early 00s — so influential they're already back in fashion now.
Alternative Fashion as Self-Expression:
The LGBTQ+ community was one of the first groups to use fashion as a form of self-expression. Forced into a minority position, they connected with others in their space through unique clothing and fashion choices. Gay men would use piercings in their right ear as a subtle way to indicate their sexuality and lesbian women in the 1970s began rejecting the male gaze through their 'butch' attire.
The rejection of the male gaze is something many women today factor into their fashion choices after the realisation that men influence the way women dress by controlling how the media portrays them. Julia Fox has recently spoken about the pleasure she gets from dressing in a way that men will find unattractive. Lesbian women in the 1970s were the first to experiment with dressing deliberately to displease men, as part of the 'anti-fashion' movement.
Where are all the Women?
You might be wondering where the women and gender-expansive people are on this list, and honestly, so are we. Men dominated the fashion industry back in the day (and low-key still do), but obviously, there were many talented female and trans designers that didn't get the spotlight they deserved. One of the most iconic female designers is Jil Sander, born in Germany.
British Vogue describes her as the first 'feminist' fashion designer to grace the earth. Her designs were clear-cut and elegant, using neutral and subdued colours. She's well known for her minimalist designs and working with Prada, who bought 75% of her company in 1999. In recent years she has worked closely with Uniqlo, designing the J+ brand.
There are plenty more recent designers making waves in the fashion industry, one of our favourites is NO SESSO (meaning no sex). NO SESSO was co-founded by Pierre Davis (and business partner Autumn Randolph) who became the first trans woman to be on the official schedule for New York Fashion Week in 2019. NO SESSO creates clothes with the aim of 'empowering people of all colours, shapes, and identities'. It's crazy it was so recent that the first trans women presented a collection (officially) at New York Fashion Week. We hope to see more brands stand for inclusivity and innovative design like NO SESSO.
It's interesting to look into trends that were a result of LGBTQ+ talent, and we're only scratching the surface. If we missed anyone integral to the conversion, let us know on our social media!