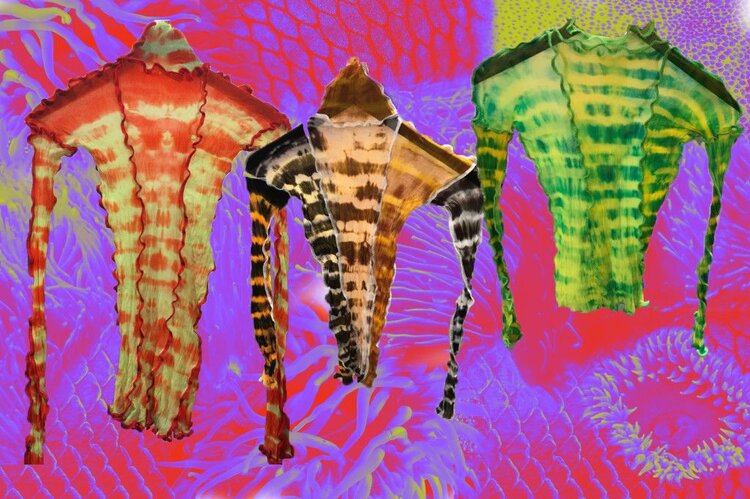 Cultural trends have always impacted the designs that are created and sent down the runways each season. The patchwork trend is a clear reflection of sustainability being on everyone's mind and many of today's fashion trends are often either sustainable or an ode to sustainability. Since patchwork entered The New York Fashion Week in September 2019, it has become one of the top trends to keep track of. It has been seen on fashion influencers, celebrities and designers like Alice + Olivia, Diane Von Furstenberg and Libertine took patchwork clothes and elevated them on the runway. This season, all of our eyes have been directed towards the summer patchwork top, but the trend does not stop there.
To join in on this trend, all you have to do is combine different prints or fabrics, as much or as little as you would like. The pieces range from neon to subtle colours and fabrics can be knit or nylon, even bathing-suit lycra. Maybe most important in a lot of the statement pieces is the swirly and contrasted seam separating the patches from each other. This is for sure one of the trends that are a bit more 'out there', but we'll hold your hand along the way.
Styling patchwork
The styling of patchwork can get however crazy you want it; go full out with tip-to-toe different patterns and fabrics or stay subtle with just adding a touch to spice up your outfit. We've done our research to let you pick and choose between styling options, depending on your mood for the day.
The Top
The patchwork top has quickly become the IT piece for summer outfits right now. Maybe it's because of the times we live in and its zoom meeting appropriateness (hello pyjama bottoms and designer shirt) or it's simply because it's THE way to make a statement in the heatwave. By using one patch wear item it will become the centerpiece of your outfit and can easily be balanced out by combining it with neutral colours and simple lines.
The Denim
Simply because patchwork denim is the easiest way to elevate your increasingly monotonous jean routine. If you are feeling a bit unsure about the excessive colours, adding a pair of patchwork jeans to an outfit with a basic tee and sneakers might be your jive. However, don't be scared of doing denim on denim with different washes to add to the effect of layering fabrics and colours.
The Set
A lot of the current buzzing patchwork-inspired brands creates sets with tops and skirts, delivering your outfit to you on a silver platter. Another way to make your outfit look synced is to pick up one of the colours in the patchwork item and wear together with a single-coloured item of the same style (as in picture above). This will make your outfit look seriously put together without you going all out on the patchwork and using what you already own. Another way to quickly pull together a head-to-to patchwork outfit is of course by investing in a dress. This would probably be the most foolproof outfit and the easiest to combine.
Accessories
More and more hats, bags and shoes with patchwork are starting to show up which may make our minimalistic babes out there happy. As heard before, accessories can truly make or break an outfit so adding a slightly daring trend piece to an otherwise simple outfit can make us all shine. If you are still questioning this trend this might be the way to get you on board.
Our fave brands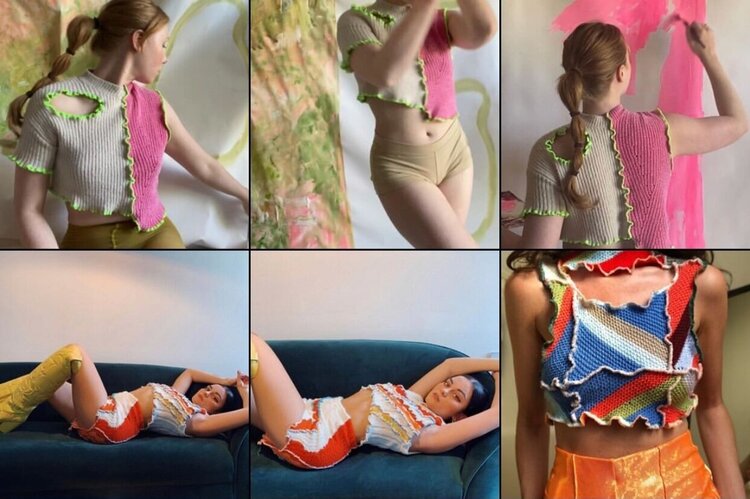 Rua Carlota
Rua Carlota is a small London brand founded by Charlotte Rose Kirkham that uses only pre-loved/deadstock material as a basis for the designs. Charlotte wanted to see how she could do justice to the pre-loved pieces that didn't fit the aesthetics of most curated vintage feeds and her designs are an exploration of shape, patterns and textures. Rue Carlotta has been mentioned as the "new knitwear brand to obsess over" by Vogue and the method that she uses makes every piece she sells truly unique. Pieces worth a mention are both the 'MOOD SWINGS' tops capturing her ever changing mood during quarantine and one of the most popular designs, the 'SUN BEAM' two piece set, inspired by the sun beams hitting her sewing machine through the window.
Lydia Bolton
https://www.lydiabolton.co.uk/shop
Lydia Bolton is another beloved London brand upcycling unwanted textiles to fashionable streetwear. She uses second hand items and unsellable clothing from charity shops to create her new designs by hand. We are completely in love with her items reflecting the patchwork style and creating them with zero waste makes it even better. The brand's signature aesthetic combines street wear silhouettes with feminine details and if you are interested in hearing more about the brand we recommend you to check out our IGTV Wednesday Wine with Lydia Bolton where we talk to her about her designs, inspiration and the issue of fashion waste.
Sherris
The New York-based swimwear label Sherris has been one of the brands catching a lot of attention during the summer for their patchwork inspired tops. Due to this stellar response, Sherris will be shifting their designs into cashmere this coming season. All of their pieces are hand-printed, dyed and constructed to fit in water. Although it is a swimwear brand, it has not stopped their pieces from being worn as fashion statements by women such as Lourdes Leon and Addison Rae.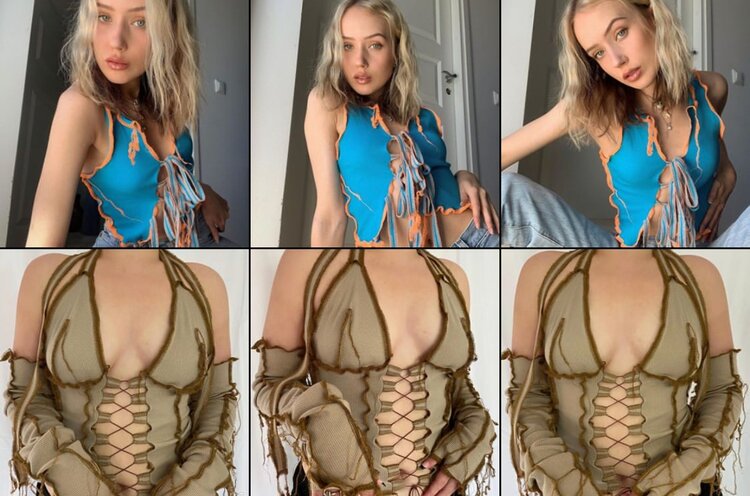 Mata Complex
https://www.matacomplexltd.com
22-year old Ellie Reeves, founder of Mata Complex, creates patchwork tops and dresses out of jersey and mesh. The brand gives patchwork a saucy take, often creating designs with criss cross lacing through the middle of the shirt. Mata Complex has experienced a significant boost lately and is constantly expanding to keep up with the demand. All the items are handmade and as they are growing bigger, the brand is working on becoming more and more sustainable.
Myaemade
Myaemade is also a small brand that has experienced significant growth during this spring and summer. This Bristol-based brand creates patchwork cardigans and tops, usually in sheer material and lately some of founder Mia Joseph's designs have sold out within 15 minutes in her Depop shop. All the pieces are one-offs made by herself in her bedroom and if wished, you can receive custom made designs and size altering after your preference.
Do it yourself! (life it's hard)
We're really happy to see a trend that actually isn't impossible to create from what you already have at home (especially given that the seams are supposed to look a bit wiggly and bold). We have taken out two DIY's for you that we really think nails the trend. Let's try and be good on this one and at least give these a shot before we go completely crazy with our purchases of this trend (pinky promise?).
DIY for patchwork top:
https://www.youtube.com/watch?v=CzUdCZLhmx8
DIY for patchwork jeans:
Something on your mind?
Share your thoughts with Whering community.

If you have an idea for an article around fashion, culture, environment, news, wellness, shopping or DIY, submit a pitch to us!