Feb 25
Looks We Loved From Copenhagen Fashion Week
Stine Goya AW21 Collection
What does Fashion Week look like in the context of a global pandemic? Apparently, the answer is: fabulous.
Although Covid didn't allow for in-person fashion shows, this did not stop Danish designers showcasing their collections in innovative and new ways. With a myriad of colours, textures, prints and styles, this Fashion Week underlined the creativity and craftsmanship of top Danish Designers. Here are a few collections that stood out to us.
Stine Goya
Inspired by the new romantic movement of the 1980s and the culturally-fuelled glamour of the 1920s, Stine Goya presented colourful and eclectic looks to brighten up the mundanity of life in lockdown. Described as "Grunge Euphoria", the AW21 collection mixes acid greens and pale lavenders to create a kaleidoscope of clashing prints and patterns. With a focus on sustainability, Stine Goya's collection does not sacrifice character for carbon emissions. Embellishments of brightly-coloured gloves and bejewelled boots add eclectic elements to feminine and structured silhouettes, whilst Tetsumi Kudo-inspired floral prints evoke a sense of excitement for the ending of this long Winter and the welcoming of Spring.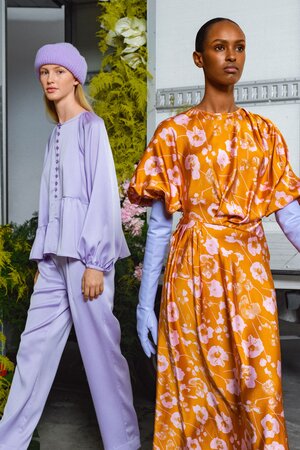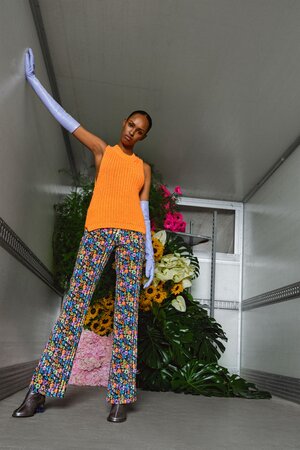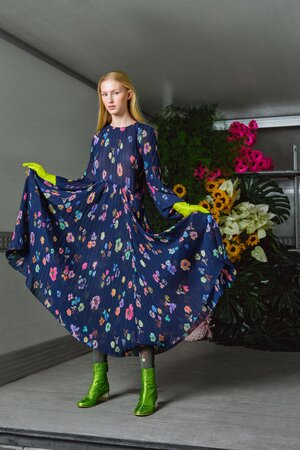 Baum und Pferdgarten
Sadly, the Winter is not over yet, but Baum und Pferdgarten has got us covered (with lots of layers). Using different people to model outfits from the new collection straight from their hometowns, Baum und Pferdgarten showcased trans-seasonal pieces inspired by Danish coastal communities. Styled through layering different textures and prints, the collection has something for everyone (for me, personally, it's the plaid co-ord). Whether you love eclectic colours or more structured and classic looks, Baum und Pferdgarten aimed to present the universal connection we all share during this strange period. With varied prints and muted shades, these pieces can be used throughout the year, making them perfect staples in your wardrobe. And you know how much we love versatility in our wardrobes.
Stand Studio
Through adding new pieces to signature Stand Studio aesthetics, the AW21 collection showcased structured and bold looks with timeless textures. Strategically matching earthy tones with eccentric-patterned accessories, Stand Studio continued to play with the sensory aspect of fashion. Playing with perspective to create eye-catching revisions of classic looks whilst revisiting their iconic fur coats with bolder colour palettes, this collection underlines that looking put-together doesn't mean sacrificing personality. As lilac glosses and leopard prints meet, Stand Studio inspires us to set up a blind date with some of our clashing clothes.
House of Dagmar
Although there were many eclectic collections showcased at Copenhagen Fashion Week, House of Dagmar presented muted tones to complement their classic styles. Straight coats and high necks contrasted the maxi fringed skirts and satin dresses that draped elegantly over a classic kitten-heel shoe. This collection matched feminine styles with structured blazers to create timeless looks. More interestingly, the collection was presented through Augmented Reality, placing the model in different settings in Copenhagen. As sustainability is intrinsic to the brand's designs, this presentation met the needs of Covid-restrictions whilst limiting excessive waste.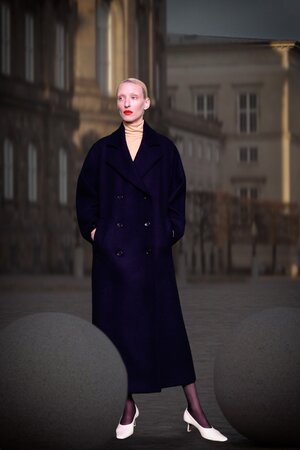 Something on your mind?
Share your thoughts with Whering community.

If you have an idea for an article around fashion, culture, environment, news, wellness, shopping or DIY, submit a pitch to us!