Aug 3/p>
How to Dress Cute in Summer (without Layering)
If you live in the UK, you'll know it's been acceptable to layer the last few weeks despite the fact that it's summer. Due to climate change making weather more extreme, we're experiencing a very rainy summer.
But, for the rest of Europe and our international friends, things are heating up. We won't go down a spiral of climate anxiety (but we are most definitely feeling it and our thoughts are with those having to adapt to new extreme climates).
It's no secret that with warmer weather comes less clothing, which leaves some of us confused about how to piece together a good outfit when we're limited to fewer options.
We've put together a guide of how to dress cute without having to layer up. Consider it your summer guide to dressing weather appropriately.
How to Dress Well Without Layers
Layer your jewellery
If there's one thing that always looks good layered, it's jewellery. We're completely in love with the maximalist aesthetic and jewellery is an integral part of that.
Layered rings, necklaces, bracelets and lots of earrings is a fail safe way to accessorise. We're unleashing our inner child with colourful jewellery we would have loved when we were 13 and it's so much fun.
If you're not a colourful bestie, go for classic silver/gold jewellery. Depending on the vibe of the jewellery, use it to dress your look up or down. Mixing textures always creates an interesting look and feel to any outfit, and you don't need to overwhelm yourself with colour to do that. Look at different sizes, thicknesses, charms, textures, and create your own perfect jewellery stack.
Colour blocking/colour pops
We're still yet to see a monochrome fit that isn't a total slay. Only wearing one colour is an easy way to look stylish that doesn't require a lot of layers. You instantly look sleek and fashionable, that's just a fact of life.
If colour blocking isn't your style, why not try a colour pop? Draw attention to your bag, your top or your shoes by clashing one item with the rest of your outfit.
For anyone who is looking to experiment more with different colours and try our new combinations, we highly recommend checking out The Dictionary of Colour Combinations, and challenge yourself to create outfits using their different colour combinations.
Good shoes and handbag combo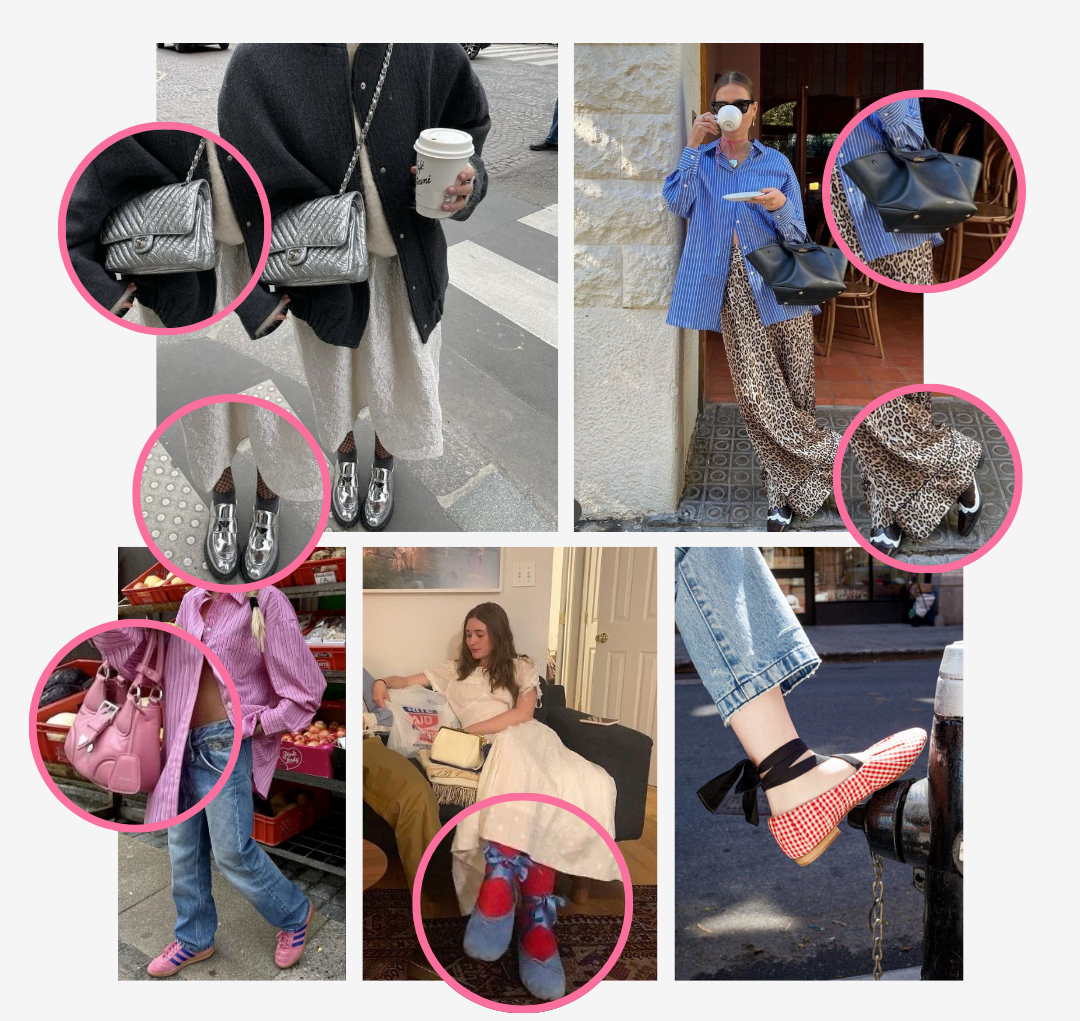 Shoes and accessories make or break an outfit. If you're strapped for style inspo this summer, focus your efforts on a quality pair of shoes or bag that you love. Paying attention to the details is what sets you apart from the crowd.
Experiment with bag and shoe pairings on Whering to see what looks best!
Hair styles and accessories
Styling your hair is so much fun! Once again, it's all in the details. Go the full nine yards and put a little effort into styling your hair and we know you won't regret it.
The classic claw clip or bandana is always a good place to start, they're super easy ways to add a little pop of colour or style to your outfit. If you've already nailed that one down, think about scouring sites like Pinterest for more daring styles and accessories to try out with your hair!
Patterns galore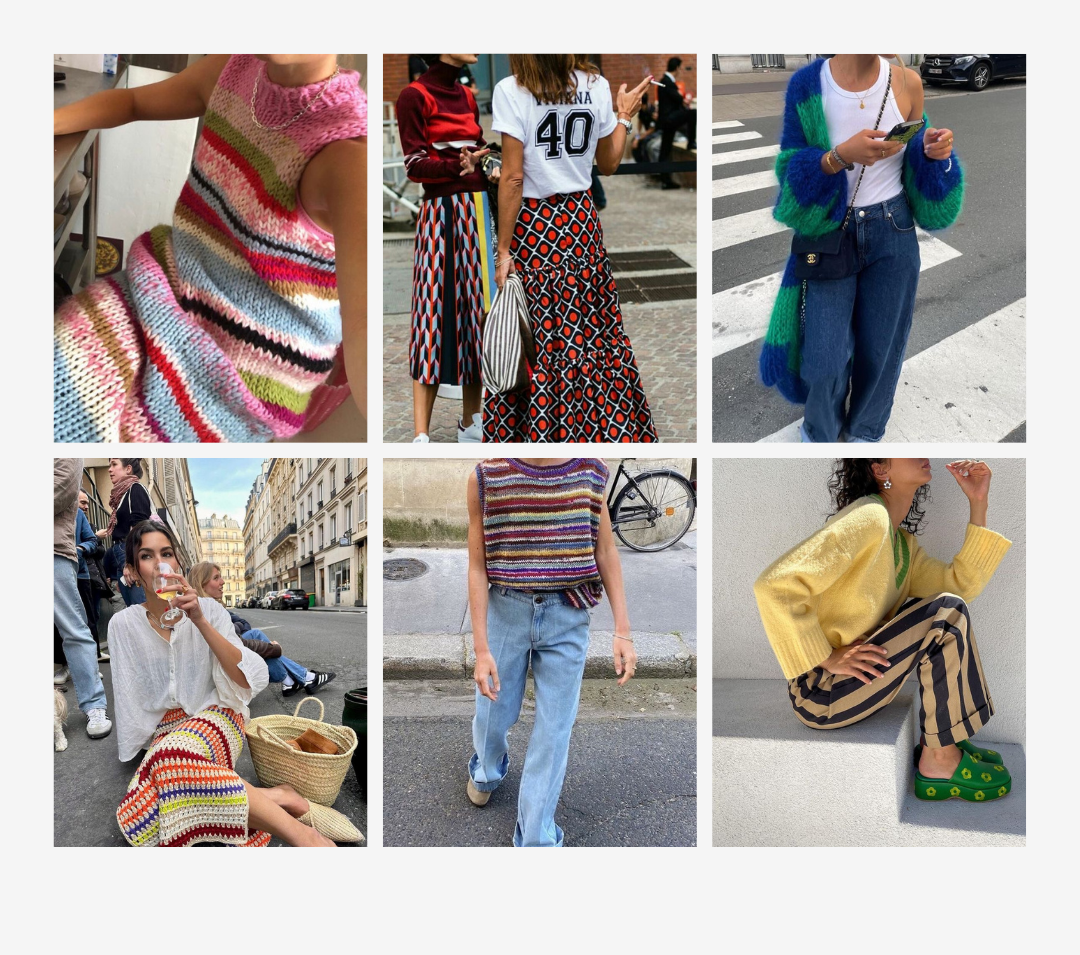 Another one for the maximalist gurlies, but if you love patterns as much as us we don't have to tell you twice that clashing patterns is always a look. If you're a little nervous about clashing, fake it till you make it. Break the fashion rules and clash till the cows come home, with a little confidence no one will question it.
If clashing isn't your thing. Wearing a patterned dress or a patterned skirt, etc, is another way you can help make your outfit stand out. Basic essential pieces don't look as good when not used as base layers for funkier additions (in our humble opinion) so whip out the patterned dresses this summer.
Those are all our tips on how to dress cute without adding more layers when it's too hot! Let us know how we did and if we missed anything by getting in touch on our socials @Whering__ on Twitter and Instagram.