Oct 21
How Balletcore Took Over TikTok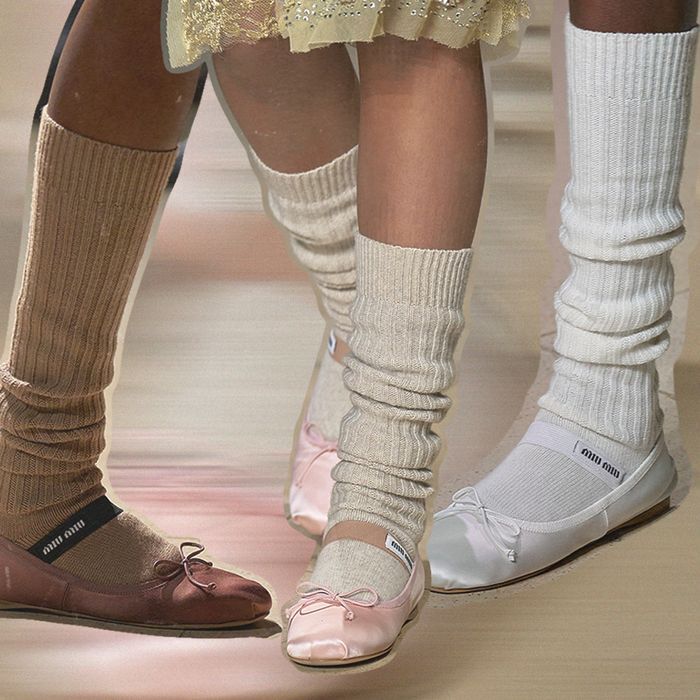 Move over barbiecore, coastal grandmother and indie sleaze, there's a new style in town. Introducing balletcore; where boleros and chunky knits are paired with floaty skirts, wrap tops, leg warmers and, most importantly, ballet flats.
Ballet dancers have long been a source of inspiration and collaboration for the fashion world. Vivienne Westwood famously designed ballet costumes for the Vienna State Ballet in 2014; Iris van Herpen cites her childhood ballet lessons as inspiration for the basis of many of her designs and just last year ballerinas performing in the Paris Opera Ballet's Digital Opening Gala were dressed by Chanel — to name but a few examples.
Balletcore in 2022, however, feels like a truly gen-Z take on the look, with hyperfeminine elements of ballet contrasted with streetwear or y2k fashion. And far from being just another microtrend, fashion's long-term love affair with ballet means you'll likely have pieces stashed away at home that fit the balletcore aesthetic. Now, where did I put those leg warmers…
Where did the Trend Originate?
There are several theories as to why balletcore has suddenly taken off; it could be an extension of the athleisure wear trend that has only increased in popularity since the pandemic or a continuation of the youthful and minimal "clean girl" makeup and hair look that arguably mimic the archetypal ballerina look too.
But as with all fashion trends in 2022, the origins of balletcore can also be traced back to TikTok, where the balletcore hashtag has over 75 million views. Hundreds of creators such as @madisonood and @_christianawebster have put their spin on the trend, transforming the resurgence of ballet pumps into a distinct aesthetic.
Who's Wearing it?
As pinnacles of Gen-Z fashion, it is no surprise that Olivia Rodrigo and Bella Hadid are two pioneers of the balletcore look. For her 2021 tour, Olivia paired a baby pink corset-style top and a tulle tutu with a fishnet bolero (an open-front cardigan that only covers the arms and upper torso), perfectly emphasising the contemporary balletcore style. Meanwhile, Bella Hadid seems to be rarely pictured without leg warmers, ballet pumps or a bolero these days, and even posted an Instagram of her practising ballet in a very Black Swan outfit earlier in the summer.
Who's Designing it?
Brands such as Orseund Iris and Simone Rocha have long been creating feminine clothes which appeal to the balletcore aesthetic, including this Orseund Iris silk wrap skirt , or these Simone Rocha trek satin ballerina flatform shoes — the perfect encapsulation of how designers are putting a contemporary twist on the classic ballerina style.
But it is impossible to think of balletcore in 2022 without thinking of Miu Miu (Prada's little sister) and these ribbon-strap buckled ballet flats which seem to have played a major role in the shoe style's redemption and are firmly stuck to the feet of every IT-girl.
Meanwhile, Rodarte's Fall/Winter'22 collection, featuring handknit sweaters, silk gowns and sequin slips, is also "inspired by the delicacy and power of the ballet" and emerging label Friends with Animals has recently launched a unisex line of athleisurewear basics entirely inspired by ballet.
How to Wear (and make) it
As much as we love the balletcore trend, Whering is all about fashion that won't cost us the planet. This means using the app to create outfits with clothes you already have at home; dig out your old ballet pumps, leg warmers and ear muffs, tie an old ribbon into your hair and pair chunky cardigans with wrap tops or skirts. By the way, this is a great time to start taking notes for Halloween, because the ballerina look can be SO easy to recreate!
Boleros in particular are a key staple for any balletcore wardrobe and whilst there are plenty of incredible independent crochet and knitwear designers creating these on places such as Etsy, one creator on TikTok has a clever hack for turning any long-sleeved top or jumper into a bolero; put your arms through as normal but instead of putting your head through the head hole, put the entire jumper behind your head. Then the jumper will fall behind you and collect at your back, creating a makeshift bolero. Watch the video here.
Or, if you are looking for a more simple balletcore DIY, why not cut off the sleeves of an old jumper and make a pair of leg warmers?
Whilst microtrends can be a waste of money, terrible for the environment (and impossible to keep up with) fashion's constant return to ballet-influenced style proves that this aesthetic is sure to stick around in one form or another. So whether you want to go full Carrie Bradshaw running through New York in a pink tank top and white tutu in the opening credits of Sex and the City or emulate Bella Hadid's cool-girl leg warmers and ballet pumps look, it can't hurt to look to the on-pointe elegance and femininity of the ballet world next time you're stuck for outfit inspiration.
_________________________________________________________________________________________________