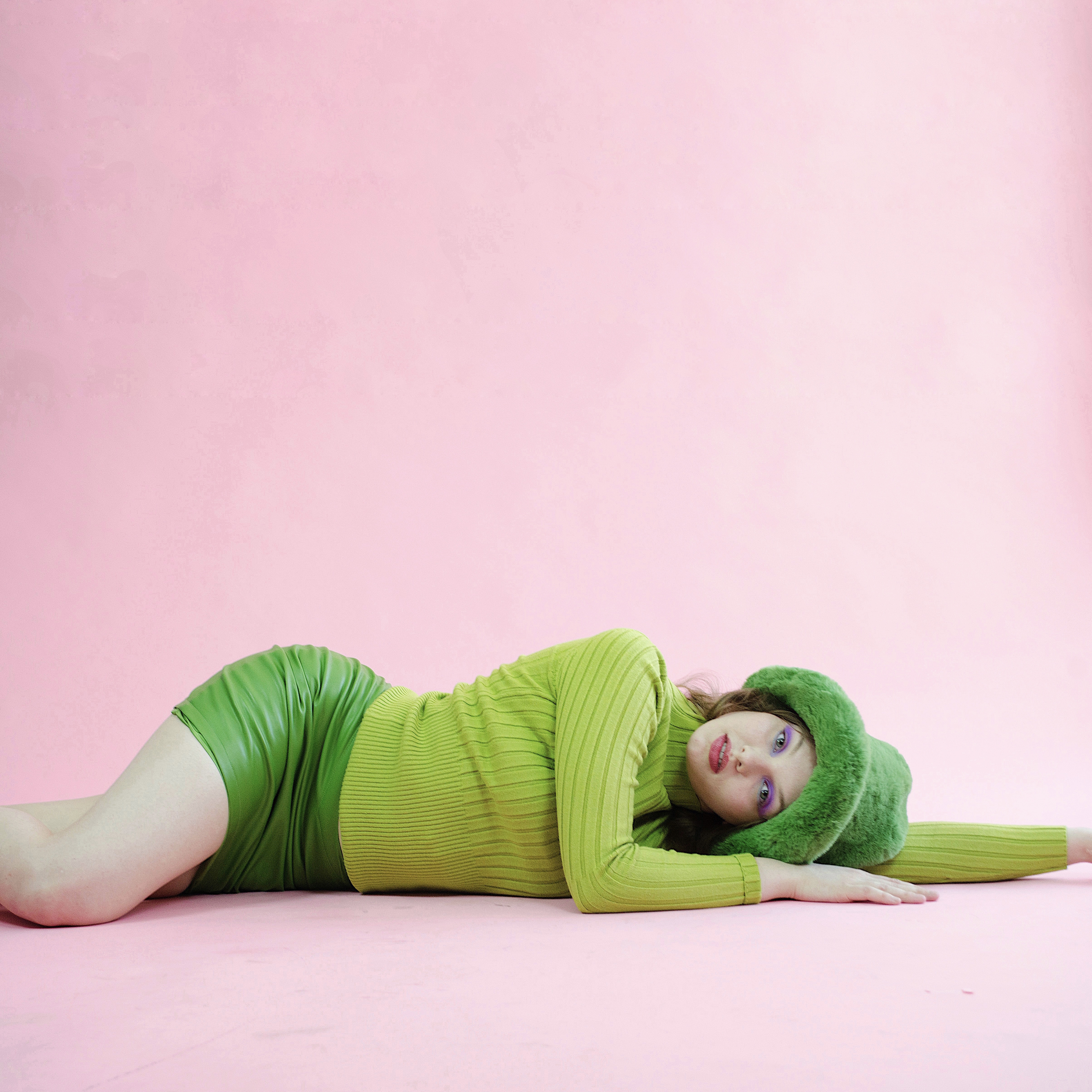 And no we're not talking about Zoe Saldana in Guardians of the Galaxy, though it's understandable why you would make the mistake. And while we're on this note, I need to get this off my chest- could someone PLEASE cast this woman in a blockbuster movie where she's not green or blue?
Anyways, back to what I was saying.
Despite the alliteration, Green Girl Summer just doesn't seem to have the same ring to it as Hot Girl Summer, so you won't be catching us trying to make the phrase stick, and we're most definitely not here to in any way discourage you from having any girl, guy, they, them summer your little heart may desire.
What we do want to sit down and talk about is the phenomenon which has arisen in recent years of 'holiday wardrobes' and 'holiday hauls' wherein people feel an urge or necessity to update their wardrobe partially (or often completely) before going on holiday. We recently published a Sustainable City Guide, which briefly outlined the importance of utilising your current wardrobe to the fullest, even when going on holiday, so treat this like an extension.
Now, 'occasion' shopping isn't something we're unfamiliar with- in fact, it's something we've talked about sporadically on both Instagram and within the Thoughts space. However, one could very much argue that buying a single outfit for a Christmas party or a wedding seems incomparably better than doing a whole haul ahead of travelling somewhere. To add even more salt to the wound, most of these hauls almost always happen to be from brands like Shein and Pretty Little Thing because of the attractive price-point.
Though we must say, there isn't much data around this topic (which means that maybe it's time for Team Whering to go back to Carnaby Street and ask around), a study by Bernardo's in 2019 showed that in the UK alone, people bought over 11 million new outfits for holiday occasions that year. An article by the Guardian referring to the same study, expected Britons to spend approximately £2.7 billion on around 50 million throwaway items for different occasions of that summer. Needless to say, the number has probably gone up in the last 3 years, but this is our formal request for an updated version of these stats!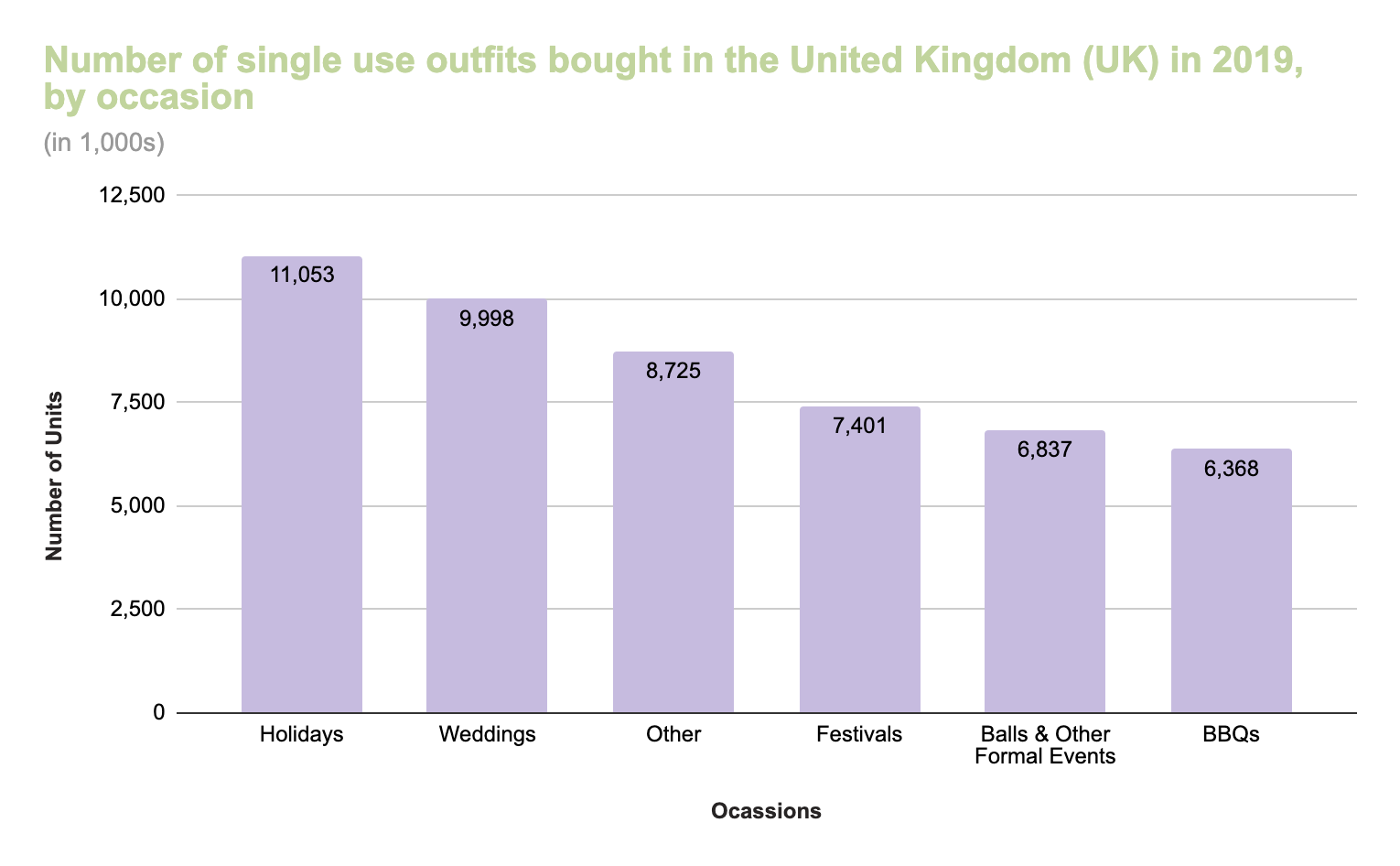 Also can we talk about how many outfits were bought for BARBEQUES? Is this a normal occurrence? Doesn't everyone just wear whatever?
Now we know that in order to really have a Hot Girl Summer to its full potential, feeling confident and feeling good is key. And often we embrace a wave of new confidence with a new outfit.
It's normal, we all feel it from time to time and we're not shaming anyone for feeling so. Which is why this week we've put together a little rental, ethical and pre-loved holiday edit. We encourage you to rent as much as you can- I mean it goes without saying, it's the most sustainable holiday option if you're craving a 'new' outfit. If you do decide there's anything you'd like to actually purchase, try using the Whering app to challenge yourself to style it 10, 15, 20 different ways. If it's something you'll keep wearing after a few times, go for it! They're good quality pieces which won't fall apart after a few wears or washes. But if you're having second-thoughts, hold off for now. A mindful purchase you love from our marketplace will always mean more to us than an impulsive one.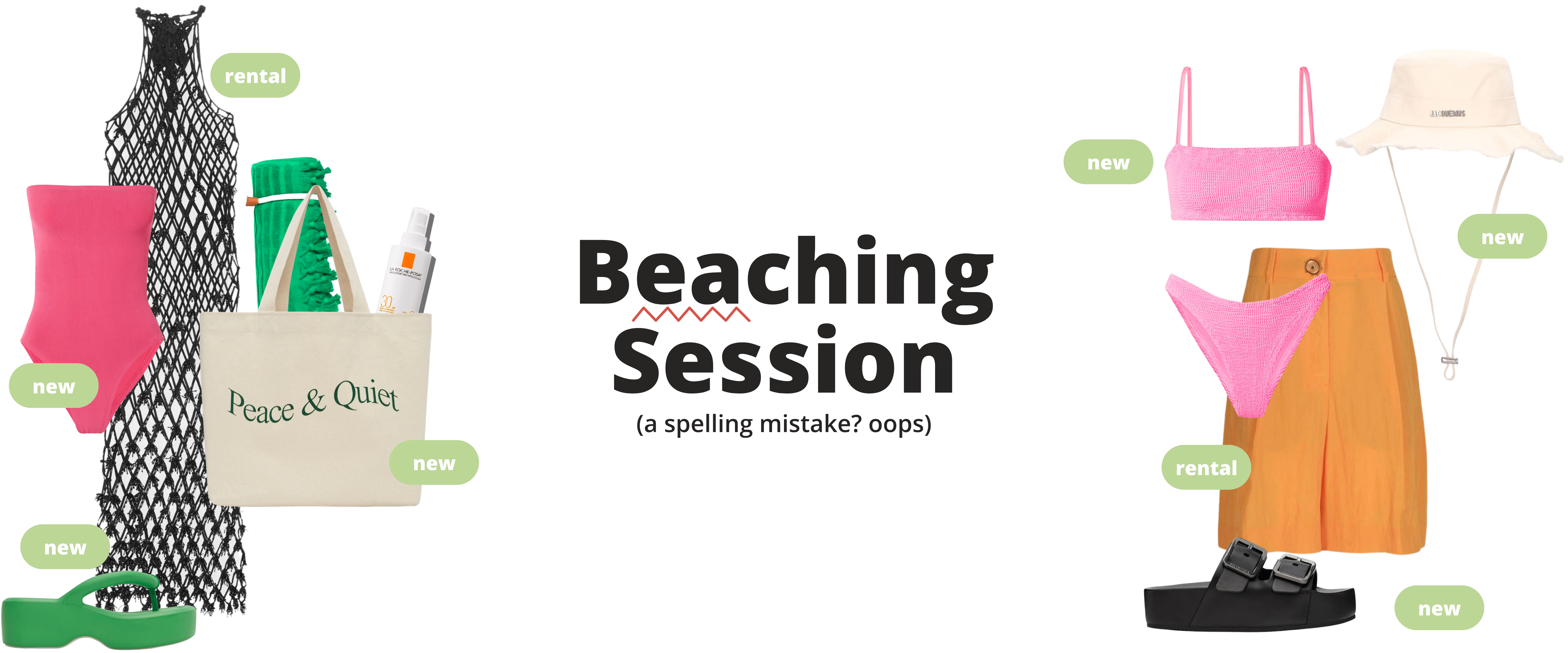 If you're escaping somewhere warm and beachy, a pop of colour will always fit the dress code. If you're anything like me, a lot of your bikinis might be from brands like H&M swim, Zaful or Oysho (hey, I'm only 22, 'investing' in long-lasting pieces wasn't on my student budget mind). While we do encourage you to keep wearing those for as long as you can, if you're feeling like it's time to spend a little more money on a swimsuit or bikini you won't have to replace for a long time, Hunza G is a Whering fav. Spice up the effortless beach fit with some rentals from Rotaro and you're good to go!
shop or rent the outfits below: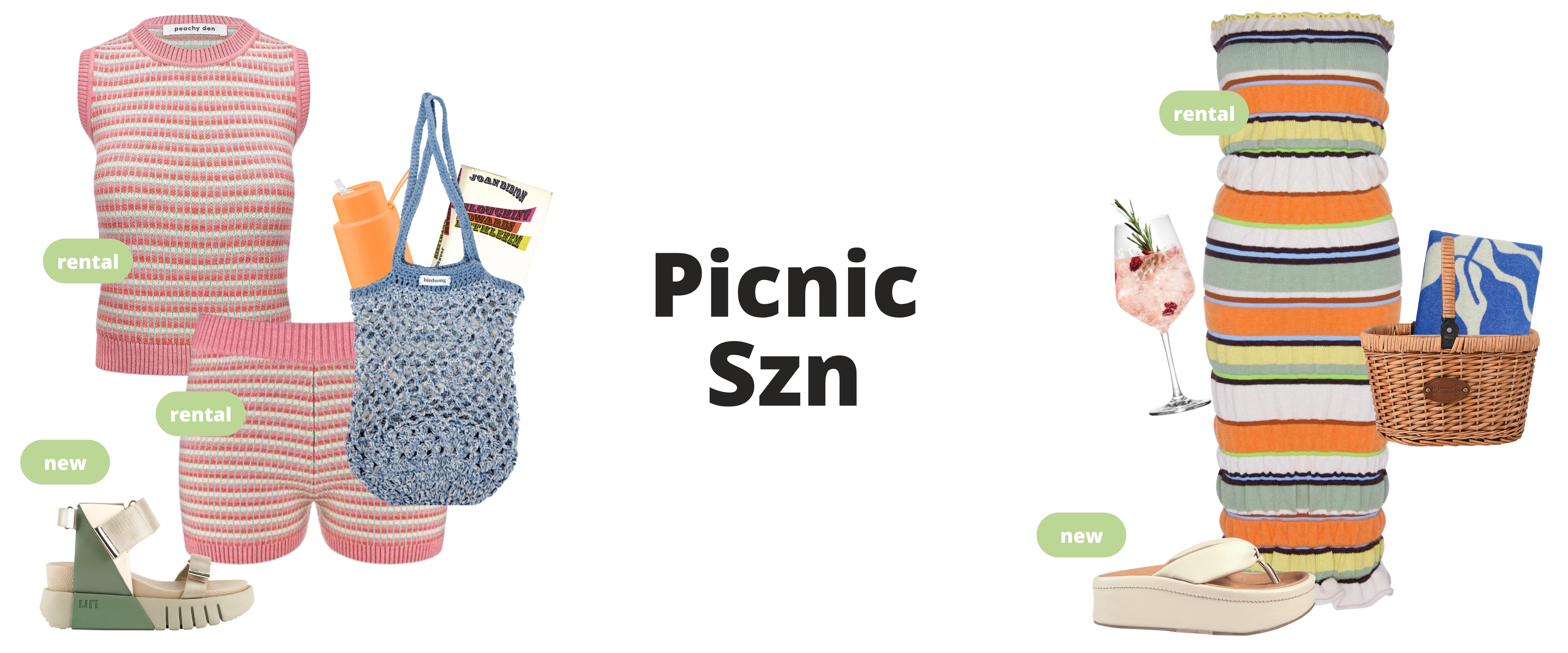 Not all of us are booked out with back to back holidays this summer, which is why park days are always a good idea, and a much-needed breath of fresh air if you live in a city. If you want to make the outing a bit more special, or you're anticipating a photo-filled day with your besties, why not do a weekend rental? & don't forget your water bottle!
shop or rent the outfits below: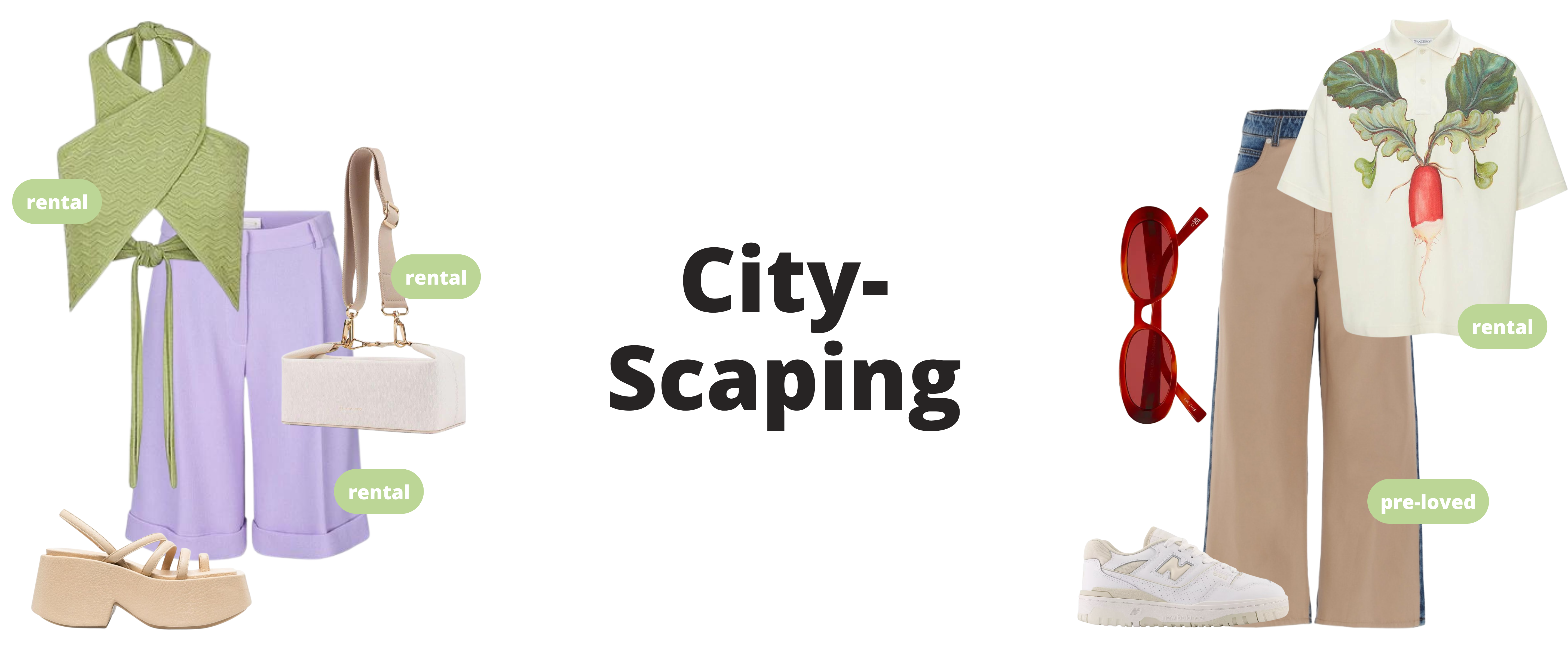 Sometimes hayfever gets the best of us, or we're just more into city escapes than beaches or mountains. Personally, I cannot relate but nothing wrong with that! Just remember to pack breezy outfits and your SPF. You might not be at the beach but city concrete is a known villain when it comes to heat absorption and reflection, and consequently sunburns and heat strokes.
shop or rent the outfits below: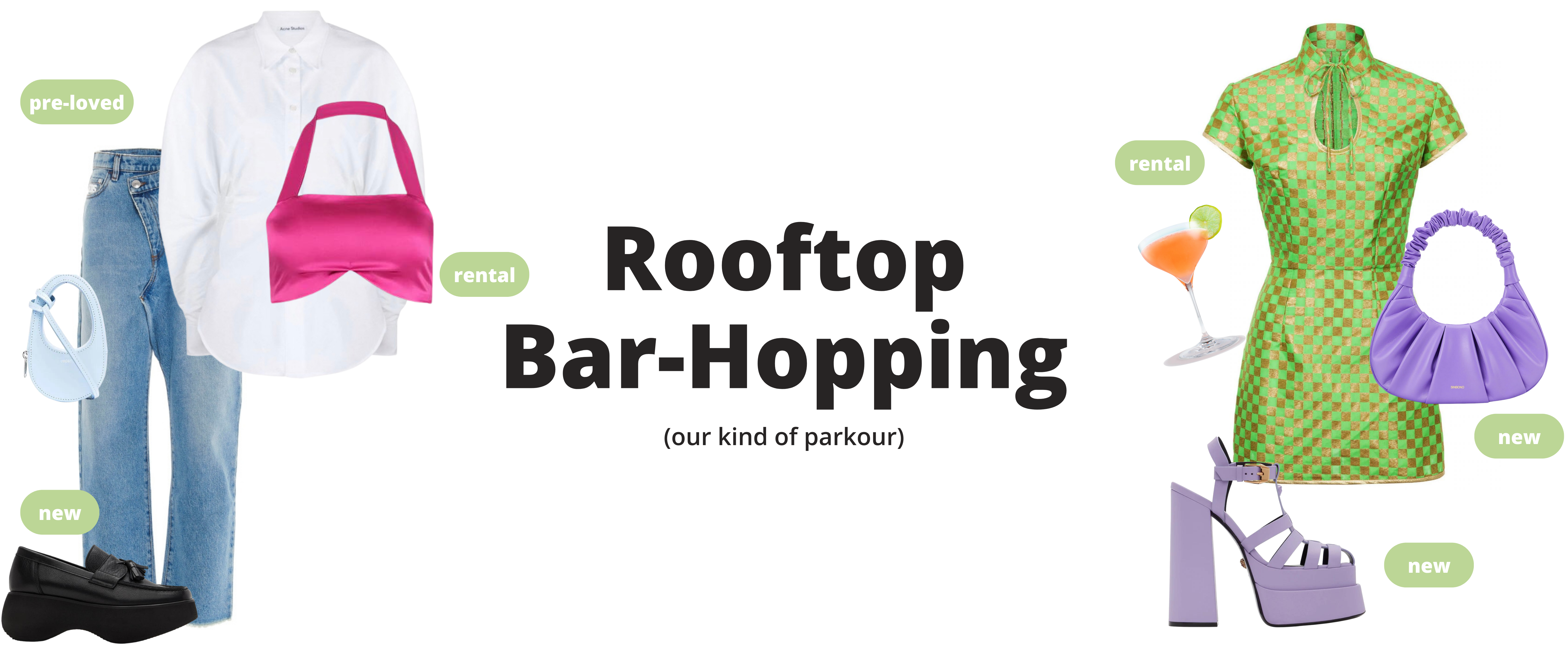 But if you'd rather save your energy for evening activities, we've got you covered too. The above outfits look 110% better with a cocktail in hand!
shop or rent the outfits below:
Whether you decide to rent, buy or simply use this edit as inspo, don't forget to take photos and tag us on Instagram @whering__ & #TodayImWhering - we'd love to see these collages in action!