Oct 28
Following Fairy Tales: Our Pathway Towards Climate Friendly Fashion with 'Fairycore'
Is anyone else seeing fairies everywhere?
You haven't accidentally wandered into a mushroom circle - if you look for it, the fairy aesthetic is everywhere in the digital fashion world right now. Dubbed 'fairycore', the visual microgenre is certainly niche, but it's most definitely having a moment. Take a look at recent high-status pop culture photoshoots: in 2021's 'Fairy Tales', fashion photographer Petra Collins shot Euphoria star Alexa Demie in a series of looks that blended 90s/noughties style (oddly, beautifully) with goblin prosthetic ears and elfin eye makeup. Elsewhere, rapper Lil Nas X donned a set of elf ears paired with grungy fishnet sleeves for his cover of PAPER Magazine, and Jeffree Campbell's latest fantastical footwear campaign has featured (you guessed it) elf-eared models in fairy wings showcasing the brand's 90s-esque platform boots. There's even evidence of it in the wider digital world: from the abundance of fairy filters on Instagram to the 2021 Netflix remake of noughties fairy show Winx.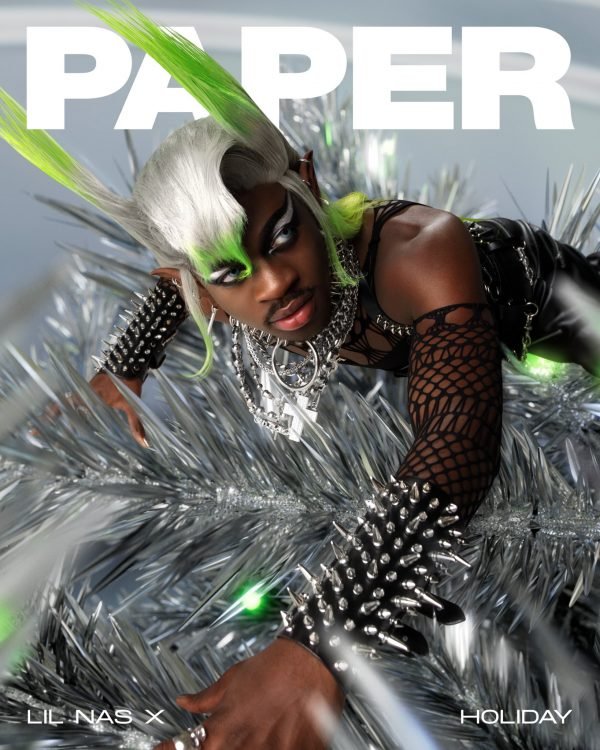 So why is this aesthetic having a renaissance? And where did it emerge from? Let me take you on a woodland journey to find out how fairycore is connected to the climate crisis, why we lean on mythology in times of chaos, and how this subversive style is utterly connected to sustainable fashion.
In the tradition of grungy, niche trends and mushrooms, it appears fairycore has emerged into fashion from the underground. Like Johnny Rotten fixing his ripped-up shirt with a series of safety pins, thus influencing punk fashion all the way up to the Vivienne Westwood catwalk, this trend has not trickled down from high fashion but infiltrated from its roots in the (in this case, digital) world below. With at least 921K tagged posts on Instagram and more than 991M views on TikTok, 'fairycore' is a DIY style that has been pioneered by teens on social media. Search the hashtag and you'll get an idea of the look, which blends fantasy with the 90s grunge aesthetic: layered fabrics, lacey numbers, corsetry, earthy tones, mini-skirts, and woollen leg warmers; photoshopped or prosthetic fairy wings and elf ears; and shoots in moss-laden woodland dells.
The emergence of fairycore's fantasy element may seem random, but fashion has always followed culture, and people have been leaning on mythology to explain overwhelming or unexplainable concepts since the dawn of time. Overwhelming concepts like, say, the climate crisis. As with star signs or tarot cards, reaching for age-old symbols in times of confusion is an ancient human urge, and fairy mythology is no different. In her book on the subject, writer Dianne Purkiss explains that we created fairies to fill the blank spaces on a map, 'where villages dwindle into farms and farms into woods, mapping stops. Then the imagination rushes to fill the woods with something other than blank darkness: nymphs, satyrs, elves, gnomes, pixies, fairies.' She goes on to explain that
A fairy is someone who appears at and governs one of the big crises of mortal life: birth, childhood and its transitions, adolescence, sexual awakening, pregnancy and childbirth, old age, death. She presides over the borders of our lives, the seams between one phase of life and another.
Essentially, fairies are what we imagine filling the dark places during times of transition, anxiety, and uncertainty. And when people talk about fairies, it's not necessarily because they believe in them but because they offer ways of speaking about the unspeakable. Perhaps this is why parents painstakingly place coins under children's pillows from fairies, to explain why teeth are falling out of bodies they've only recently been born into. And perhaps this is why fairycore has emerged now, at a time when everything feels thrown off. With heatwaves in February and snowstorms in April, climate dread is no joke. So, disillusioned with fast fashion, where 'new' means exploitation, plastic pollution, and climate destruction, young people are reaching into the past. Amidst chaos, the image of the fairy connects us to a being harmonious with nature.
The beauty of style, of self-expression, is that if you wish, you can display your innermost thoughts and desires externally on your body. You can transform yourself, thereby transforming your world. Not only does the aesthetic of the fairy allude to a being in harmony with nature, but the means of creating the look do, too: because of its 90s/noughties edge, a fairycore look could be bought entirely second hand.
This is where the style gets subversive. Fairycore hints at the positive power of nostalgia. By putting a nostalgic lens on the Y2K styles of our childhoods, we bring charity shop clothes back into fashion. But nostalgia can also be weaponised: nostalgia can tell us who or who doesn't belong to an old fantasy. Historically, the image of the fairy has been gatekept by artists to exclude anyone who isn't skinny, (very) white, and female. See Sophie Gengembre Anderson's 1869 painting 'A portrait of a fairy' to get the vibe. This is absolutely contradicted in fairycore though, by the likes of Lil Nas X. Gen Z have repurposed the fairy aesthetic to one that's inclusive of those who don't fit into its original, oppressive mould.
Fairycore even shrugs off the legacy of its annoying older sister, the 'manic pixie dream girl,' a fictitious character trope created for the male gaze. In contrast, the frivolous, whimsical, feminine essence of fairycore is undoubtedly a creation of and for the female gaze. This even checks out with a quick investigation into the hashtags of Tiktok, which suggest that fairycore has emerged alongside cottagecore, a lifestyle aesthetic pioneered by lesbians and queer people, offering a retreat from the brutality of mainstream society into a femme pastoral fantasy.
In a world that can feel very bleak at the moment, fairycore also offers a small hope for individual actions against climate change. Young people are retreating into mythology about creatures that live in harmony with nature whilst also seeking clothes that can be bought sustainably, and they've set a global trend reaching all the way up to A-List celebrities. This trend may seem microscopic, but the ripple effect of cultural movements is what we're going to need to create lasting systemic change in the fashion industry. Or if you're even more cynical about it, fairycore at least it allows people an escape in the everyday.
Isn't that a bit magic?