Sep 16
Everything We Learned From Sustainable Fashion Week
Have you heard of sustainable fashion week? It's pretty much what it says on the tin: an ethical take on the well-known Fashion Week events happening around the world. From the 16th-25th of September, founder Amelia Twine hosted the second sustainable fashion week with the first catwalk show, which we were lucky enough to attend. Let us set the scene for you: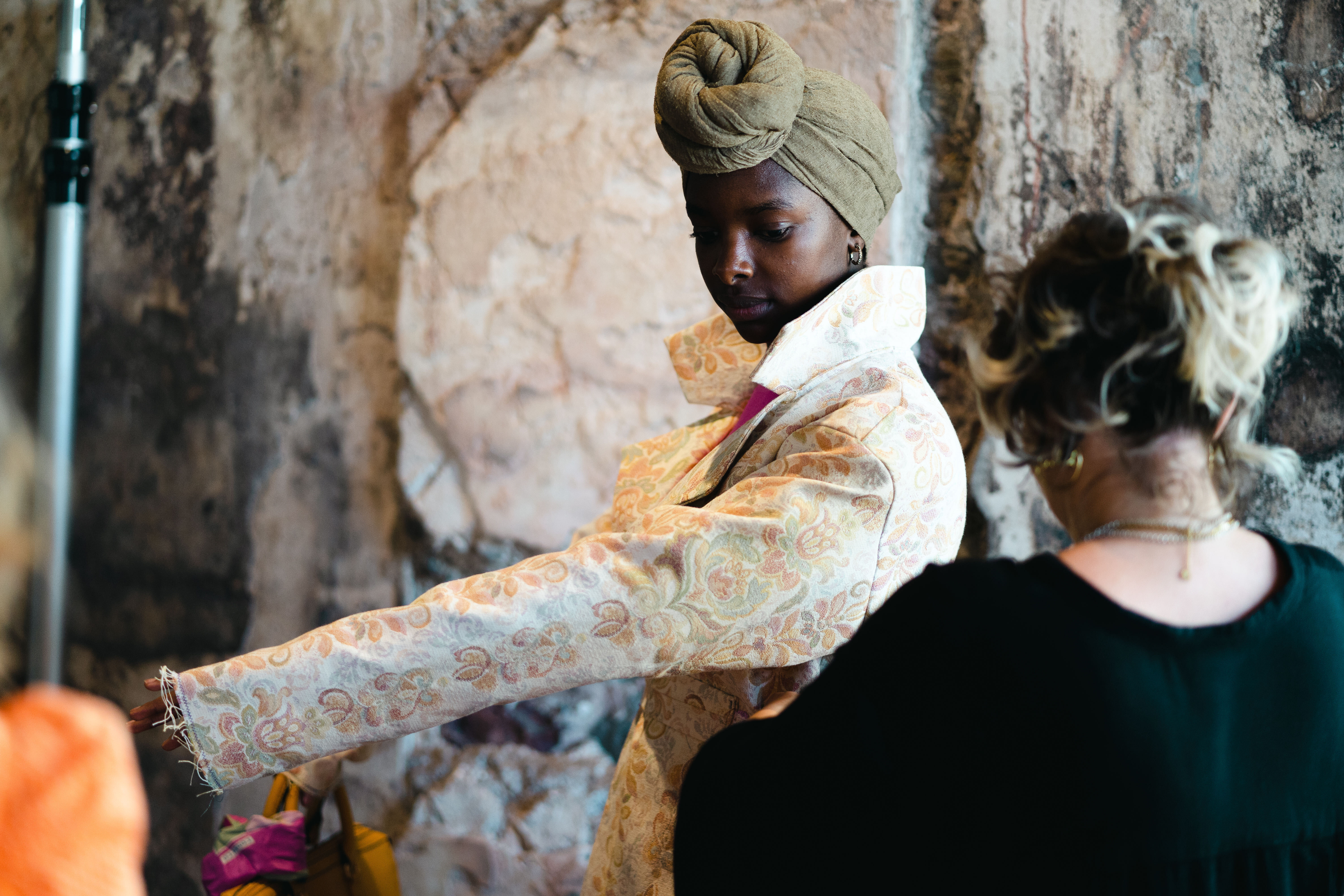 Image by Sustainable Fashion Week/Dave Challenger.
It's a gloomy Wednesday morning in London and myself (Hi, it's Flo!) and our socials & community specialist, Nona, get ourselves to Victoria station. We've decided to catch an earlier bus to Bristol in order to explore the city a bit and give ourselves some time before the event itself. After a few hours of coffee hunting & vintage store browsing, we finally make our way to The Mount Without and grab our welcome drinks. We have no idea what to expect, but we're excited to be part of this event with the Bristol community!
We'll spare all the details about the catwalk itself, but a couple tears were definitely shed. It's rare to see an event fueled by so much labour of love, care and community. We'll let Amelia tell you the rest…
We chatted with the Bristol-based founder about how to make sustainability central in the event planning process and the future of sustainable fashion events as a whole.
The Core Values of Sustainable Fashion Week
There were 4 themes central to the sustainable fashion catwalk: regenerate, repurpose, rewear and reconnect. Each theme had a different brand and collection showcased on the catwalk. When asked what the most important of the four values was, Amelia chose 'reconnect' with no hesitation.
But what does reconnect mean in terms of sustainable fashion? Amelia describes it as reconnecting with our relationship with clothing itself - asking ourselves questions like, where does it come from? Who made it? How long have we had it? What impact has this piece had on the environment and our life?
'Reconnection can be interpreted in many different ways' she explains. It includes 'reconnecting with intergenerational skills' to preserve what we already have in our wardrobe. For example, if your Aunt can sew, learn this skill for yourself and share it with other people in your life so others can benefit from skills that help clothes last longer.
It also means 'reconnecting with the activist inside ourselves'. Challenging ourselves to boycott fast fashion brands and stand for inclusivity and sustainability when it comes to clothing.
These four simple but versatile values of the SFW catwalk help breakdown sustainability and let people choose which sustainable practices suit them to help them live a more sustainable lifestyle on their own terms. Too often people are quick to shut off from sustainability as they are rightly overwhelmed with the complex nature of the term. Thanks to Amelia and others alike, people are able to understand what an ethical relationship with fashion could look like for them.
How is sustainable fashion week different from other fashion week events?
Sustainable fashion week focused on the context and community behind the clothes, Amelia tells us. 'I wanted it to be about the people and their communities, rather than purely sleek designers'. Instead of the catwalk featuring high-end fashion with little connection to the model, the models have either made the piece or have a close connection to the brand. It's not all about setting trends for the season ahead, the sustainable fashion catwalk aimed to remind people of the importance of knowing where their clothes come from.
Inclusivity was at the heart of sustainable fashion week. They hosted multiple events over the country (not just in Bristol where the catwalk was hosted) where visitors can access free clothing repairs, hear an inspiring talk or see a film screening educating them on the importance of sustainable fashion. The effort to make SFW inclusive and accessible is what made it such a beautiful initiative.
Amelia was careful to emphasise that rather than being an educational organisation, SFW aims to provide information that helps people break down what sustainability means to them. The pressure of the educational environment was not desirable.
All events at the sustainable fashion week hub were free to attend, allowing everyone to see the benefits of an ethical lifestyle! Sounds perfect right? We're hoping more event planners take notes…pens and notebooks out please!
How can Fashion Events be More Sustainable in the Future?
Image by Sustainable Fashion Week/Dave Challenger.
'The first step in sustainable planning for fashion events is the clothes', says Amelia. If the clothes aren't truly sustainable and connected to a community or supporting a wider cause, they exist purely to set trends. 'I'm not part of the London Fashion Week community, so I don't know exactly how it works' she tells us. At the heart of SFW is a clear message to understand the small ways in which we can make an effort to be more sustainable through the 4 themes of the catwalk: repurpose, rewear, reconnect, and regenerate.
Beyond the clothing, thinking about 'who you are inviting and who is being included is very important. Who are you talking to and why? What is the end game?'. Amelia invites us to think about the potential consequences of runway shows, are they focused on generating sales or celebrating clothing and community? Who feels included and excited to attend the event? For fashion to be sustainable Amelia reinforces that all communities need to feel seen and heard. We couldn't agree more, creating a space for everyone to feel welcome is a necessity.
SFW championed all kinds of styles: from drag and performance art, everyday wear, conceptual looks and traditional Indian Saris. It was a great example of how an event can include multiple styles and expressions of art, regardless of their community origin.
Amelia mentioned they are conducting a topline impact assessment to evaluate areas of improvement in terms of carbon emissions. It's great to see an organisation reviewing its stats and working towards a more sustainable future. 'We encouraged visitors to travel as sustainably as possible to the event' Amelia says. Whilst she recognises this is not something she can control as the event organiser, making an active effort to suggest sustainable travel alternatives to visitors is an easy change that more event planners could implement with no extra cost. Seriously though, what's the catch?
What is the future of sustainable fashion wee
'Our immediate goal is to open a permanent hub in the city to offer everyone free and low cost repairs, a place to swap clothes, etc'. Opening a slow fashion centre in the city would give Amelia and her team a permanent place to continue making positive change and 'engage with different community groups' to carry on centralising people in their fashion events.
When asked if she thought SFW and regular fashion week could merge, she responded, 'SFW is very careful about which organisations they work with, to ensure there is a values alignment. But I am always open to conversations with any brand or organisation to open new dialogues.' It's clear Amelia would love to work with other people in the fashion industry to help activate genuine sustainable change.
Sustainable fashion week opened our eyes to the importance of community and clothing, showing us how slow fashion can be inclusive and affordable for all to engage with - rather than exclusive and clean cut as it often appears. We commend Amelia, her partner director Amber Rochette and all their colleagues for their hard work and dedication as volunteers committing their time to an important cause to lead the way for sustainable fashion catwalks.
If you want to support their work visit their website here, or check out their Instagram profile. This is a worthy cause that can't continue without your support.
Something on your mind?
Share your thoughts with Whering community.

If you have an idea for an article around fashion, culture, environment, news, wellness, shopping or DIY, submit a pitch to us!