Dec 24
Everything Team Whering Loved This Year
Dear 2021,
If we're honest, weren't a piece of cake.
We got through multiple lockdowns, who even knows how many variants, delayed reopenings, cancelled trips, but something must have made the year worthwhile, right?
Though our monthly favourites have become less frequent, it doesn't mean we haven't been enjoying ourselves. As this year comes to a close, we wanted to take some time to reflect on the past 12 months, and think back to what we really enjoyed this year, as well as what was the absolute standout.
In practice, reflecting on these positives allows us to better understand which parts of our lives genuinely brought us joy, and thus giving us clarity on implementing more of these positives into our time spent in the future.
Bianca Rangecroft - Founder & CEO
WEARING:
All You Need is Love. No, not the philosophy, but kind of along those lines. I recently purchased a Rotaro Resale House of Sunny set (the All You Need is Love Set), and not to be dramatic, but je suis amoureux. The recycled polyester set is so comfortable and I love that I can wear the pieces together as well as separately, either way adding some much dimension to any outfit.
WALKING IN:
(to 2022 with a bang), with these Gucci Cinderella dream shoes, I'm obsessed. They've been on my wishlist for longer than I can remember (thanks Whering), and after the year we've all had, both socially and trying to grow Whering, I thought it was a fitting end of year reward. I guess the favourite here is actually the Whering wishlist, but I thought the shoes deserved a shoutout too.
EXPERIENCING:
The Masaj massage. Is it just me or is everyone getting super tense backs very prematurely? Why am I experiencing retirement pains in my 20s… but huge thank you to the Masaj team who managed to make me feel my rightful age again. I know we all say "ugh, I need a massage so badly," well go get it bestie. You deserve it, and you'll be glad to spend the money on that over any clothing haul, I promise.
Absolute highlight, like this made the entire year worth it:
Our September Soho pop-up. It was so surreal to see our team bring the Whering brand to life, even under a short and stressful deadline, it was beyond a dream come true– and I'm going into 2022 beyond excited to keep bringing more of these ideas to life.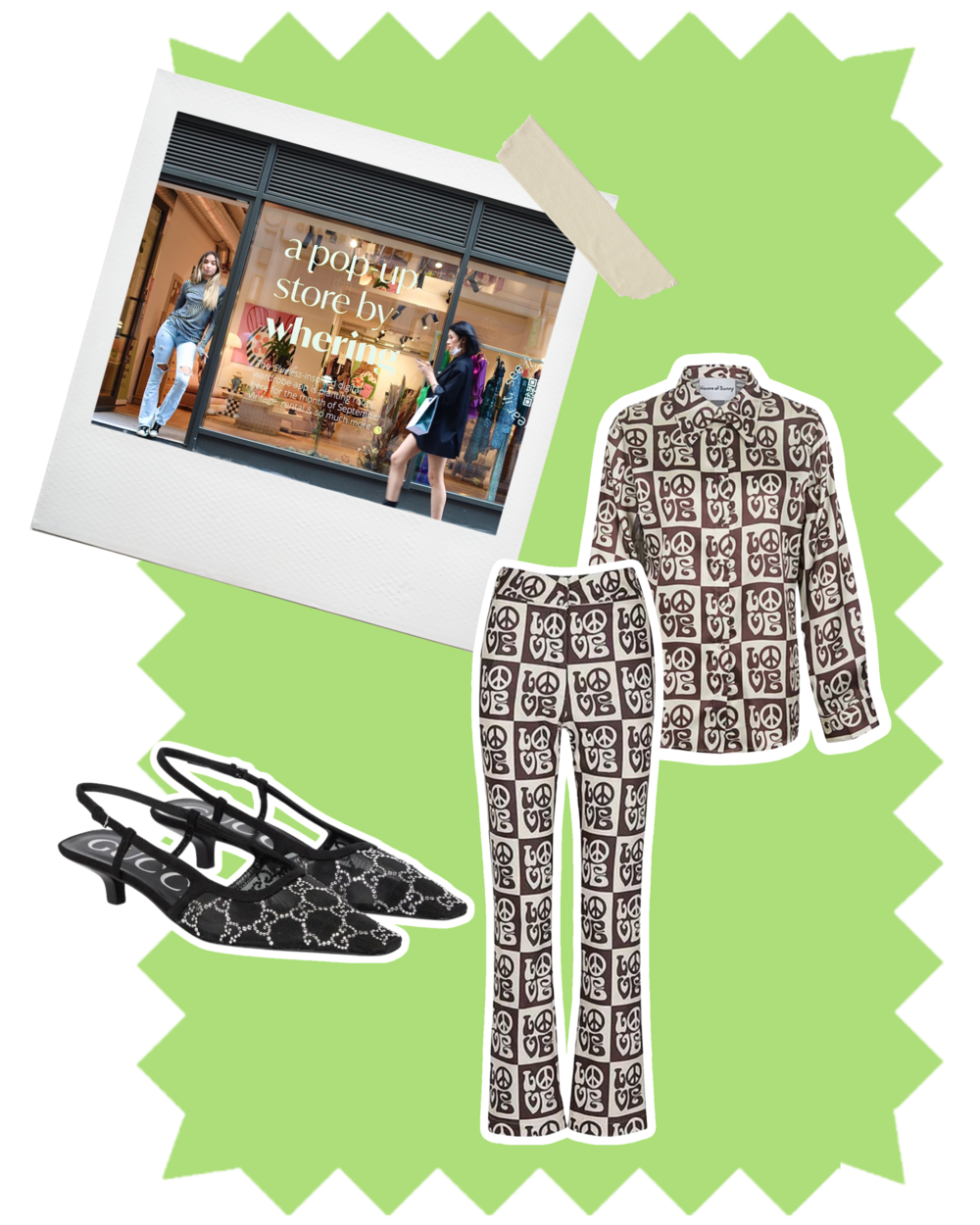 Callum Winn - Head of Creative Marketing
LISTENING:
The Yung Everything album by deto black. On repeat. All the time. The soundtrack to my year, I don't think I was capable of listening before August 6th.
WEARING:
Anyone who knows me, knows that ever since these items have become part of my wardrobe, they've basically shaped my entire identity. If you've ever seen me in real life, you can almost always guess my outfit with 100% accuracy, because 99% of the time I will be wearing my Eytys Vegan Leather jeans, and my small black Telfar bag. I know you can probably already perfectly picture what I'm talking about, so I really don't know why the attached photos were necessary, but in summary. .
LOOKING THROUGH:
2022 vision 😎 aided by my Prada sunglasses, no this is not a sponsored post, but please make me a brand ambassador if you see this @Prada. I'm glad I finally invested in some good quality specs, and I love the geometric detail on the handles.
LOOKING AFTER:
myself 😌 and my new bonzai tree because I got bored of the prior. Jokes aside, I'm obsessed with the little guy and knowing how spoiled they are, I'm praying to the 2022 gods they keep him going in the new year.
Absolute highlight, like this made the entire year worth it:
My trip to Margate, where my partner and I stayed in this beautiful airbnb. It was all so incredibly dreamy, I feel like I might even class it as the worst part of my year, because coming back to London was a serious reality check.
Emilija - Branding & Art Director
LEARNING:
About Gua Sha- a type of massage used in Chinese Medicine to detoxify the system. While the massage is traditionally done over the body, it can also be applied over the face in a much gentler fashion with the goal of promoting healthy complexion and radiance. I only started getting into it recently (after all my social media was disabled after an unfortunate hacking and I decided to focus on self-care to keep my mind off of losing my entire digital existence) and so far I don't see much difference- it just feels good to take time out of the day to care for myself.
LISTENING TO:
A lot of records, naturally, since starting my vinyl collection about a year ago. I've listed several of my favourites in previous 'Team Favs' articles we've published, so to add a new one to the mix (no pun intended)- Acid Mt. Fuji. It's a 2021 repress of an ambient techno masterpiece that's been spinning on my record player on repeat for months on end.
MEETING:
The Whering team at our September pop-up. I know, it sounds crazy, but a few of us aren't London based, so although we have been working together for almost two years, we had never met in real life. While we're at it, the pop-up itself deserves a spot in my annual favourites list.
VISITING:
The Birth of Venus by Botticelli at the The Uffizzi Galleries in Florence; I'd been dreaming of visiting this beautiful city for many years, and doing so on the weekend of my birthday was an incredible experience I will never forget. On the night of my birthday I wore a Mireille Darc inspired backless dress from Reformation that I had obsessively spent over a year looking for on eBay- but then had no occasion to wear out for another year for obvious reasons- so it felt very special. Top that with artisanal truffle tagliatelle and tiramisu, and you've got my dream evening in a nutshell.
BURNING:
Through my entire collection of candles. I've recently been enjoying a selection of wood-scented candles during the colder months, while cozying up in bed with a hot water bottle.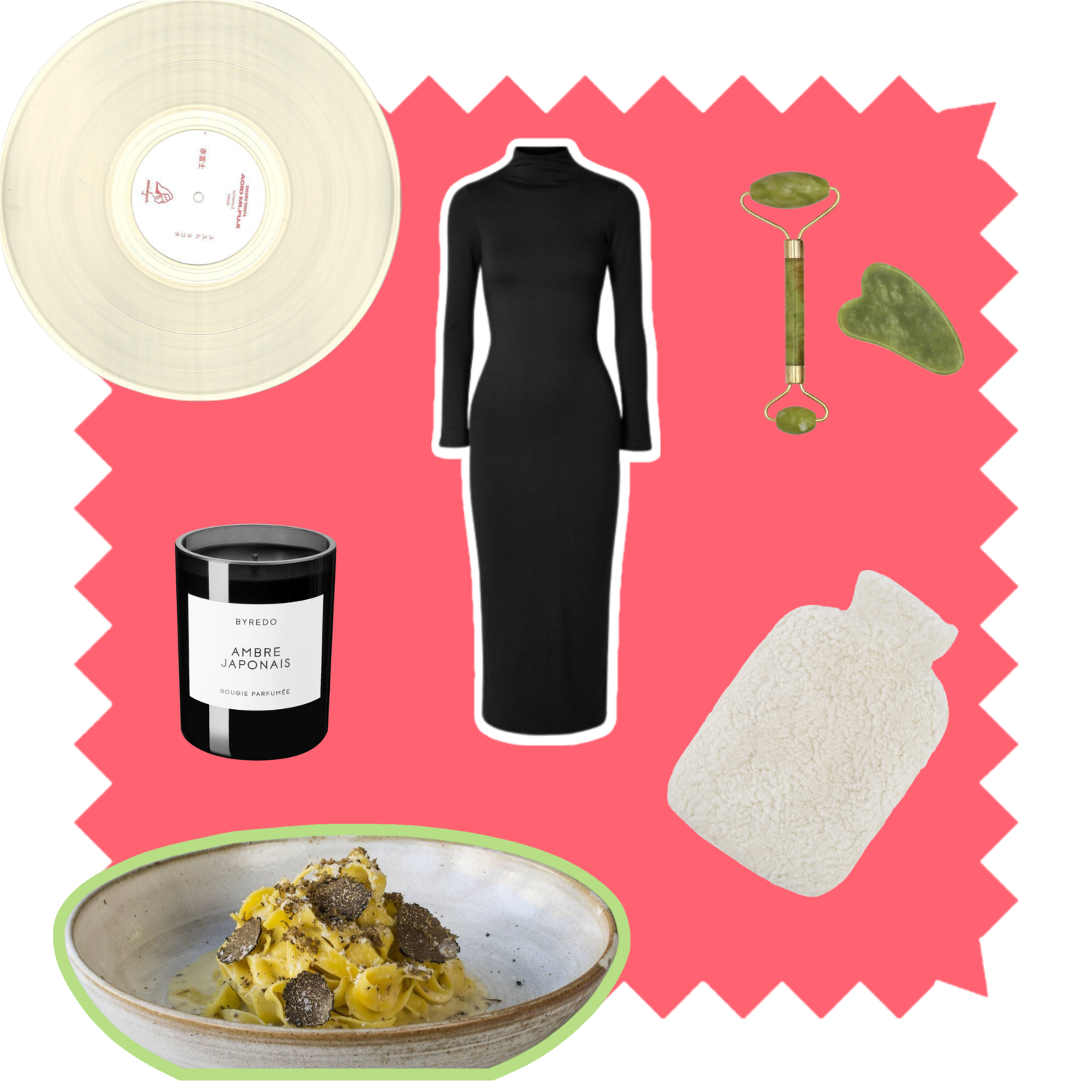 Nona - Socials, Community & Creative Marketing
WATCHING:
Criminal Minds. I know, I am the stereotype of the white woman obsessed with crime-anything, even though 90% of the time I represent the target victim. But the more shocking part is that it's taken me almost 17 years to discover the show. I'm obsessed, and so far unironically in-love with Reid.
BEAUTY:
I recently started taking accutane for my skin, so the Vichy Aqualia Thermal light moisturising cream and the Eucerin sunscreen have been my absolute holy grail when it comes to protecting my face.
LISTENING:
This has been the first year since the birth of Spotify Wrapped in which Drake hasn't been my number 1 artist (I know, kind of embarrassing but come on, it's champagne papi). Instead I swiftly fell into the top 0.05% of Two Feet's listeners, and it makes sense, because I think I exclusively listened to a playlist called "Two Feet's Discography" February through April. If you haven't listened to any of his music, "A 20 Something Fuck" is a good place to start, but my top song was "Think I'm Crazy".
MEETING:
This is a bit of a cheat, because it technically happened earlier in 2020, but my flatmate Emma. Despite the absolute drag of multiple consecutive lockdowns, I was lucky enough to be 'stuck' in London with her, and though somewhat inevitable we grew so close, and she very quickly and very sneakily became one of the closest, most cherished people in my life- truly the saving grace of another weird year. In the same line of thought, Team Whering during our Secondhand September pop-up! Though I had already had the pleasure of meeting some members, people like Emilija, who (often against her will) I've spoken to every single day since starting in January, as well as Sofia, Flo and Ece, it was 9 months of online encounters. It was surreal and super wholesome.
Absolute standout, thank you for happening:
Going to Marbella during the summer. I hadn't really travelled anywhere other than my home (Bulgaria) and London since early 2019, and I had never visited Spain before (other than the odd transfer over the years). Marbella is my boyfriend's home, so I felt very lucky to be able to visit for an entire week.
Florenne - Editorial Intern
WEARING:
These sancho boots I got for £40 in a vintage shop - absolute steal and I love the butterfly detailing. I haven't seen many shoes out there with something like that and I love them. They're also super comfortable for walking around the city.
ACCESSORISING WITH:
These earrings! I got them for my 21st and I love the colours (orange tones are my favourite). They have hippy 70s vibes and they perfectly complement and elevate my outfits.
SMELLING:
The glossier You perfume is a classic; it smells so good and the scent lasts a really long time. The actual product is only £40, which is quite good considering the quality.
Absolute highlight, this definitely shaped the person I became this year in every way shape and form:
The Beauty Myth by Naomi Wolf. Everyone (especially women) need to read this– it really opened my eyes even more to society and how women are placed in boxes and have been treated as second-class citizens throughout history.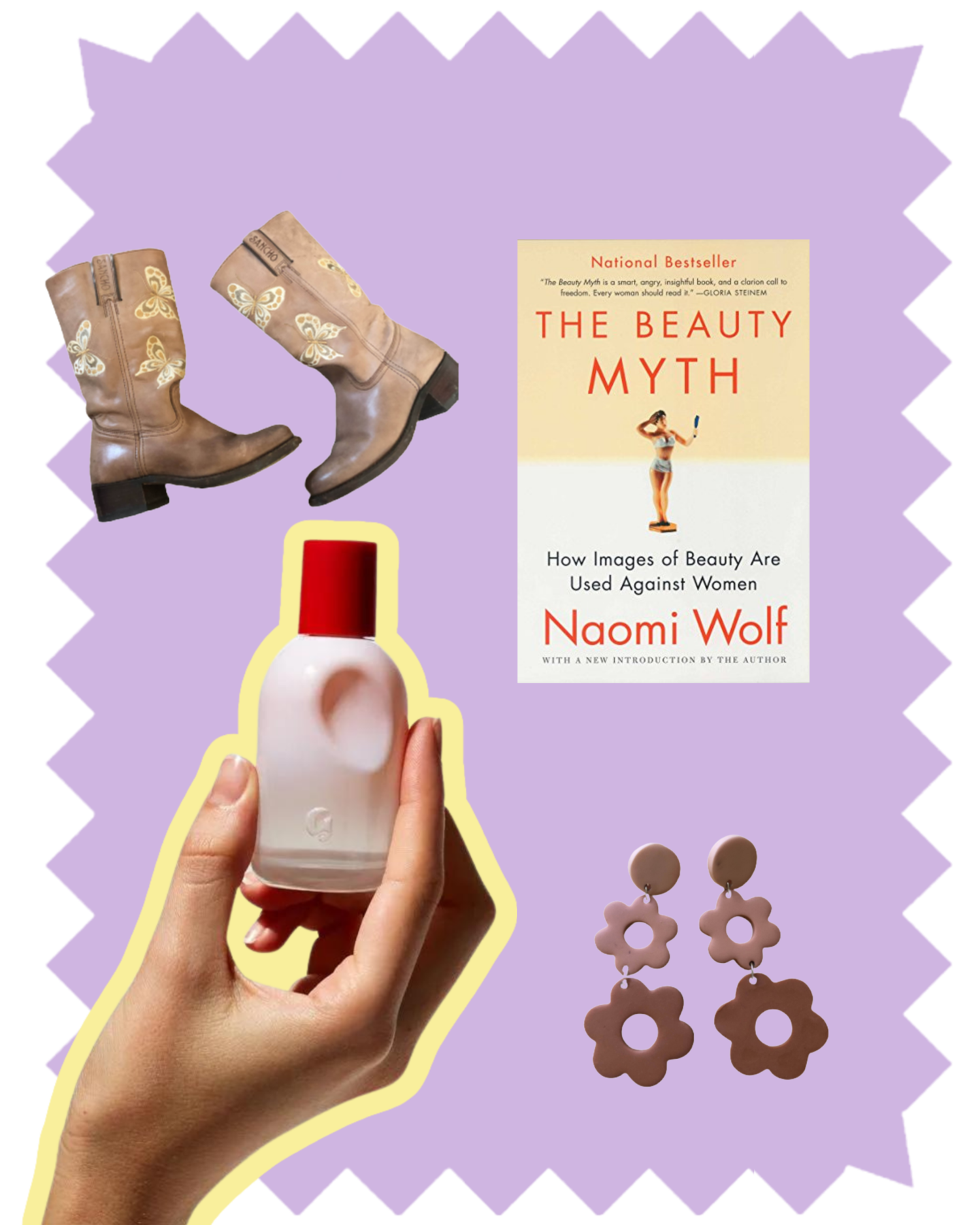 Sofia - Business Development & Sales Analyst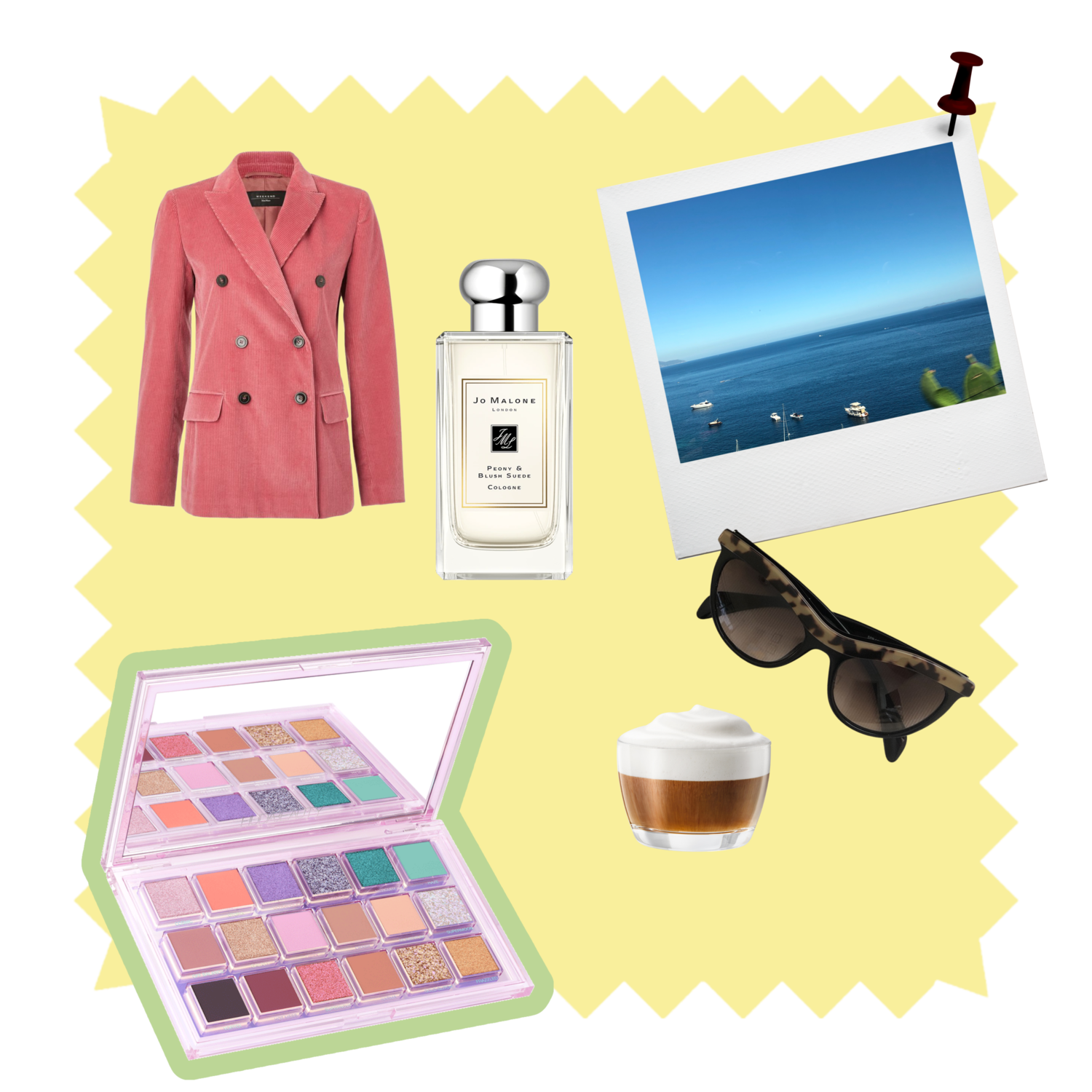 SMELLING:
The Jo Malone Peony and Blush Suede cologne smells like heaven. The notes of red apple, peony and suede are (quoting Bella Hadid) "to die for, no?". Definitely my scent of the year.
BEAUTY:
I got the Huda Beauty Mercury Retrograde palette in September, and I'm still trying to get through all the shades. I don't really wear a lot of makeup in my day-to-day so I love experimenting with pops of colour whenever I can, and this palette is the perfect balance between neutral and colourful.
WEARING:
My Max Mara Weekend Pink Blazer & my second-hand Prada Sunglasses which I picked up at the Whering Secondhand September pop-up. I mean, how are you supposed to spend every day around beautiful things and not be tempted?
My favourite 2021 standout:
My summer vacation. Working from home every day during an ever changing pandemic has really made me look forward to summer the same way I did while I was at school, so I had to go with my vacation. I was lucky enough to visit Capalbio, Isola del Giglio and Porto Ercole in Tuscany, and the views were spectacular.
With lots of love,
Team Whering xxx