Aug 9
Everything On Our Summer Moodboards and How Others Have Styled It
Even though summer isn't necessarily in full swing everywhere (looking at you UK and most of Europe 👀), nothing, not even the rain, will stop us from pining over our summer Moodboards.
And hey, the best thing about moodboarding general vibes as opposed to specific outfits is that more often than not you can apply them to different circumstances; in this case, the weather.
1. On Flo's Moodboard: Crochet Everything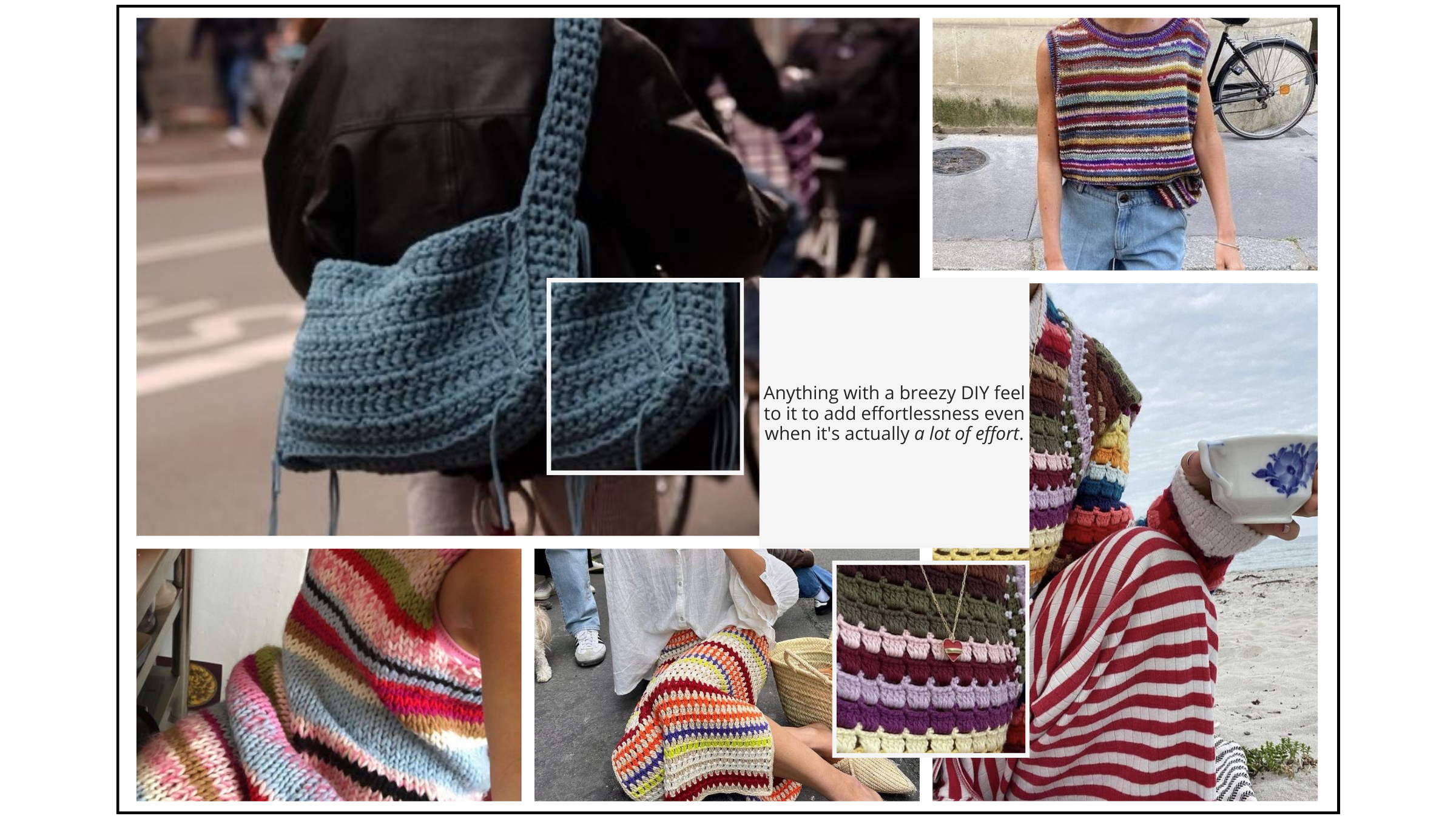 The best thing about crochet or wide knits is that they really are adaptable to every season, even the four we're having this summer alone. What's more, is that they add a bit of texture to any outfit, especially when combined with more traditionally masculine silhouettes and textures like polished or distressed leather or denim.
I've really been enjoying seeing people style more colourful crochet patterns with wardrobe basics like white button downs or jeans. But I've also been enjoying people going all-out colourful by mixing patterns which don't feel too loud, because a crochet jumper, cardigan or vest, even if it's 7 different colours, still somehow feels like a wardrobe 'basic'.
2. On Callum's Moodboard: Silver Metallic Tones
Although gold tones are still very much alive and kicking, something about that 'cool' and 'polished' vibe that silver metallics bring to any outfit has been really speaking to me recently.
Although personally I have been wearing silver jewellery for the most part, I'm excited to slowly integrate more cool silver tones to my outfits with things like subtle silver-thread knits or various statement pieces here and there.
3. On Sarah's Moodboard: Ballet Flats
Alexa Chung tried to tell us flats were cool as hell years ago, and I'm not sure why we didn't listen to her sooner!!
As someone who's been idolising platform shoes (like most people) for the past few years, I've been excited to watch how others have started styling various flats and flat shoes over the last few months. I think ballet flats, at least for a while, were seen as a bit of an 'office girl' shoe, so seeing how they can be both casual and dressy has made me excited about attempting to style them myself.
I've really enjoyed seeing how people style them to add a little feminine aspect to an otherwise quite harsh outfit (styled with jeans, cargo skirts or leather), or to create a very feminine silhouette altogether (with maxi skirts and cute tops). So basically, I'm in my divine feminine meets Alexa Chung era. Thanks Pinterest.
4. On Nona's Moodboard: Men's Boxers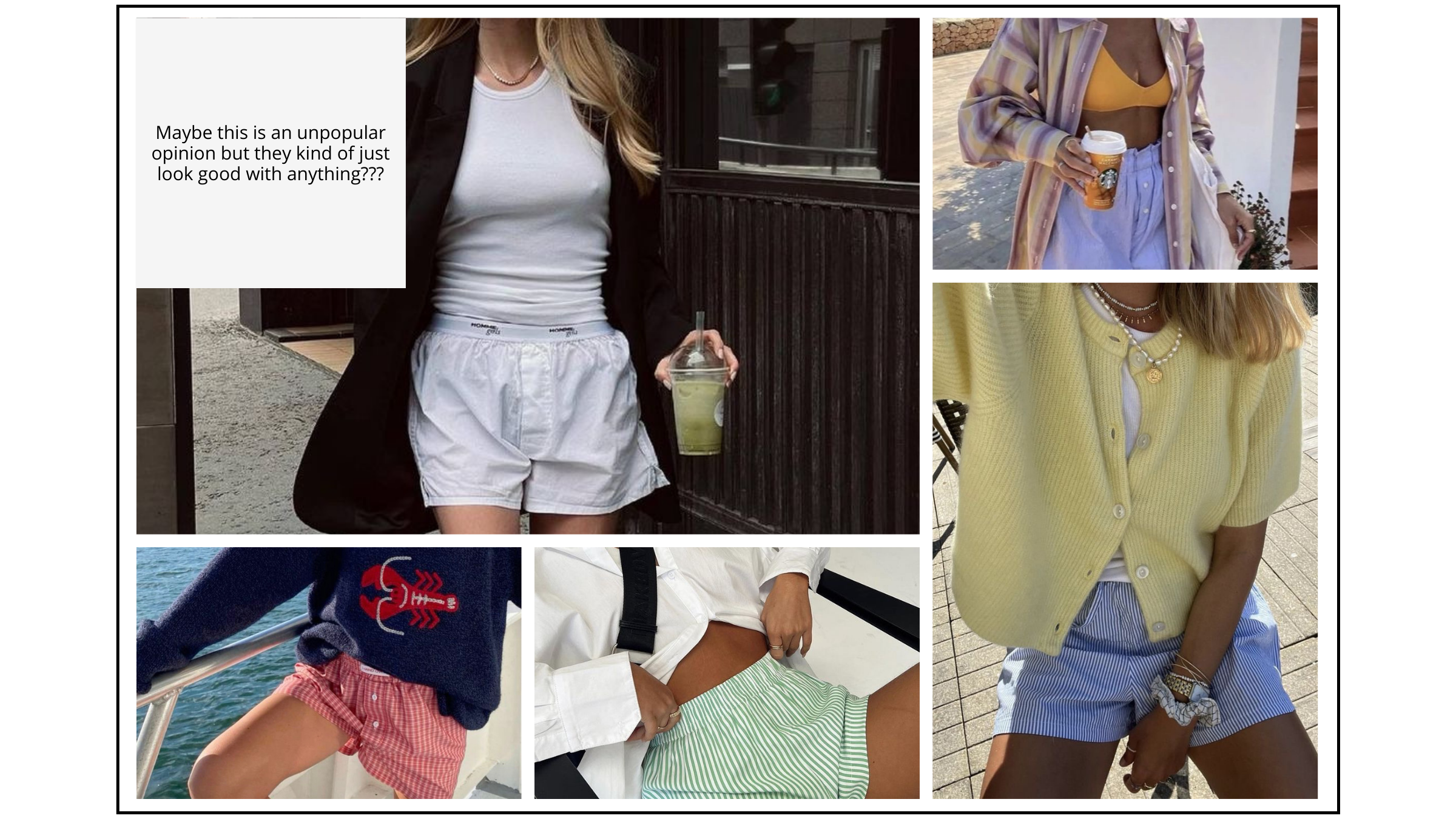 I think my favourite thing about girls starting to raid the men's boxers section at Uniqlo has been that they're such a versatile item! I've seen people style them with blazers and button downs, as well as jumpers and t-shirts. They're also so comfortable.
This summer, they've basically become interchangeable for me with my usual go-tos such as jeans and denim shorts. I've been able to draw on inspiration from people to style them up for something like work (with a pair of combat boots and a cute top), or a weekend stroll through the park (layered with a t-shirt and a cute jumper).