Feb 20
Confession: I'm an Outfit Repeater, and I Like it.
Gone are the days when I would panic-buy a top for an adrenaline hit, despite never having acknowledged its existence before I got the 30% off email in my inbox that morning. Or splurge on a new dress that doesn't really suit me but will work for a night out 'cos it'll be dark, and you won't actually see that the fabric is pretty poor quality and already starting to snag.
I don't know if it's because I'm now over the age of 30 and, therefore, give fewer f*ucks, or whether it's because the tides are a'changing; we've all woken up and finally realised that wearing an outfit MORE THAN ONCE IS ACTUALLY TOTALLY FINE. Wild, right?
u do not need to buy a new outfit for every single event or vacation or party. stop 💖

— mother earth🧃 (@nonbinarybooty) February 2, 2023
When did 'Outfit Repeater' become such a dirty phrase, though? Perhaps this a sweeping statement, but is it because while growing up in the 90s and early 2000s, every women's magazine called out a female celebrity for (GOD FORBID) wearing an outfit more than once, bringing total disgrace upon her family and questioning her poor life choices? Or is it because the 'Sidebar of Shame' — from a renowned newspaper's website I won't be naming — picks on every.little.detail a woman in the public eye does and draws attention to it — wearing the same clothes twice in a row being one of them? We (wrongly) learned to adopt this behaviour and way of thinking, giving rise to outfit repetition as clickbait, even today.
We need to end outfit repeater phobia and stigma. Because I have a favorite black turtleneck that I will never stop wearing. pic.twitter.com/FTl5ViLeUb

— Ishmael Mayhew (@ishcontent) November 21, 2021
But, as I said, there's something in the air — and it looks a fair bit like a digital wardrobe app.
Enter stage right: Whering
Based on the premise that everyone deserves to feel the best version of themself without conforming, we're here to challenge the societal norms that discourage re-wearing and champion taking back control of our wardrobes (ignore the slight Brexit-iness of that last bit). In a nutshell, the app's redefining what it means to be 'well-dressed.' Every one of us at Whering HQ has a different idea of what a modern wardrobe should look like here, and we don't want to gate-keep what it takes to get there.
Clue: it has A LOT to do with what's already hanging in your wardrobe.
Having reached my early 30s, I now know what suits me and what doesn't — square necklines, a midi dress, anything in black, cream, and navy essentially. Using the Whering app means you can track the items you wear the most, and I can confirm that all the above is true. Don't believe me? Take a look at my recent outfit screenshots — bear in mind I've only been using the app since November 2022, but I think we can see a pattern here. By tracking what I wear in the app, I can give away clothing that no longer serves me, allowing me to focus on the items that truly spark joy, to quote Marie Kondo.
Whering is one way out of the 'buy-use-dispose' model that surrounds us. Since using the app, I've definitely made progress with my personal goal of becoming a more conscious consumer. It's helped me discover items in my wardrobe that I'd shamefully forgotten about and given me new outfit combinations I hadn't previously considered. So yes, I may wear my black satin midi skirt a lot, but look how it can be styled — the possibilities are endless.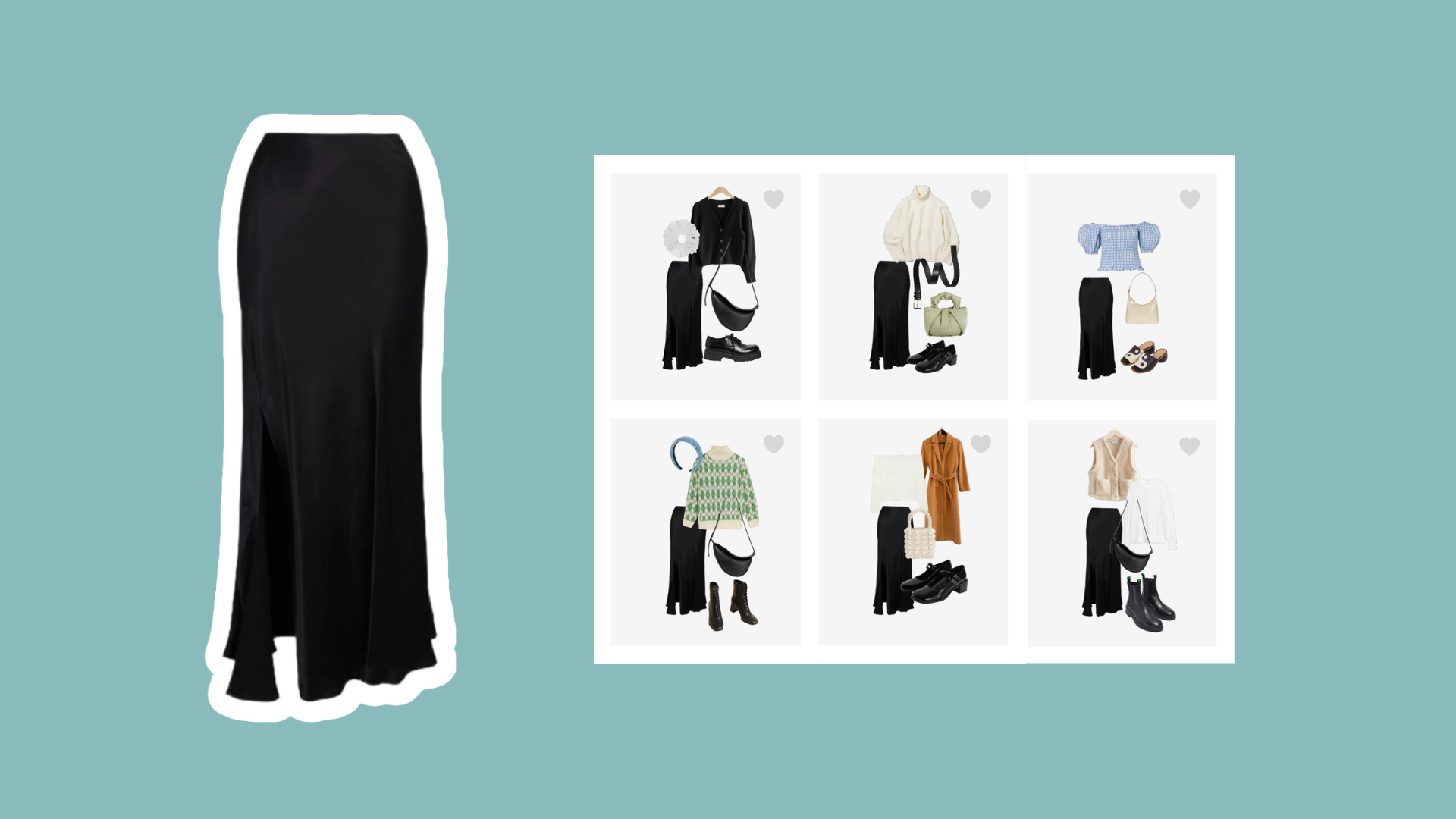 The main takeaway is that if you feel good in an outfit, why wouldn't you rewher it?! It's that simple. And even if you start to feel slight fatigue at the sight of the same jumper, why not mix it up with the accessories you already own? Different earrings, a bag, or some shoes can work wonders and bring a new lease of life to an outfit.
And if someone does say something about you being an Outfit Repeater, just know there's nothing worse than being an Outfit Rememberer. We're looking at you, Kate Sanders. Justice for Lizzie McGuire, right now.