Nov 23
Black Friday Done Right by Mashu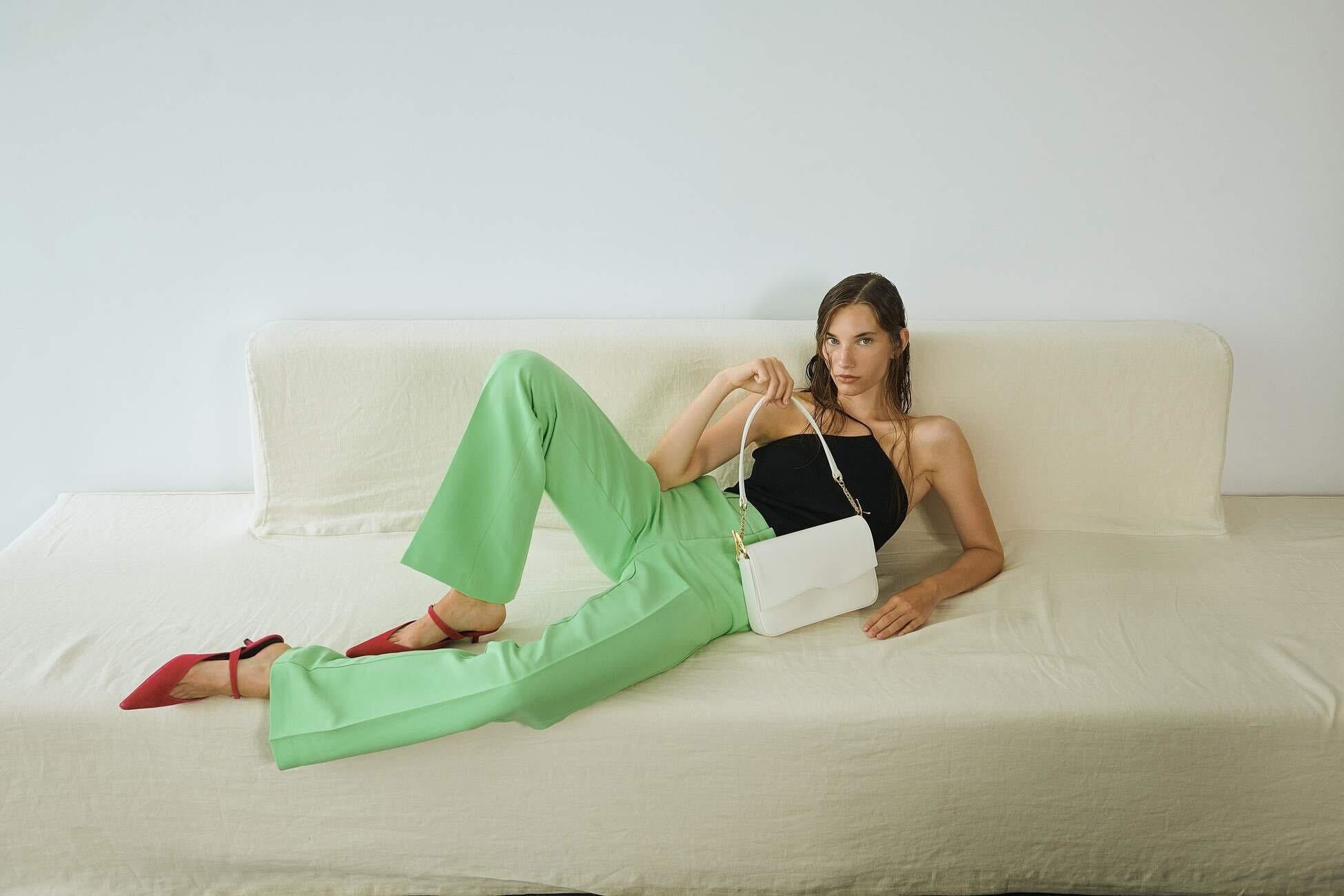 If you've been living under a rock you may not know about the new vegan and sustainable handbag company, Mashu. Founded by Ioanna Topouzoglou, Mashu is an Athens based handbag designer seeking to make waves in the sustainable fashion scene. By ditching seasonal collections, installing carbon-neutral shipping, and creating bespoke bags made from ethical materials, they've become front runners in the sustainable accessory industry, making it clear to consumers that they prioritise one thing: the environment. Their bags are made from deadstock materials and natural fibers like Hemp, Desserto, and Pinatex, and they still look high fashion and sleek…(sounds too good to be true, right?).
When you thought it couldn't get any greener, their handles are made from wooden off-cuts from a furniture manufacturing company in Greece. Mashu not only serves the earth by using biodegradable materials to make their bags, but they also give a new life to wood scraps that would otherwise be thrown away or burned (not very chic). The natural quality of all the materials used for Mashu's handbags allows them to be fully recyclable when they reach the end of their life. Composting your handbag to make soil for the flowers in your garden? A dream we never thought would come true.
With Black Friday fast approaching, we had to draw attention to Mashu. They are one of the few brands doing it right. Instead of offering extreme discounts that reveal the major profit margins brands mark upon their items, from the 22nd to the 29th of November Mashu are donating 15% of all sales to Cool Earth. Cool Earth is a non-profit organisation working hard to protect the rainforest and prevent forest fires. With climate change feeling closer to home than ever before following the wildfires in forests surrounding Athens this summer, Cool Earth is a charity that deeply resonates with Ioanna Topouzoglou.
Rather than increasing sales and profit and exposing their company as spending next to nothing on product manufacturing, Mashu is staying true to their roots and demonstrating that they actually care about the climate rather than using it as a sales tactic. So what better way to spend your pennies this Black Friday than support a truly sustainable company and donate to charity while you're at it? Read to the end of the article for a discussion surrounding why Black Friday is a sad day for sustainability, but a good day for sensible shoppers wanting to save money. But before we get onto that, we'll show you some of our favourite pieces to give you a sneak peak at Mashu's beautiful selection of handbags.
Sophia 2
This stunning bag has the potential to become a staple in anyone's wardrobe. Available in four colours: black, red, white, and coral, including a cross body strap and regular handle, there is something for everyone. She comes with their signature braided cord handle made from Greek Cotton, handcrafted by talented women artisans. Keep your belongings extra safe with the zip fastening and inside pocket lined with vegan suede. What colour would you choose?
Materials: 27% Recycled polyester 73% bio based mass content. 100% recycled polyester Mashu print. 100% recycled polyester lining (Our Vegan Suede)
Handle: Cotton Cord
Amaryills Leopard Satin
Stand out from the crowd with the Amaryllis Leopard Satin bag. From the print, the wooden handles and the satin pop of purple, it really does have it all. Strolling through the city on a Saturday with your friends with nothing but a small bag containing your phone, purse and other essentials, really is the best feeling (anything but lugging my laptop through the city center feels liberating).
The wooden handles are of course made from repurposed wood, handmade by expert wood artisans using Greek Walnut from furniture factory offcuts. If that's not enough, it also comes with a cross-body chain allowing you to take it anywhere you please and have your hands free.
Materials: Vegan Suede made from recycled polyester & Deadstock Satin. Interior: Vegan Suede made from Recycled polyester
Handle: Re-purposed Walnut Wood
Since real wood is used in the wooden handle, the pattern and grain are unique and will differ from each other slightly.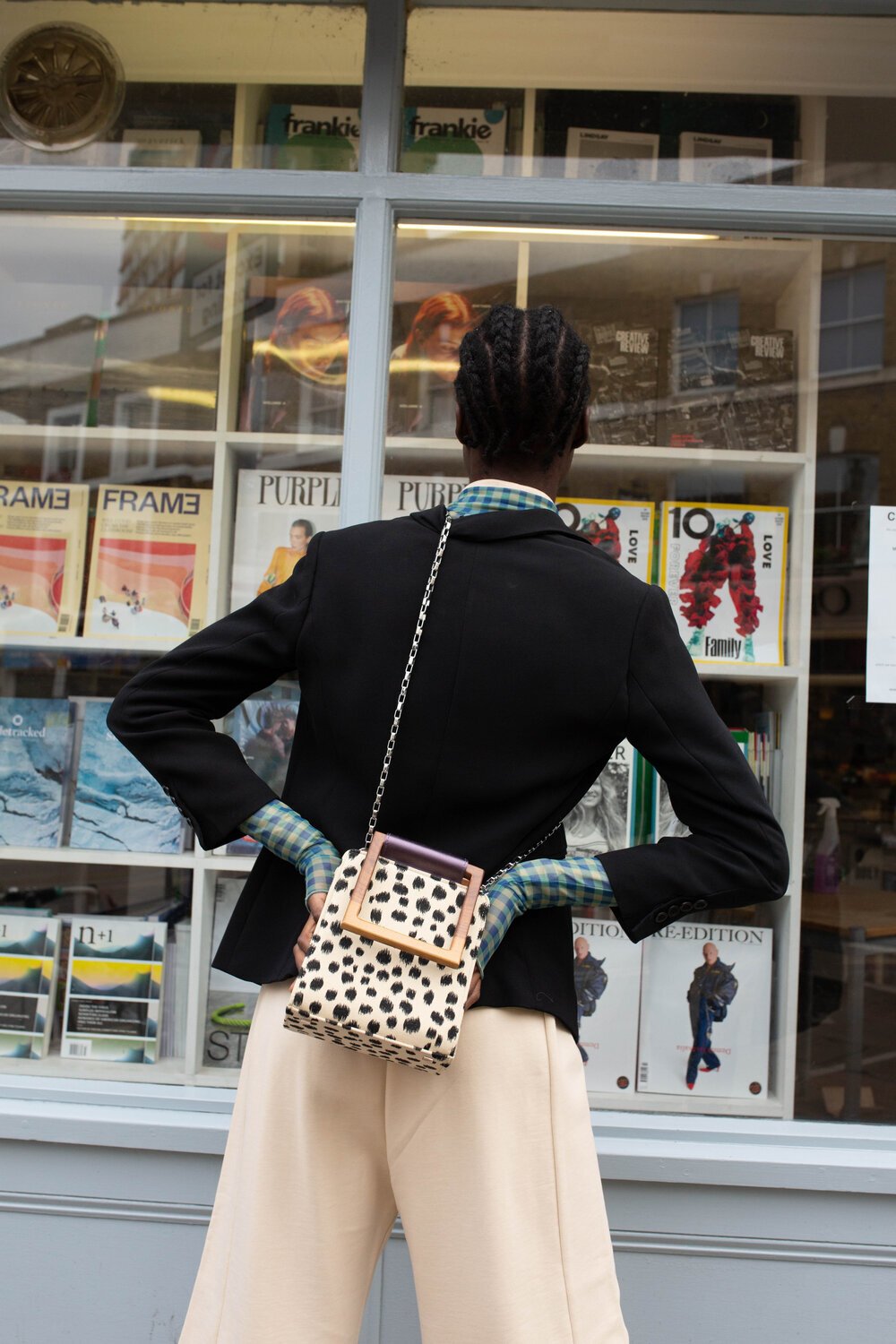 Cassiopeia Cork and White
Have you ever seen a bag so beautiful? The cork detailing coupled with the white colour makes for the dreamiest combination of colours. If that doesn't take your fancy, this bag is available in six colours: white, pink, red, brown, black, and white and cork. The inside contains multiple compartments and an internal zipped pouch to help you organise your life! As a decent sized bag that also comes with a removable cross body strap, the Cassiopeia can accompany you on all kinds of journeys, from errands to coffee dates.
Materials
Exterior: Vegan leather made from Desserto - Our new vegan leather made from cactus and 100% Cork
Interior: Mashu vegan Suede made from Recycled plastic bottles and Recycled Polyester
Penelope Blue
This one is for those of you who like to carry your life around with you when you leave the house. A sizable bag that is equally as stylish as it is large, you can't go wrong with this chic classic. This bag features Mashu's iconic wooden handles made from oak wood remnants, as well as an invisible magnetic closure keeping your belongings safe. Not to mention the inside is lined with their vegan suede made from recycled plastic bottles…what's not love?
Materials
Vegan leather made from Desserto - Our new vegan leather made from cactus. And recycled Denim from The New Denim Project. Internal Zipped Pouch is made from 100% Hemp.
Handle: Walnut wood.
Which bag is your favourite? Let us know on our Instagram or Twitter, @whering__.
Now that we've had a look at Mashu's gorgeous creations, let's delve deeper into Black Friday and why it's so important to be conscious of the damage that happens on this fateful day in the world of shopping. Whilst the mass deals help people save money on Christmas presents for loved ones, they can cause people to make unnecessary impulse buys that lead to product waste. A lot of brands don't allow for returns on sale items, meaning most Black Friday sales are a huge contributor to waste (although most returns end up in landfill anyway). The deals can often convince us we need certain things that we don't even necessarily like that much. Let's work on trusting ourselves and our personal taste, instead of what adverts tell us we want. See our recent article on how to buy items you won't return to avoid making snap purchases that won't be an asset to your life.
Although, Black Friday definitely has its perks! Many people use the discounts to afford Christmas presents and basic items they will use for the rest of the year. The major sales are a great time to save money on things you actually need or treat yourself to something you've been wanting for a while. To get the most out of Black Friday and shop responsibly, why not make a wishlist (using Whering of course) to organise what you want to buy and make the most of the discounts by purchasing items that will actually add something to your life. Let's face it, shoppers get strategic around this time of year, so join them in planning your moves this Black Friday.
Black Friday also draws attention to the elephant in the room… the fact that sustainable brands can be so much more expensive than fast fashion alternatives. Environmentally friendly companies offering large discounts help make ethical products more accessible, which is a huge positive as it encourages people to invest in eco-friendly brands. Building a solid foundation of staple pieces that can be worn in multiple outfits is a sustainable way to curate your wardrobe. Black Friday may be the perfect time to acquire these items at a lower cost, saving your bank account and the earth.
This is why we love Mashu, a company that sell their ethically sourced goods at a reasonable price for the quality. Rather than focusing on increasing profits they are donating to a charity that actively contributes to preserving the rainforest by working with communities and local NGOs to develop their capacity. We hope to see more brands follow suit in the future.
What do you think of Black Friday? Get involved in the conversation on our Instagram and Twitter, @whering__.