Nov 8
A Love Letter to Autumn: Team Whering's Autumn Favs
Is anyone else freaking out about how fast time is going? How is halloween already over? We are well into autumn now (winter is knocking on our door), so let's take a look at some of the things that have got our team through this season.
Emilija, Branding & Creative Director
Wearing: a lot of moisturiser. As the temperatures drop, my skin requires extra intense treatment to stay hydrated. My skin's drink of choice for the past few weeks has been this cream from Typology (very lightweight & fragrance-free), it's really helped to avoid flaking and general dryness caused by wearing a mask every time I leave the house.
Dreaming about: this full-body quilted suit from Miu Miu, who fully understood the assignment. Long gone are the days when we watch toddlers live their best life in their full waterproof snow suits with total envy, wishing it was socially acceptable to walk around in a puffer one-piece. The time has finally come.
Accessorising: with pistachio green gloves for a delicious pop of colour. Who said that winter was supposed to look bleak? Looks like they haven't heard of dopamine dressing.
Listening to: Black Focus by Yussef Kamaal. The now broken-up London duo is known for their soulful experimentation blending jazz with house in a pensive and sometimes provocative fashion. This record comes on as soon as it gets dark (so any time after 4pm nowadays) for at atmospheric evening.
Drinking: copious amounts of sake. Last month i had the opportunity to discover the magic of sake in this amazing little place in the heart of Berlin. The drinks were flowing and the conversations were following suit- the energy in that room was unmatched. Nothing better than new friendships with a side of wasabi nuts.
Visiting: the Helmut Newton Foundation, also in Berlin. The king of kink has always been one of my favourite photographers, as well as a major visual reference for my personal style and work. I've flicked through my copy of the SUMO book probably over a hundred times over the past few years, so I was thrilled to see the works in person and on a much larger scale.
Indulging in: my sweet tooth is practically inexistent, but once in a blue moon I get a serious craving for lemon meringue. A citrusy fantasy!
Ignoring: Fendi x Skims
Nona, Socials & Community Manager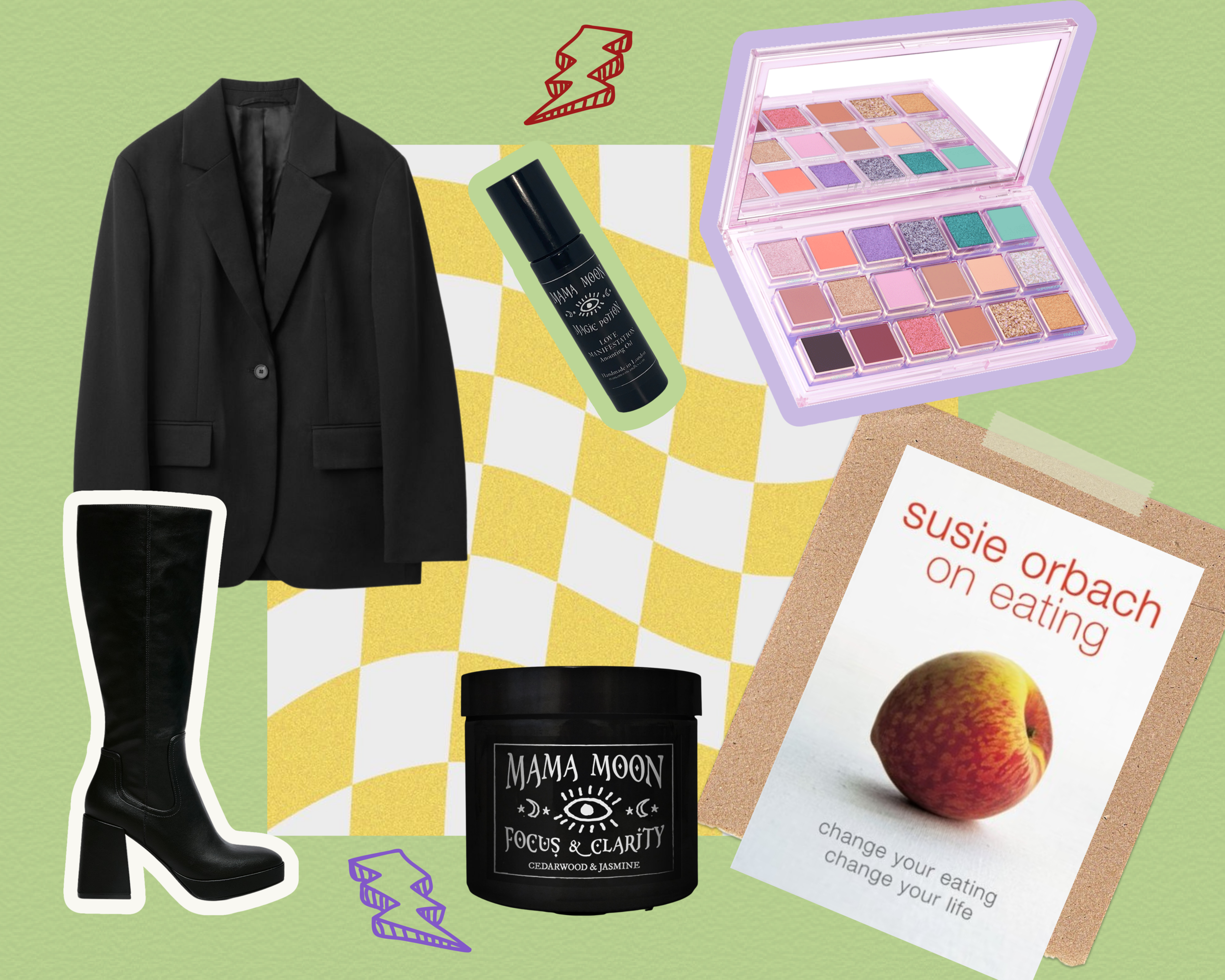 Beauty: Huda Beauty Mercury in Retrograde Palette - shades haze & libra
I've been meaning to start experimenting a little bit more with my makeup for quite a while now, especially since my skin has cleared up a bit over the past year, I don't feel like my face looks messy (while wearing makeup) anymore. But I always put off buying new makeup unless I was sure I was going to use it a lot, which is why I'm so grateful for my gifted Huda palette. It's the perfect mix of everyday colours and bright hues, and I've loved using the haze & libra colours for colourful eyeliner, full eyeshadow looks, or just a pop of colour in my water line.
Wearing:
My flatmate's Pull & Bear heeled boots
Last year during lockdown, my flatmate got these black knee-high heeled boots. Obviously, at the time it was lockdown, and they didn't get much 'showtime'. I can't say the same for this year, and I'm very lucky we share the same shoe size. They're such a perfect staple for your fall & early winter wardrobe, they elevate any outfit, and are actually super comfortable (I went clubbing in them once). I also just think it's quite funny how a year later, the same exact boot is blowing up everywhere on social media, and is practically entirely sold out.

Oversized Black Blazer
I honestly have no idea how I lived up until now without this item in my wardrobe. I had a black blazer from a few years ago which I got without really thinking, and the sleeves were rolled up, it wasn't oversized enough (for my taste) and generally wasn't the fit I was after. After donating that one to one of my local Fara's, I finally found the perfect one, and it's honestly become difficult to plan outfits with anything but that.
Smelling: Mama Moon Candles & Scents
Candle: Focus & Clarity (cedarwood & jasmine)
Scent: Love Manifestation
For those of you who visited our Soho Secondhand September pop-up, you'll probably remember the amazing smell which drifted through the store. After the pop-up was done, I caved and ordered my own Mama Moon candle & love manifestation scent, and they are the best things I've gotten for my room… ever. If you're after a scented candle, I cannot stress this enough, look no further.
Reading: (Trigger warning, eating disorders) On Eating by Susie Orbach
I've struggled with disordered eating since about the age of 11, so it's been 10 long years of a very unhealthy relationship with food. For those of you who know the struggle, it is exhausting. A friend of mine recommended this book (which was apparently recommended to Princess Diana by her therapist), and I think it's such an amazing thing to have which you can go back to any time you're struggling. All the chapters are 'bite sized' and they just aim to help you enter a mindset which releases you from the prison you enforce on yourself.
Ece, Creative Intern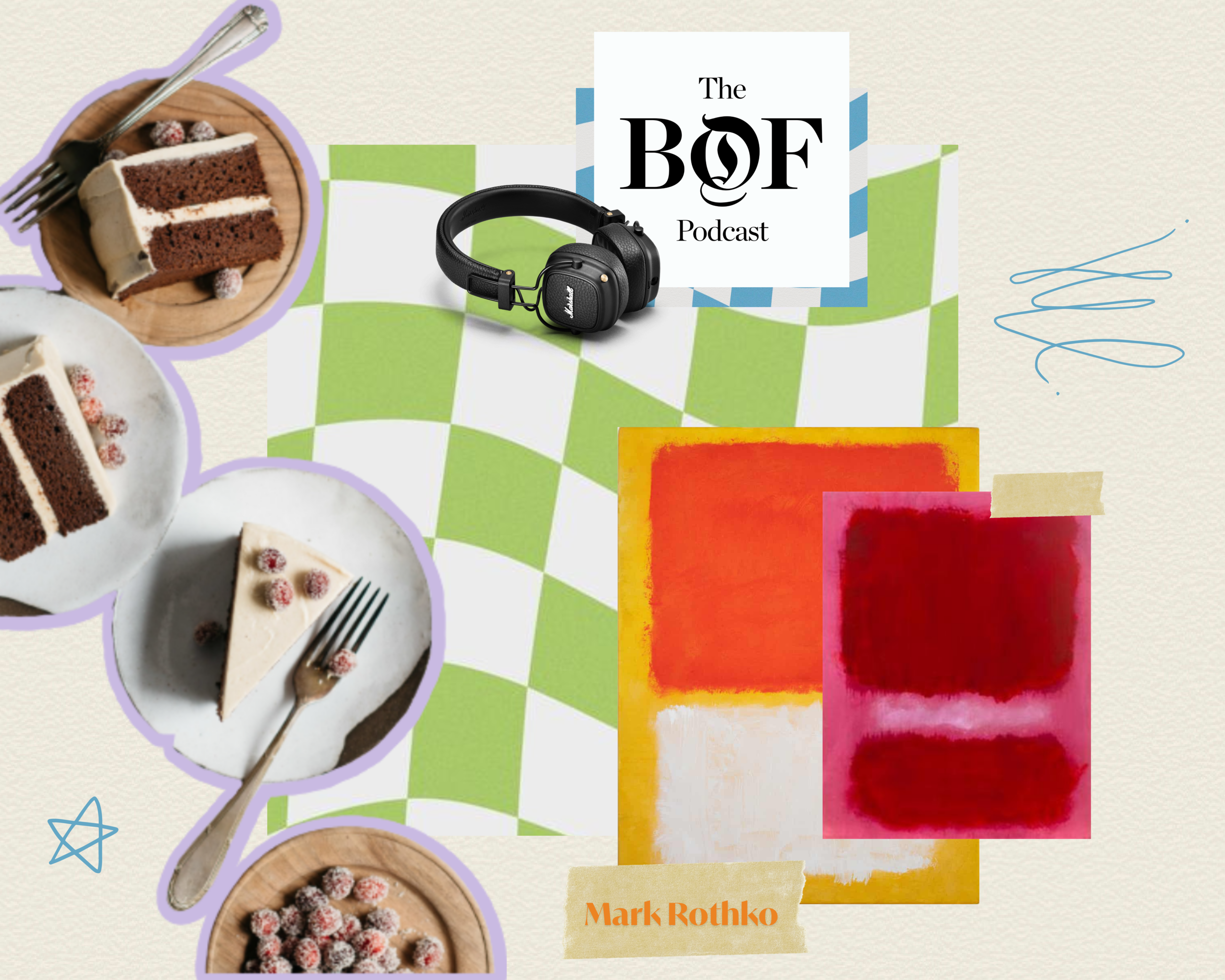 Going to: I went to the Rothko exhibition at Pace Gallery which was amazing! It's one of the only exhibitions dedicated to his colour work from the end of his career in the late 60s, rarely seen in galleries. I highly recommend going if you enjoy seeing new artwork. The exhibition is on until the 13th of November, so act fast!
Eating: Savoury cakes are everywhere at the moment, I tried a Tahini cake at Mangal 2. I wasn't expecting much from the savoury treat, but it's safe to say it was a life-changing experience - you need to try this.
Listening: If you're a fashion lover like me (which I'm guessing you are if you're here!) You should check out the BOF (Business of Fashion) podcast. They cover a wide range of interesting topics, including how to make fashion more inclusive and how fashion has the power to change people's societal views. It really opened my eyes to the capabilities of fashion in relation to society and culture - definitely worth a listen.
Flo, Editorial & Partnerships Intern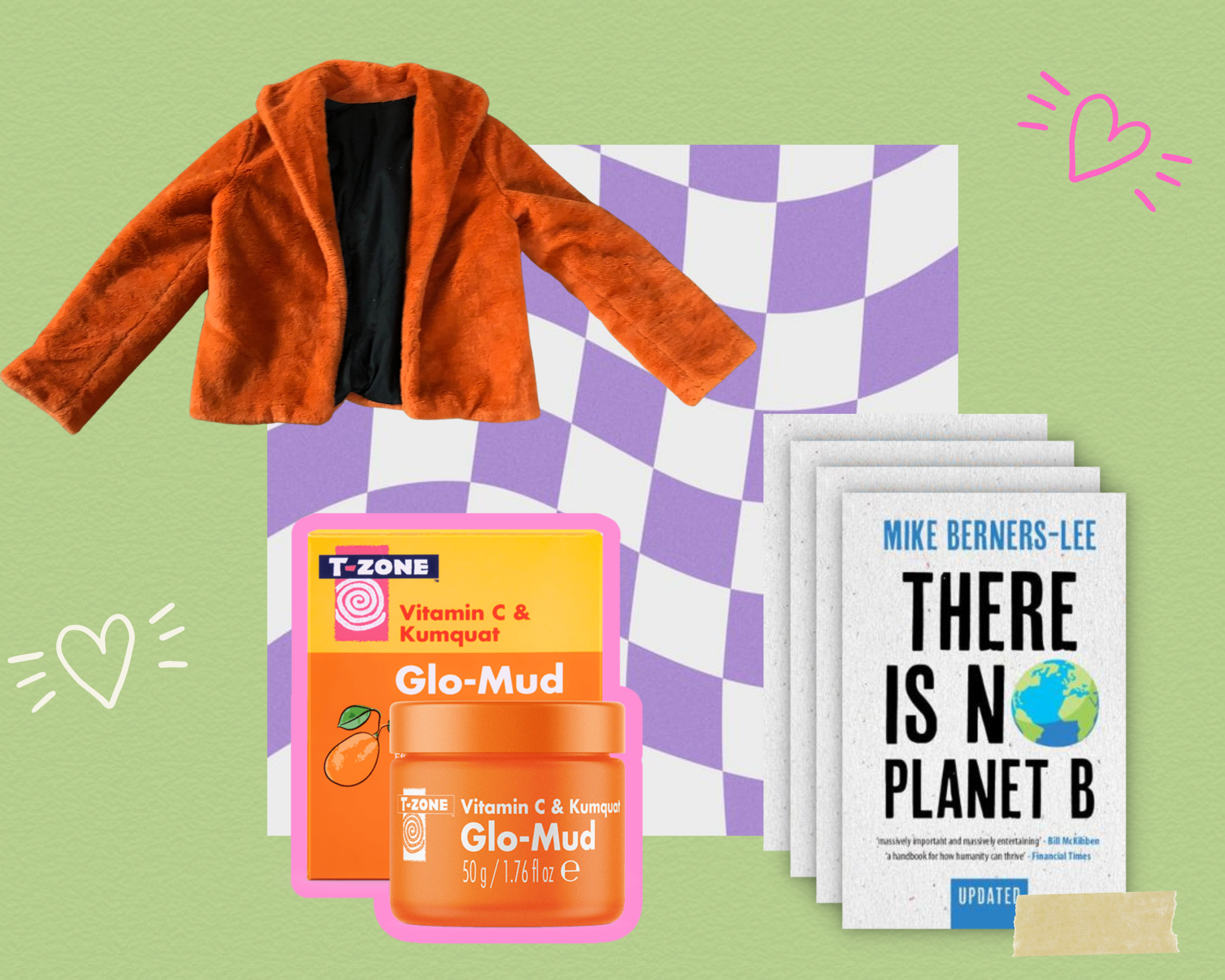 Wearing: I thrifted this orange coat in early October and have hardly taken it off since. It's the perfect crop and super warm, perfect for the colder weather. It's perfect for all occasions and orange is one of my favourite colours so it's a win-win.
Reading: There is No Planet B by Mike Berners-Lee
If you struggle with climate anxiety I would highly recommend reading this book. I have always been passionate about climate change and I wanted to read more about it to understand the reality of the situation, but I thought I might find climate change books depressing or less interesting than fiction. There is No Planet B is brutally honest but in a way that doesn't make you fear the future, but actually explains how we can make changes as individuals to have some kind of impact. I learnt so much reading this, I could hardly put it down. Pretty sure my friends are very tired of me harping on about things I've learned in this book by now. Support your local book store and buy it today!
Beauty: Glo-Mud mask by T-ZONE This brightening face mask genuinely makes a noticeable difference to my skin and it's only £2 a pot (and vegan and cruelty free)?! It seems too good to be true, but this product actually brightens and clears your complexion. This is the perfect pick-me-up for a gloomy day.
Bianca, Founder & CEO
Wearing: This Alexa Chung dress is the perfect transitional piece when the weather can't make up its mind. Long dresses always make you look effortlessly chic, this one has been my go-to this season. The polka dot pattern is so cute, I love how this retro print is coming back into fashion.
Going to: I went to Oakley Court for the Stack World women's conference. Obsessed with this beautiful spot and their vinyl records lounge with it's beautiful fireplaces - ideal to relax. Thank you Stack World for an amazing weekend. Be sure to follow @thestack.world on Instagram if you're looking for educational and quality content on culture and society.
Beauty: Someone needs to get the secret out - This By Redo mascara is the best mascara ever. I can't believe I haven't heard more about this, it truly is the best mascara I have ever used. Made from 85% natural ingredients it sculpts your lashes from root to tip, making them defined and voluminous (no clumps in sight, don't worry girls). I can't see myself going back.
That's everything we've been loving this season! If you try anything we recommended in this article or have any favourites of your own that we need to know about, be sure to let us know on Twitter & Instagram @whering__ .