Sep 24
A Capsule Wardrobe in 6 Steps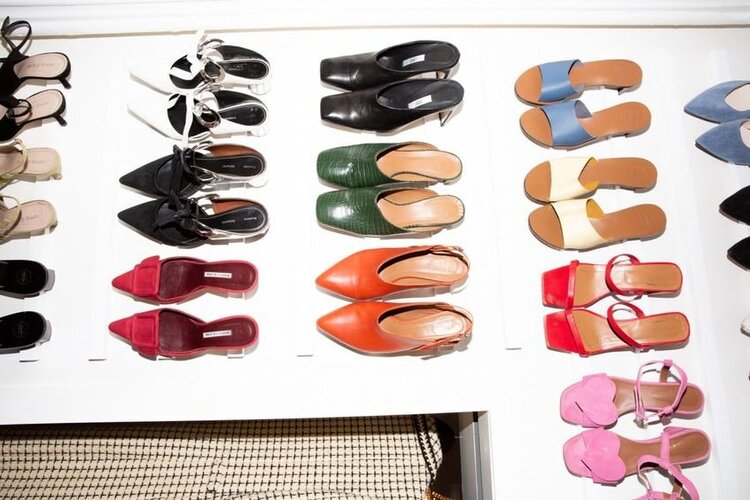 >
Consider the following scenario: you have a closet full of clothes (some might even still have the tags on), but your mind draws a blank when trying to pull together an outfit. When you finally do decide on the look of the day, it always seems to involve the same few select pieces- the Chosen Ones. If this describes you on a daily basis, you're a victim of decision fatigue. This is when the quality of your choices deteriorates after long periods of decision-making at work or in other aspects of your life. Ironically, having an excessive amount of clothes can stifle creativity and make it more difficult to decide what to wear.
Enter the capsule wardrobe, a term coined by Susie Faux in the 1970s. Susie owned a London boutique called the Wardrobe, and noticed that women were spending too much money on low quality clothing. American designer Donna Karan brought the idea to the next level by releasing a seven piece capsule collection in 1985.
The main principle of creating a capsule wardrobe is to declutter your wardrobe by paring it down to a limited number of pieces that can be recycled year after year. This will leave you with a curated collection for every season. The concept has been increasing in popularity, as people experiment with the idea of paring down their wardrobe to make more room for the pieces they love. Why should you create one? Not only will it save you time trying to match an outfit, but it will prevent you from spending more money on new items you don't need (plus you'll reduce your clothing waste!) . Here are some tips to help you get started on creating your own.
>
Channel Marie Kondo

The first step to creating more closet space is to get rid of clutter. Laying out everything you have on your bed or your floor is a good way to see what you own all at once. Then, à la Marie Kondo, work your way through each item, asking yourself if you absolutely love it. Where possible, donate the ones that do not make the cut to a second hand store — a piece you have moved on from could bring joy to someone else!

Make a list

Creating a list of different categories of clothing can help if you are finding it difficult to decide what to include in your capsule wardrobe. Think about how you tend to choose outfits: do you think about the occasion first, or is there a specific item you choose and build around that? Then, create a list that fits that.

If you think about individual pieces, try a list of different types of clothing:
Dresses
Skirts
Blouses
Heels
Trousers
Jewelry
If you think more about the occasion, you could can categorize by outfit:
Loungewear
Workwear
Date Night
Activewear
Working from home
Having a list also helps you think about how often you wear different pieces, and adjust the number of each in your capsule accordingly.
Pick versatile, basic essentials
The number of pieces in a wardrobe is not entirely important. Some have as little as 10 pieces but others go up to 50. The most important thing to keep in mind is that your wardrobe should only include your favourite items; ones that you consider to be the essentials of each clothing type — including accessories and jewelry. A helpful tip when trying to limit your essentials is to also pick pieces that are versatile and can be paired with everything. Try including items that can be worn either day or night: think white shirt or blouse that can be dressed down with some jeans or dressed up with a statement skirt.
Choose a couple statement pieces
Having a couple statement pieces can help add some variety to your wardrobe, for those date nights and occasions that require a little something extra special. This can be a bedazzled skirt, patterned trousers, or a puff-sleeve top. These items act as the centerpiece of outfit; they elevate the basics that you pair with it. Having a few fun, bold items in your wardrobe is a good way to look like you put in way more effort than you did, and it will reduce the time you spend figuring out what to wear. Plus, since there will only be a couple of these pieces, you'll love them that much more.
Include high quality pieces
An important part of having a successful capsule wardrobe is to have a wardrobe that lasts. That means having pieces that will last year over year. Include high quality, well made clothing and accessories in your collection so you can wear them repeatedly, instead of having to constantly replace cheaply made ones. To drive home the point, I once bought a cheap long sleeve top because it was stylish and the price was so low, but after washing it a couple times the quality deteriorated so quickly. Investing in good pieces might initially be more expensive, but trust me — it will save you money in the long run.
Have fun
At the end of the day, there is no exact formula for building a capsule wardrobe! You can have a capsule wardrobe for every season, or for the entire year: the process is up to you. The whole purpose is to focus on only keeping pieces that you absolutely love, and that reflect your individual style. When you get rid of excess, you are able to see the things that matter more clearly.
Some more inspiration
If you are still stuck and want to see what pieces others includes in their collection, check out these amazing Instagram accounts that prove having less clothes does not mean you have to sacrifice style.