12th of Dec
5 Steps to a Greener Christmas
Ho Ho Ho, the Whering Christmas Grinch returns. We're here *again* to help you navigate the environmental landmine that is Christmas. We love getting into the spirit of things, but we're very much aware of the tendency to get caught up in all the excitement and forget about the environment. As usual, we have some eco-friendly suggestions that'll allow you to simply have a wonderful Christmas time without costing the earth. Think of it as your gift to Mother Nature (it was so thoughtful of you to get her something).
Since we're a fashion app, we're keeping our tips within the fashion realm. But don't let us stop you from discovering other ways to be more sustainable this festive season , such as enjoying a veggie Christmas dinner or boycotting plastic tape in a fight against single-use plastic.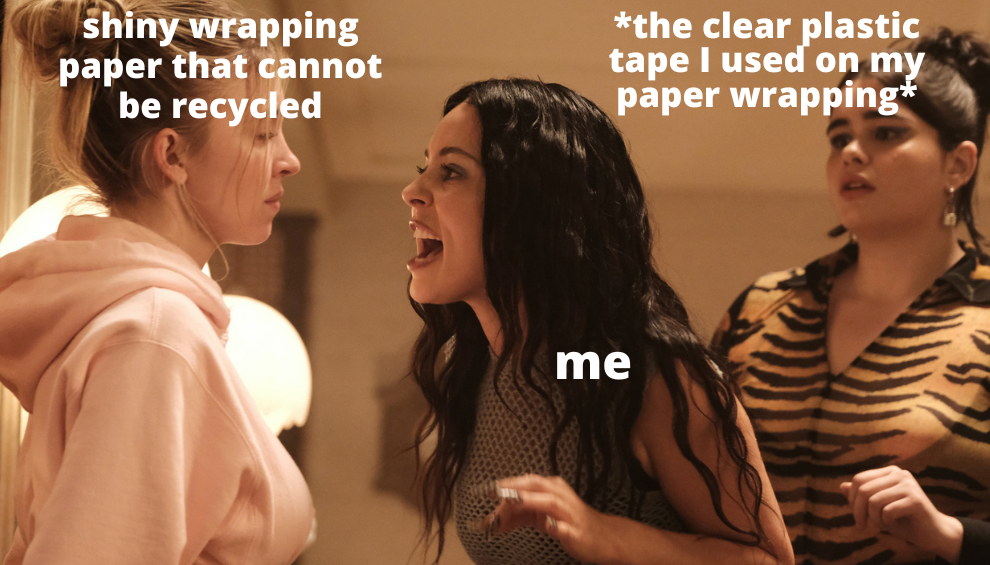 Anyway, let's get back to what we do best…
*Alexa, play 'Step into Christmas' by Elton John*
5 Steps to a Greener Christmas
The Build up
Our first two tips cover the exciting period before the big day.
Rent & Repeat

This first one might seem a little basic, but why not set yourself the challenge to rewear the same outfit on more than one occasion this season? Whether you're wearing the same look to your work Christmas party and for New Years Eve, or you're going ice skating and you repeat the fit for Christmas Eve carol singing, rewhering ;) outfits is easy. Once you make an effort to copy and paste fits and destigmatise outfit repeating, you'll find you naturally rewear pieces throughout the year. Why are we still reluctant to wear something again if we think people have already seen it? It's ridiculous when you think about it.

If you are craving something new, try borrowing from a friend or renting a cute dress. Let's be honest, we can't afford most of the dresses on rental platforms at full price. That's why rental is great — it's a more affordable way to live out our fantasies. Thanks, Rotaro.

You don't even have to rent a dress, you could borrow a bag, a jacket or some shoes — anything that dresses up your look and makes you feel brand new without buying anything.

We can't wait to see your looks! Please tweet us or tag us on Instagram in your repeated fits @Whering__.


Shop Smart

We're not going to tell you not to shop the sales because discounts are great for getting things you need for less, buttt we're never going to encourage revamping your whole wardrobe in the Boxing Day sales either, tempting as it may be. It was literally just Black Friday but the Sale Gods are back with another big one on Boxing Day and, shortly after, the 'New Year, New Me' sales tactic will be out in full force.

We're asking you to think about what you really like before buying things. Don't give in to the adverts and convince yourself you need things you don't actually like! Listen to yourself and enjoy having your own taste.

Gift Giving

*Spoiler alert* we're releasing our second-hand gift guide later this week with an extensive list of sustainable gifts, but we've got a few tricks up our sleeve we thought we'd share this week:

Don't Buy Fast Fashion Gifts

It's simple, don't buy gifts from fast fashion brands this year, or any year, for that matter. Often people ask for things from Urban Outfitters or ASOS, and it's always hard to say no to someone you love, but this year why not label yourself as the person boycotting these brands beyond their own wardrobe? Your decision may spark that all-important conversation with friends or family. Forward them to this article if they need an explanation, we'll be happy to explain ourselves.

If they've wanted the item for a while and they have a history of wearing things for years to come, we can see why you'd cave and buy them a new jacket from Pull and Bear, but, if not, we're suggesting giving fast fashion brands the cold-shoulder. It sounds harsh, and even though it's not for you, you're still funding the brands. Sorry, we told you the Whering Grinch is back.

holiday shopping reminder: you can buy fun, interesting, ORIGINAL gifts at one (or all!!) of these places:

- indie bookstores (DM me for recs!)
- second-hand shops (vintage glassware! thrifted scarves! weird antiques!)
- specialty foods stores (fancy condiments make GREAT GIFTS)

— Julia Carpenter (@juliaccarpenter) December 8, 2022

Gift an Experience

Most of us have too many clothes or belongings already, that's what makes experience presents so much fun! It's a great way to spend more time with someone and have something exciting booked in the diary.

There are so many great gifts online. You can find everything from a Bottomless Sushi Dining Experience, Secret Cinema & Cocktail Evening or Spa Treatments — have a look and you'll be excited at what you find.

If nothing takes your fancy, why not plan your own experience? Set aside a random day next year and plan what you'll do from breakfast to post-dinner drinks — not only a thoughtful gift, it has less of an impact on the planet (within reason!!) than buying random, little bits for the sake of it.
Slow Fashion Sleighs

If your bestie is a Slow Fashion Queen, then we have a range of gift ideas perfect for them — and if they don't care about the planet, change their mind with these thoughtful presents.

Is your friend always asking to borrow that jacket you never wear? You can probably guess where we're going with this, but why not give it to them? If you don't wear it, then there really is no harm in gifting it to them.

You could also pay for a friend to get an item repaired or altered (check out the services available in the Whering app). Don't you hate not being able to wear something without carefully positioning yourself so that hole doesn't get any bigger, or pinning your trousers round your waist with a safety pin or hair tie because the waist is too big? Life is so fast-paced that there's never time to get clothes repaired, so it really is a great gift to be able to sort out a repair for a friend or family member. This doesn't have to be the whole gift, but it definitely saves them time and money so they'll be grateful.

Last but not least, ask your friends and family to share their Whering wishlist with you so you can be sure you're giving them something they'll love!

There's so many more things you can do to have a more sustainable holiday season, so please get involved in the conversation on Instagram and Twitter @whering__ and let us know what we've missed. Happy holidays ✨
Something on your mind?
Share your thoughts with Whering community.

If you have an idea for an article around fashion, culture, environment, news, wellness, shopping or DIY, submit a pitch to us!