Nov 4
Nothing New November: How to Repeat Outfits Like a Pro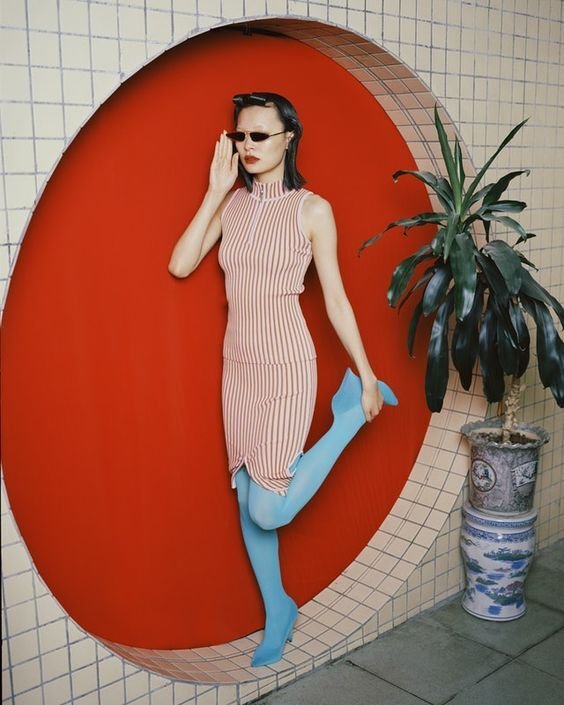 If someone remembers you repeating an outfit, it must have been a damn good one – so why are we always so determined to step out in something new? Let people remember your fit (and tell them you planned it on the Whering app).
Isn't it sad that 33% of women view a garment as old when it has only been worn once or twice? As a society led by consumerism, we drastically need to change how we view shopping and clothing. I promise I will stop with the stats, but how can we ignore that 60% of fast fashion ends up in landfill, and only 11% of clothing companies actually implement recycling strategies for product returns? Besties, we know you got good taste, so celebrate the clothes you already own because they look amazing on you (and they don't hurt the planet).
How to Repeat Outfits Like a Pro
As we said already if someone remembers your outfit, that's more of a compliment than an insult! You must have looked good, so let's ditch the stigma around wearing clothes multiple times…because when you think about it, isn't it stupid to judge someone for literally just wearing the clothes they own?
If you're craving something new (let's face it, we all do sometimes…) you don't have to buy a whole new fit. Just buying some new earrings or a top will make you feel brand new! Alternatively, use the 'dress me' feature on our app and AI will generate a stylish outfit made up of your existing clothes.
Buying entirely new outfits for events and special occasions is a damaging concept that has become normalized. It costs a lot of money and the planet ends up paying the price. We know it's hard, but try and be as mindful as possible about your purchases by thinking about their long term potential in your closet.
If you love clothes as much as we do, you'll be happy to hear this one. Invest in your wardrobe. Start seeing your closet as something to put time and thought into. Think about what you actually need. Research the companies you buy from, their ethics, the materials they use, and make an informed decision.
This might seem obvious, but layering allows your favourite seasonal outfits to last all year round. Pop a turtle neck or long-sleeved top under a cami, or vice versa, and your summer and winter looks are made automatically appropriate for all seasons.
Easy Ways to Make Any Outfit Feel New
Whilst we recommend purchasing ethically sourced clothes if you want them to last a while, some items from high street stores have the potential to last years too. If you feel like you're part of the 33% that feel bored of clothes after one or two wears, try these tips to make your 'old' outfits feel brand new.
Add a hat - Hats can change the entire vibe of an outfit and really elevate the look. From berets to bucket hats- the options are endless.
Bold Earrings - A statement pair of earrings can really steal the show. Remove the attention from the jeans you've worn every day for a week with a funky pair of hoops.
The Headscarf - Headscarves can be worn in multiple ways, as tops, scarves, and headbands. Get creative and easily spice up any fit with a pop of colour. You can find headscarves for super cheap (as little as 50p) in your local vintage kilo sale. Save the planet and your pennies.
Change your jacket - Jackets dominate outfits. By changing your outerwear you'll look totally different when you're actually wearing your favourite fit from last week underneath.
Team Whering Wardrobe Staples
If you wanna repeat outfits like a pro, you gotta have the basics. Our team has compiled a list of staples that are really worth the investment to build the foundations of a sustainable wardrobe.
Doc Martens – Hot Take: Even though in films, TV, and social media, women having a closet full of shoes is glamourized, owning fewer pairs of shoes doesn't lower your outfit game. Docs are the perfect example of a practical shoe that can go with dressy or casual looks, whilst adding an effortless edge to your outfits. There really isn't much you can't do in docs, I wore mine hiking up the Black Forest Mountain in Germany (It was a school trip, I was caught off guard with the hike, but nevertheless they served me well). You can walk for hours around cities comfortably, they are durable for country walks and hikes, and they look cute worn with skirts and dresses.
Leather Jacket – Leather jackets really are all the range right now, but they never really go out of style, and even if they do, you can keep wearing them (there, we said it). From oversized, cropped, fitted, and tailored… leather jackets might be one of the most versatile pieces, so find a cut that works for you and enjoy pairing it with literally everything you own. We mean everything… what doesn't black leather work with? Fun Fact: Whilst vegan leather is great as it does not harm animals, it is made of plastics that take years to biodegrade, far longer than real leather. This is why it is good to research materials of clothes and shoes, rather than simply seeing the word 'vegan' and deciding it is good for the environment. There are pros and cons to both real and vegan leather, it's up to the individual what they choose to do. We recommend thrifting real leather so you are not funding the leather industry or the production of harmful materials.
Straight Leg Jeans – If there's one style of jeans that truly never goes out of style, we think it's straight leg. Whilst it does take on average 1,800 gallons of water to make a pair of jeans, denim is a sturdy fabric ideal for long-term wear. If your budget allows, try and buy jeans from quality suppliers to make them last. Fanfare is a sustainable clothing brand that repurposes old denim, creating stylish and vintage denim trousers. They even have a service in which you can design your own pair of jeans, giving you the option to add embroidery of your choice or have the jeans painted. You can also add writing and pictures to the trousers to bring your vision to life. This unique service is worth the investment to support a company actively combatting the climate crisis and gain a gorgeous pair of trousers tailored to your desires while you're at it.
Leather trousers - Tell me you've ever seen anyone look bad in leather trousers? The answer is of course never, because they are always a serve. They go with literally everything and can be worn in casual or formal settings.
Turtle Neck - British weather will never make up its mind, especially with the impending climate crisis making it even crazierrr, so turtle necks are a definite yes from us. Warm, stylish, and perfect for layering, and they can be worn in formal situations such as job interviews, the workplace and leisure activities like going out for dinner, etc.
Blazer - Whatever your style, a blazer is a must-have. Suitable for everything from job interviews, shopping days, and fancy events, it's a staple basic. If you're not a corporate gal, don't write them off, there are so many funky vintage jackets to match your vibe.
That's our hot take on how to repeat outfits like a pro and maximise the potential of your existing wardrobe. In the spirit of Nothing New November, let's drop the stigma around repeating outfits and celebrate re-wearing fits we know and love.
Did we miss something? Join in the conversation on our Instagram, Tiktok and Twitter @whering__.