Jul 9
8 Affordable Eco-friendly and Ethical Brands for Bags
At Whering we are very passionate about taking care of the environment (and obviously the people living on beautiful mama earth 🌍). With our small but mighty platform, we hope to encourage consumers to consume less by buying durable and sustainable items (read our article on sustainable, eco and 'slow' fashion here if you're confused by all these terms). We know it can seem intimidating to start researching brands which put the planet first, while maintaining an accessible price point, so we're doing the work for you. Below we have compiled a list of our favourite eco-friendly and ethical handbag brands to help you fill your closet with beautiful staples for every occasion and not feel like you've spent a fortune (a girl's gotta eat). These bags not only have a low environmental impact but also support communities of makers around the world, so they're guilt-free purchases for someone who's looking that 'newness fix' but doesn't want it to cost the earth. Let's meet the contestants!
Mashu
Shop: https://mashu.co.uk/
Ethics: Leather free, recycled materials & natural fibres, waste reduction
Bags: Top handle and cross-body bags
Price Range: 220€ - 395€
Designed in London and handcrafted in Greece, Mashu is known for their top-handled and leather-look bags. The brand's ethos is that good product is not solely based on its looks, but also through the way it was created. Awareness of the massive impact that the fashion industry has on the environment is at the core of the company, and their bags are produced using recycled polyester, plastic and natural fibres such as Piñatex (a leather alternative made from pineapple leaves). To top it off, their handles are made from wooden off-cuts from a furniture manufacturing company in Greece, which means they're giving a new life to wood scraps that would otherwise be thrown away or burned (not very chic). The recyclable nature of all the materials used for Mashu's handbags allows the bags to be fully recyclable when they reach the end of their life. Composting your handbag to make soil for flowers in your garden? The dream.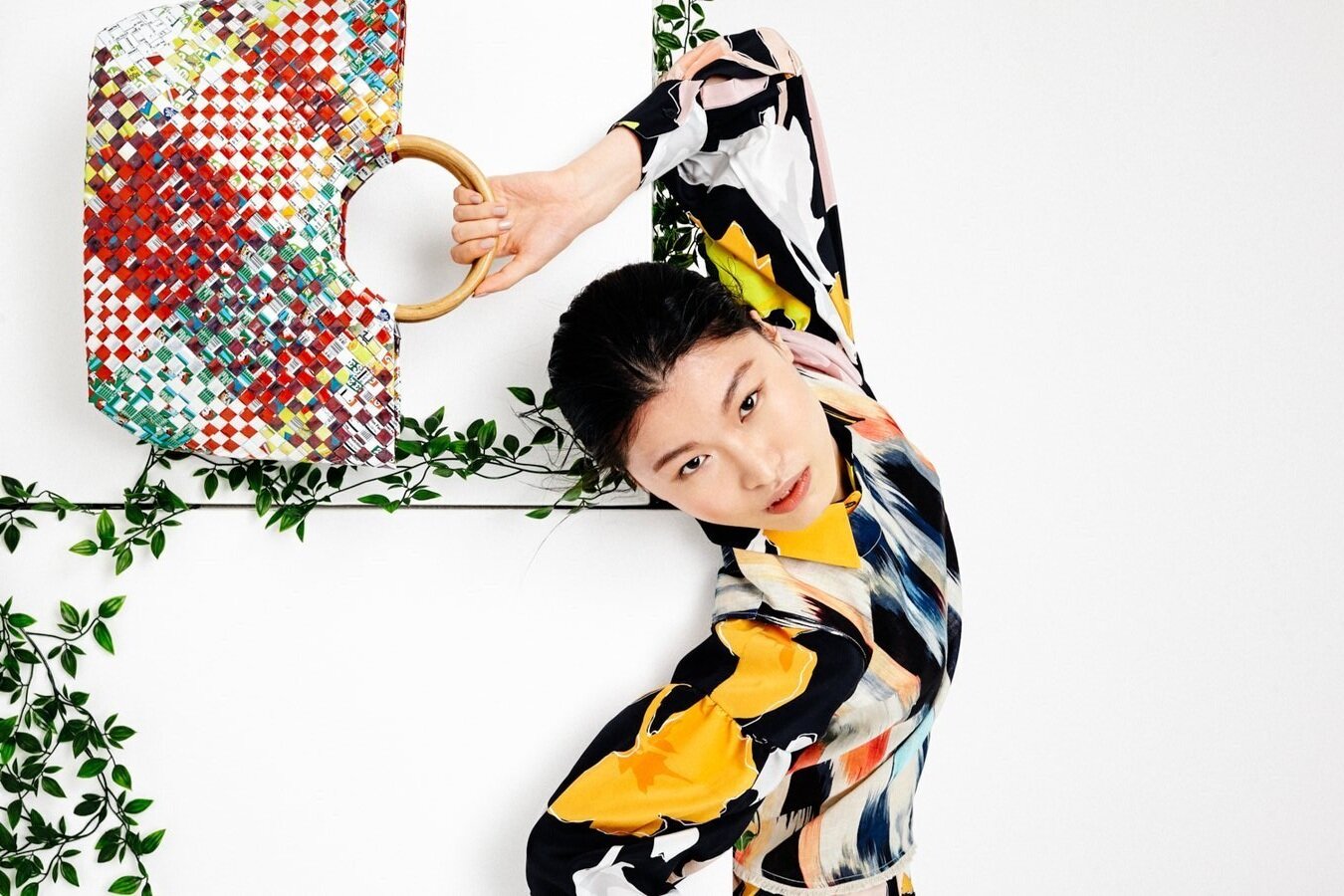 Mother Erth
Shop: https://mothererth.com/
Ethics: Ethically made with up-cycled unrecyclable materials
Bags: Totes, maxi totes, top handle, shoulder bags & mini shoulder bags
Price Range: 50€ - €90
Purses that will make you feel good for two reasons: 1. not only are they a bright and colourful addition to your wardrobe, but 2. they are also made of materials which can't be recycled. Basically, if it wasn't for these bags, there would be just that bit more waste in the world and we're not about that. Tons of plastic laminated foil gets discarded by Asian manufacturers every year due to printing imperfections. Mother Erth intercepts it, carefully cleans & cuts it, and prepares it for a new life (we all sometimes need a fresh start, except bags can't just cut bangs and start over, they need a bit more help). Each bag is one-of-a-kind as the artisan's style and material colours vary for each creation. Artisan mothers in Philippine communities hand weave the repurposed strips of the up-cycled materials into beautiful purses. By purchasing these bags instead of yet another high-street handbag, you would not only be contributing to keeping pollution out of our lands and oceans, but would also be helping pay fair wages to the artisans, lending a hand at stopping the poverty cycle. It's a win-win for everyone and you've got a beautiful handbag to love.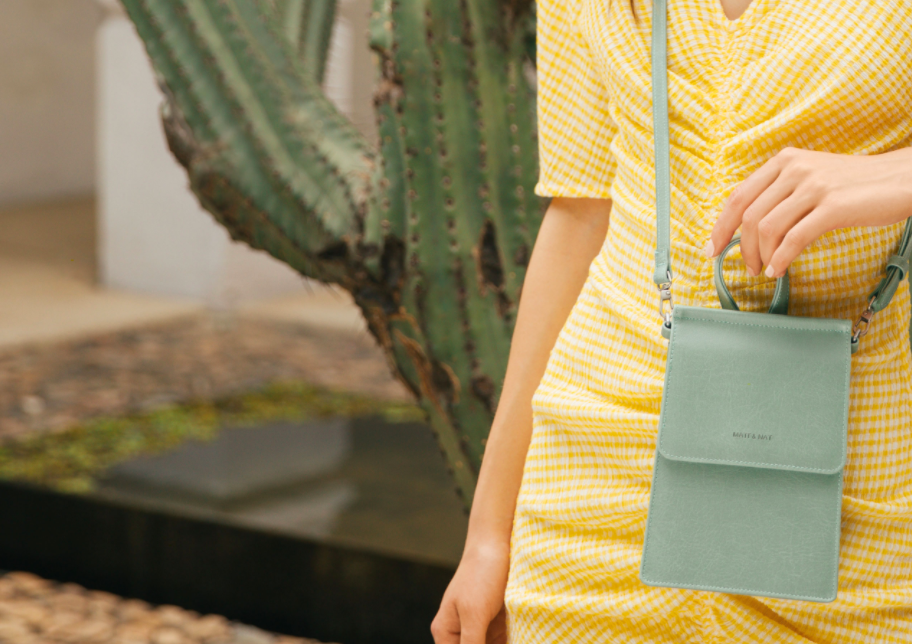 Matt & Nat
Shop: https://mattandnat.com
Ethics: Vegan, socially responsible and recycled materials
Bags: Bucket, Backpacks, Clutches, Cross-body, Hobos, Satchels, Totes
Price Range: 35€ – 180€
Here's one for those who prefer classical and elegant lines, as well as neutral colours. Matt & Nat (short for Material & Nature- cool, right?) have strong brand values- they stand for social responsibility, excellence, inclusivity, integrity, authenticity and love. Aside from being cute, this means they are committed to not make use of leather or any animal based product in the creation of their bags. Each season they explore new ways of remaining sustainable and eco-friendly and already have a long resume of experimenting with recycled nylons, cardboard, rubber, cork and lining made from recycled plastic bottles. Simple and long-lasting, what more do you need?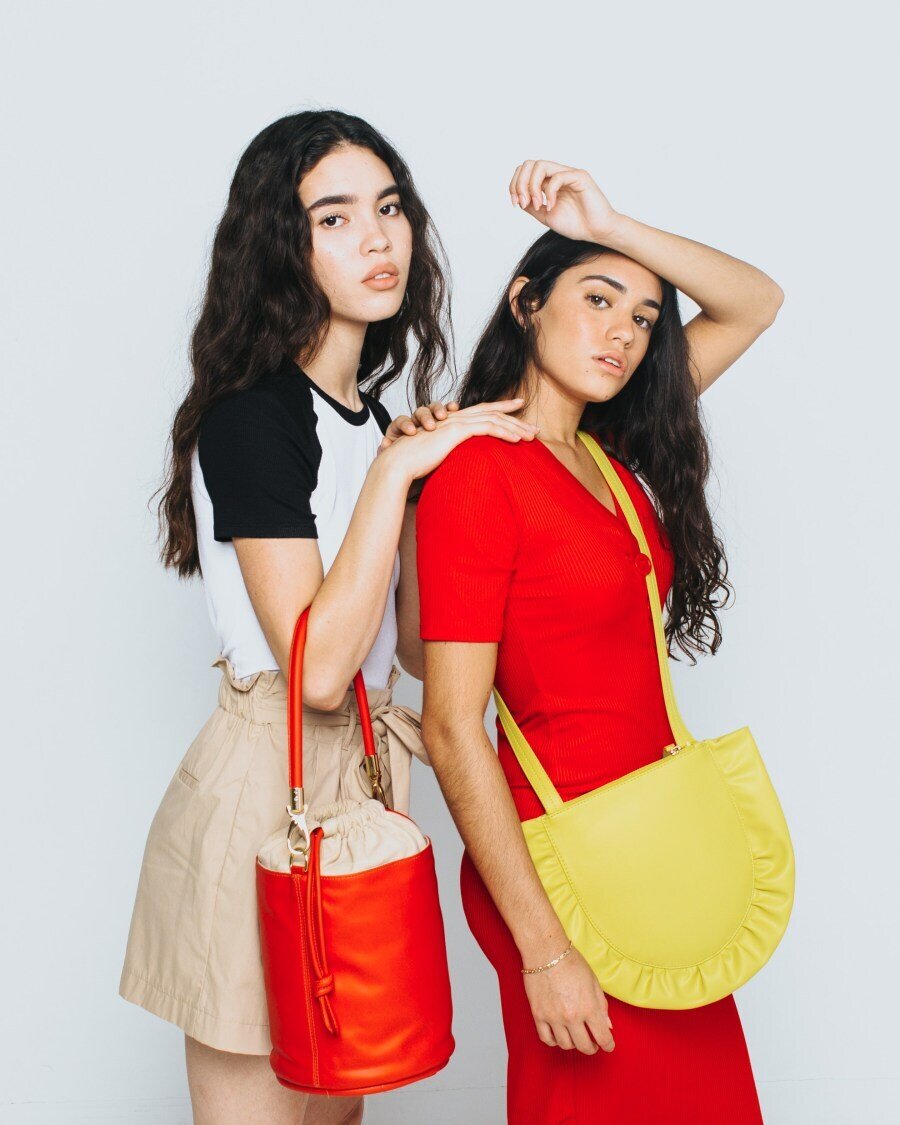 Hozen
Shop: https://hozencollection.com/
Ethics: Recyled & organic materials
Bags: Totes, bucket, duffles, canteen and pocket bags
Price Range: 130€ – 220€
Hailing from Los Angeles, California and made in small batches, Hozen bags are here to stay. They're functional, durable and are made from eco-friendly materials, such as grain-based leather & suede, Piñatex, recycled plastic, organic cotton and recycled paper packaging. Every piece is produced at a fair-wage factory in LA and comes with an 'I Made Your Bag' card so you can get to know the person who produced your new little colourful friend. With every purchase, a portion of profits is donated to a non-profit organisation that aligns with Hozen's values. This way, the brand hopes to inspire customers to be conscious consumers and to spread the word about their sustainability efforts. Change only happens when we work together, after all.
Kayu
Shop: https://kayudesign.com/
Ethics: Sustainable materials, waste reduction, fair trade practices
Bags: Totes, clutches, bucket bags
Price Range: 65€ - 186€
Kayu's main goals are reducing consumer landfill and becoming a zero-waste company in the near future. Designed to last a lifetime, their products are made with the finest quality of organic materials, while always on the look-out for new pioneering sustainable materials to use. Their bags are produced using straw and are hand-woven in the Philippines, while women in San Francisco embroider the monograms. Kayu's straw is all-natural, unlike the type used by many brands these days, meaning that with time it acquires a unique patina and is able to biodegrade at the end of its life, returning to the earth- no trace left behind.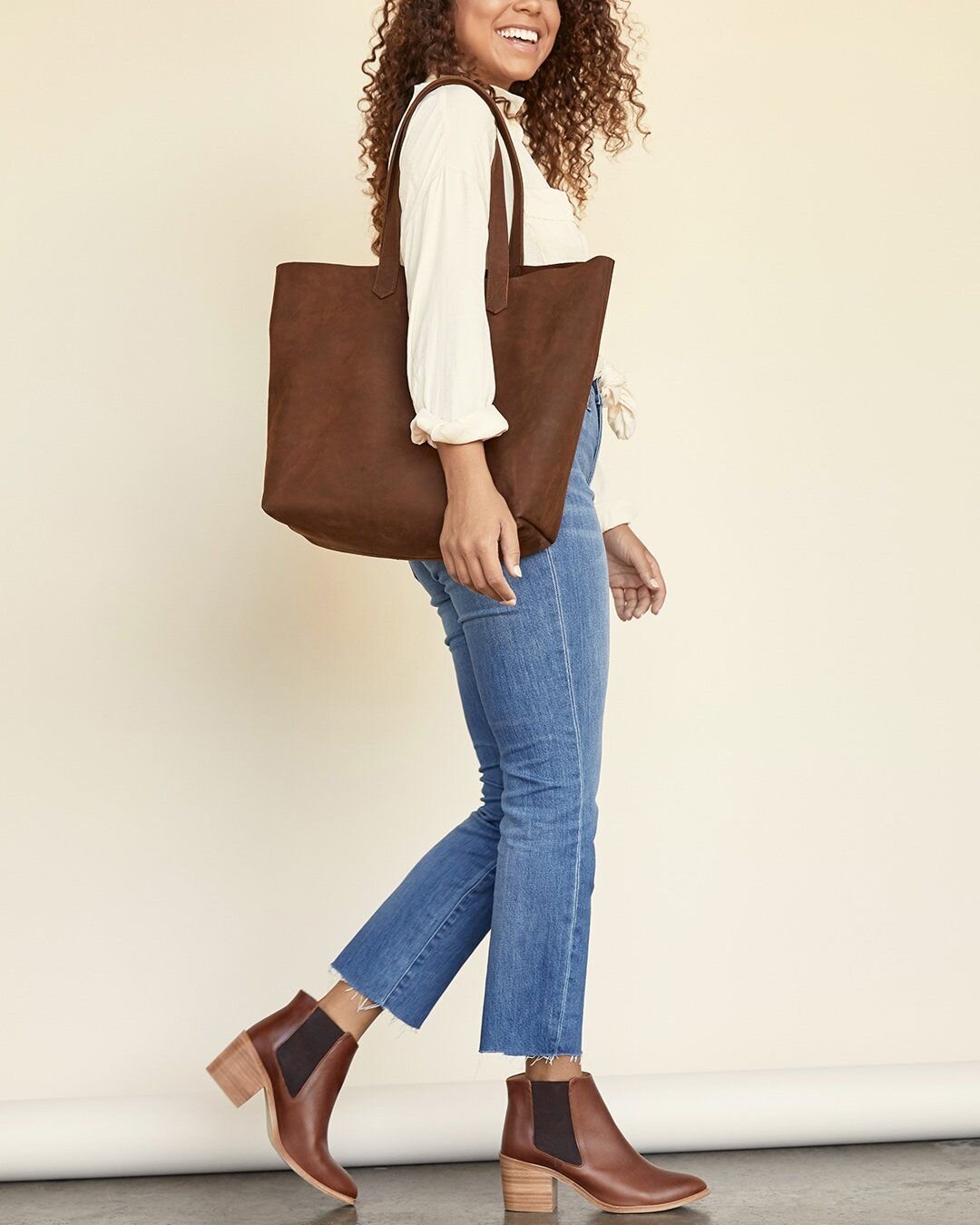 Nisolo
Shop: https://nisolo.com/
Ethics: Ethically made, Certified B Corporation, vegetable tanned leather
Bags: Cross-body, totes, clutches, weekenders and wallets
Price Range: 35€ – 180€
Nisolo is a Certified B Corporation that produces bags in Trujillo, Peru and Leon, Mexico. The brand specialises in bags, shoes and jewellery that look great, but are also durable and functional (we love you eternally, Jacquemus mini chiquito, but some of us need to carry more than one pound coin in our bags). To minimise their carbon footprint, Nisolo sources raw materials from nearby tanneries, thus also investing in the local economy. The products are made with Vachetta Leather, which is vegetable-tanned and untreated, since it doesn't go through artificial processing or chemicals (we love a natural queen). Do to its nature the leather will develop a unique patina with time, but with proper care it can last a lifetime, allowing you to consume less and choose a forever-friend instead. All of this goes without saying that the local artisans who work for them are guaranteed a living wage, healthy working conditions, trainings & programs, as well as healthcare. Take notes, high-street brands.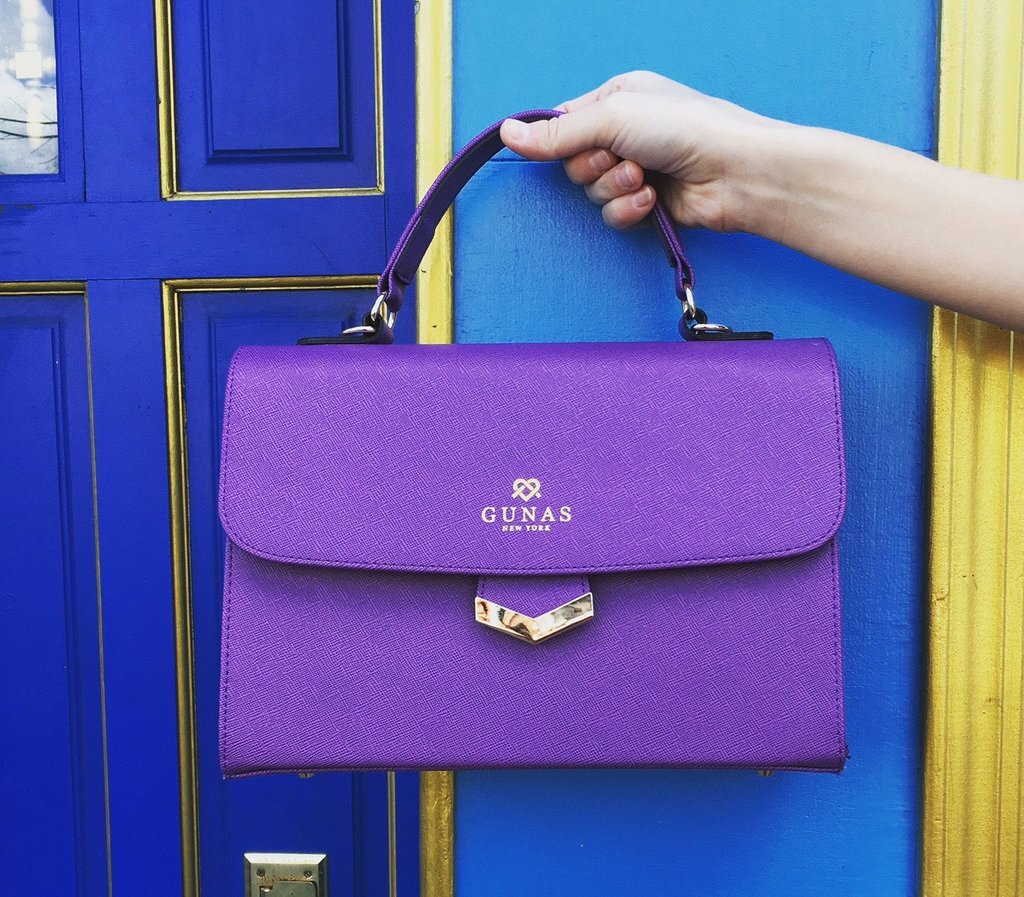 Gunas New York
Shop: https://www.gunasthebrand.com/
Ethics: Vegan, up cycled materials, ethically made
Bags: Cross-body, totes, satchels, backpacks, wallets and shoes.
Price Range: 168€ - 262 €
If this whole time you've been wondering 'where's one for the colourful, pastel lovers?' - look no further (or do, there's still some gems coming up). Gunas New York was founded in 2009 with the aim of becoming a voice for animals, which they strongly believe should not be a involved in the fashion industry's production cycle. Although initially entirely produced in New York, the company has since expanded and currently works with small-scale ethical artisans and manufacturers from India, South Korea, Mexico, Brazil and Hong Kong. Their gorgeous range of bags are made from vegan textured eco polyutherane, recycled plastic bottle lining and recycled metal hardware with 18k gold plating (oof). The sturdy material and high quality materials ensure that you're getting a purse that will last you for a very long time and will not fail to disappoint in its versatility.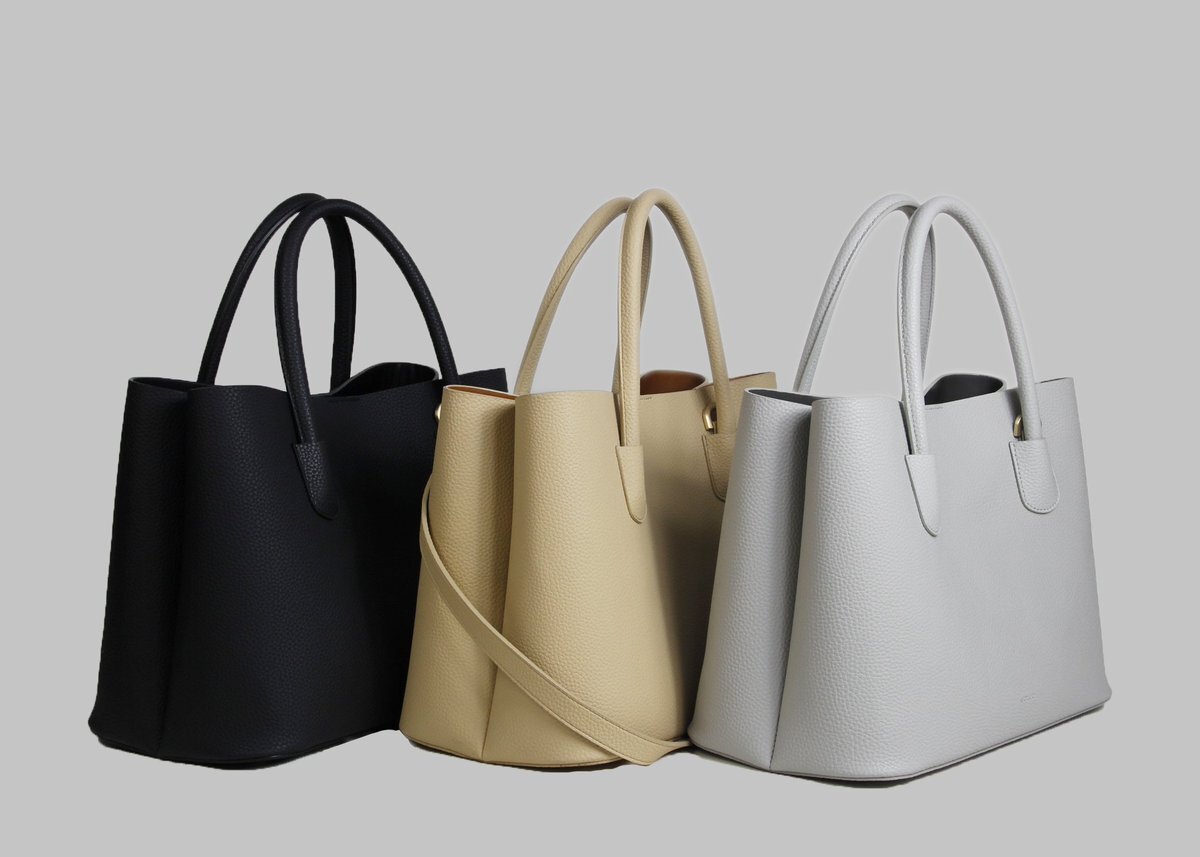 Angela Roi
Shop: https://www.angelaroi.com/
Ethics: Vegan, cruelty-free and ethically made
Bags: Cross-body, shoulder bags and handbags
Price Range: 170€ - 220€
Check out Angela Roi if you're looking for timeless bags with a minimalist touch in ethical materials AND at an affordable price. Full package? Yep, we think so. The company believes in not having to sacrifice comfort for style, money for quality and morals for materials, so every bad is handmade in Korea by their artisans with the finest non-animal materials, such as EPUL (Exquisite Polyutherane Leather). Sounds too good to be true? Hardly- you can find their entire production process here.